6 Things You Should Know About The AFC South
The AFC South race might be over, but find out some insight into the rest of the division.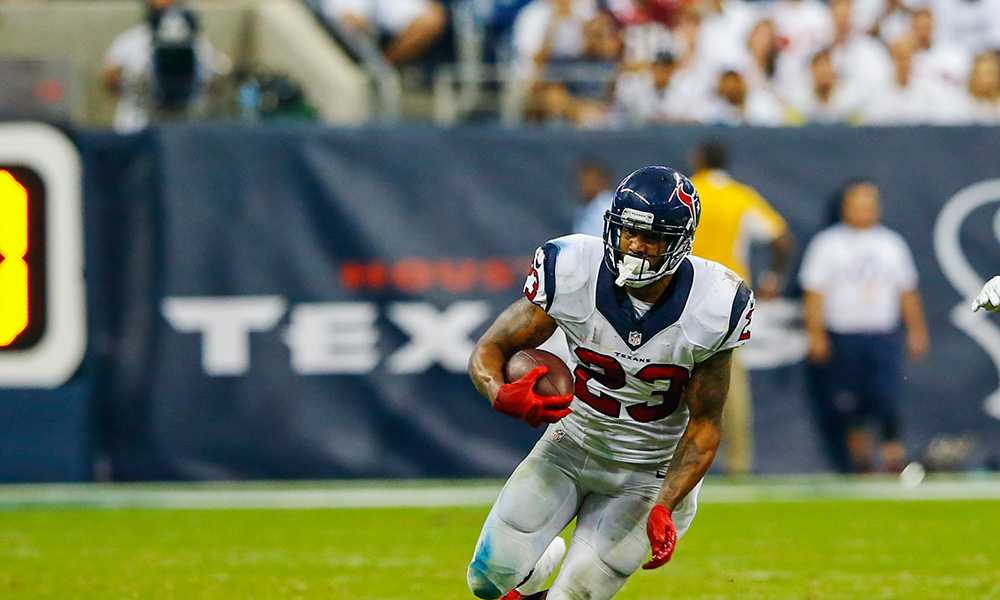 The AFC South is widely regarded as one of the weakest divisions in the NFL. That regard is backed up by three of the four teams in the division being sub-.500. We're going to look at the six things that you need to know about the AFC South.
1. The Indianapolis Colts' defense is for real.
We all know that the Colts have an explosive offense led by superstar quarterback in the making Andrew Luck. The common wisdom was that the Colts would have to win in shootouts this year and that was the case the first two weeks of the season as they gave up 61 points in losses to Denver and Philadelphia.
Since then, the Colts' defense has been transformed as they've given up an average of 15 points per game and they currently rank third-overall. Much of the resurgence has been from the stellar play of cornerback Vontae Davis, who is the best at his position in the NFL this season.
2. Ahmad Bradshaw needs the ball more.
As much as Ryan Grigson wants former first-round pick Trent Richardson to succeed, it's eighth-year pro Ahmad Bradshaw that has been impressing on the field. Bradshaw has received fewer carries than Richardson in all but one game, yet he is averaging 4.8 yards per carry to Richardson's 3.5, and has nearly as many rushing yards (358-336) despite having 41 fewer carries. He has also been extremely productive catching passes out of the backfield, scoring six touchdowns through the air.
If Indianapolis is going to make a deep playoff run, a balanced offense will be likely and unless they're "saving" Bradshaw for the postseason, they should play the better guy and that's clearly Bradshaw.
3. It's time to audition Ryan Mallett.
The Houston Texans may have already won more games (3) than last season (2), but they aren't a legitimate playoff contender as they currently sit. Currently, the Texans have the 12th best record in the conference and they've dropped three of their last four games.
Quarterback Ryan Fitzpatrick isn't the biggest problem with the Houston roster, the secondary is, but he hasn't been particularly good. Fitz has completed 65 percent of his throws for 1,530 yards with eight touchdowns and seven interceptions. In this era of dynamic passers, he's proven to be painfully average. The team acquired Ryan Mallett via trade from New England and he's simply wasting away with a clipboard. If the Texans aren't going anywhere, which they're not, why not play either Mallett or rookie Tom Savage? It's clear that Fitzpatrick isn't the team's future. If they put him on the bench, they might be able to find out whether Mallett or Savage is.
4. Arian Foster is still a threat.
Texans running back Arian Foster used to be the first pick in fantasy drafts. This year he was available well after the first round in most, and those who took a chance on him have been rewarded.
Foster has had several injury concerns over the past few years but he's been staying mostly healthy in 2014. The sixth-year pro from Tennessee has ran for over 100 yards in five of the six games he's played in and he's currently second in the NFL in rushing yards with 615, and also second in rushing touchdowns with five. Add in another 144 yards receiving with another touchdown and Foster is the Texans' most dynamic offensive player.
5. The Titans Should Start Zach Mettenberger.
The Tennessee Titans have played both Jake Locker and Charlie Whitehurst at quarterback this year and the results have been…. mediocre. Each has a win as a starter and the team is 2-5 and circling the drain quickly.
Although Locker is likely the most talented quarterback on the roster, his injury concerns and poor decision making are certain limitations that have kept him from realizing his first-round draft status. Whitehurst is a career clipboard holder who is mediocre on the very best of days.
Tennessee has sixth-round pick Zach Mettenberger on the roster and although he was average in preseason, he does have a live arm capable of making all the NFL throws. Sixth-round picks rarely end up being franchise quarterbacks but at this point they don't have a franchise quarterback currently in uniform. With a 2-5 record, the only Titan that's going to make the playoffs is Akeem Ayers and that's because he was just dealt to the New England Patriots.
What's the worst that can happen with Mettenberger? The team continues to lose, which would potentially bring them closer to drafting their next franchise hopeful? That's not so bad considering the current circumstances.
6. The Jaguars' defense will be faster without Posluszny
On the surface it appears that the Jaguars' loss of linebacker Paul Posluszny seems huge. He's a defensive captain, a leader, a veteran and probably the most high-profile player the Jaguars have outside of rookie quarterback Blake Bortles.
"It's a big loss," Jaguars head coach Gus Bradley said when asked about Posluszny. "He's been really playing really well lately. He's been playing well ever since I've been here but I think he's really coming into his own, really understands the defense now, really takes total command of the defense, so that will be a difficult one."
It's certainly a possibility that the Jaguars will have a lack of communication on defense, but how much are you actually losing with statistically one of the worst defenses in the NFL?
Bradley has a plan for the short term to replace Posluszny.
"We're going to talk about it but I think we will look at maybe JT (Thomas) being at our Mike spot and then that will allow guys like Dekoda (Watson) and LaRoy (Reynolds) at the Otto," the Jaguars head coach said.
Posluszny was a liability in the passing game and despite his lofty tackle statistics, he failed to wrap guys up immediately and hasn't been the same player as he was in year's past.
The Jaguars will now have more capable athletes on the field and if they can limit the mental errors, they will be a better defense.
Buccaneers admit mistake, boot Aguayo
In the NFL, it's always better to admit a mistake than to compound it. For the Buccaneers, the decision to burn a 2016 second-round pick on kicker Robert Aguayo has proven to be a mistake. The Buccaneers made the definitive admission of their error on Saturday, cutting Aguayo. He exits with $428,000 in fully-guaranteed salary [
more
]
Source: Mike Florio of ProFootballTalk
Powered by WPeMatico
Did Bucs put too much pressure on Aguayo?
After the Buccaneers surprised everyone by taking a kicker with the 59th overall pick in the draft, G.M. Jason Licht explained the move by heaping superlatives on the player. "I was very excited along with my staff and coaches about Roberto for a very long time," Licht told PFT Live in May 2016. "It's not [
more
]
Source: Mike Florio of ProFootballTalk
Powered by WPeMatico
Broncos holding their breath on Derek Wolfe
Only two days after losing Billy Winn for the year with a torn ACL, the Broncos are now sweating out another potentially serious injury along the defensive line. Via multiple reports, Broncos defensive lineman Derek Wolfe was carted off the field during practice on Saturday. It's being described as a right ankle injury by coach [
more
]
Source: Mike Florio of ProFootballTalk
Powered by WPeMatico