6 Things To Know in the AFC West
The AFC West has a lot of intriguing topics through seven weeks. These six things you need to know about the division show why it's one of the most compelling divisions in the National Football League.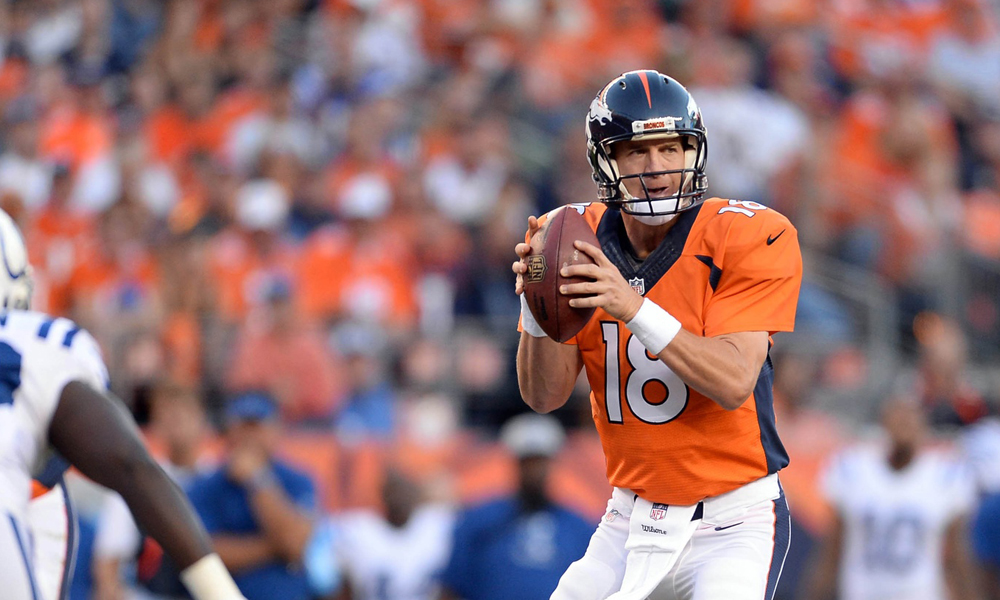 Everyone in the AFC West made the playoffs last season with the exception of the Oakland Raiders, with Denver making it all the way to the Super Bowl, where they were outclassed by the Seattle Seahawks 43-8.
After seven weeks, the AFC West looks to put those same three teams back in the playoffs. Denver looks like the class of the division, with San Diego a tier behind, but what about Kansas City? After their win in San Diego yesterday, the Chiefs are making a strong case for being considered the second best team in the division. As far as Oakland goes, they're just hoping to get in the win column.
Nonetheless, here are six things you need to know about the AFC West.
1. Peyton Manning is the Best Regular Season Quarterback Ever: Sunday night was just another of many historical games in the career of Peyton Manning. The 38-year old passed Brett Favre to become the all-time leader in touchdown passes, as he threw four against the San Francisco 49ers to put the new record at 510. Manning now owns the single game, season and career records for touchdown passes. The scary thing is that he's not done yet. As long as he has a good offensive line, Manning looks like he can play for as long as he wants.
2. Injury Bug Killing San Diego: The San Diego Chargers 5-game winning streak was snapped Sunday at the hands of the Kansas City Chiefs. The team won't make any excuses, but San Diego has been hit hard with injuries. Former Chiefs cornerback Brandon Flowers left the game early due to a blow to the head, while they were also missing fellow cornerback, Jason Verrett. Linebackers Manti Te'o, Jeremiah Attaochu and Melvin Ingram were all out as well.
Linebacker Jarret Johnson is proud of the backups stepping in.
"It's been a tough year with injuries," linebacker Jarret Johnson said. "We've had a lot of guys go down. And it's been pretty amazing to see the type of resilience from the guys that are stepping in.
Unfortunately for San Diego, they have to play Denver on short rest as they will do battle Thursday night.
3. Oakland's NFL Worst: With Jacksonville upsetting Cleveland yesterday, the Oakland Raiders are the lone winless team in football. To Oakland's defense, they've been competitive the past two weeks against good ball clubs. They lost to San Diego 31-28 last week and suffered a 24-13 defeat to Arizona yesterday, but they've been unable to close. Oakland fired former head coach Dennis Allen before the bye week after an 0-4 start. Allen was 8-28 as Oakland's head coach.
Veteran defensive back Charles Woodson is probably regretting going back to Oakland.
"This is as bad as you're going to get through the first part of the season," veteran Raiders safety Charles Woodson said. "We haven't won a game. How much worse can it get than that, than not winning a game?"
Oakland's next five games are against Cleveland, Seattle, Denver, San Diego and Kansas City.
4. Rivers Having MVP Season: Phillip Rivers is off to an amazing start. He's fourth in the league with 17 touchdown passes, while only having 3 interceptions. The veteran has a quarterback rating of 113, only trailing Peyton Manning and Aaron Rodgers. San Diego ranks 7th in yards and 9th in points a game.
5. Branden Oliver Next Chargers Great?: When Ryan Matthews went down with a knee injury, people were understandably concerned about San Diego's rushing attack. Rookie back Branden Oliver answered those concerns quickly. Oliver has won rookie of the week honors twice already. He's had two games of over 100 yards rushing, while getting in the end zone twice. Oliver is averaging 4.4 yards per carry and drawing comparisons to former Charger Darren Sproles.
6. 3 Teams Could Make Playoffs Again: During Peyton Manning's 16-year career, he's only missed the playoffs twice, with one of those years coming during his rookie campaign. With Denver sitting at 5-1, they're expected to win the AFC West for the third straight year. San Diego at 5-2 is sitting pretty to land one of the wildcard spots, but their second half schedule is brutal, with games against Baltimore, New England, Denver, San Francisco and Kansas City. Things will be tougher for Kansas City as the history of  teams starting 0-2 making the playoffs isn't in their favor. The Chiefs are 3-1 since that start, but it may be too much to overcome. Kansas City will battle teams like Buffalo, Miami, Cincinnati, Pittsburgh, Cleveland, Houston and San Diego for that last playoff spot.
Buccaneers admit mistake, boot Aguayo
In the NFL, it's always better to admit a mistake than to compound it. For the Buccaneers, the decision to burn a 2016 second-round pick on kicker Robert Aguayo has proven to be a mistake. The Buccaneers made the definitive admission of their error on Saturday, cutting Aguayo. He exits with $428,000 in fully-guaranteed salary [
more
]
Source: Mike Florio of ProFootballTalk
Powered by WPeMatico
Did Bucs put too much pressure on Aguayo?
After the Buccaneers surprised everyone by taking a kicker with the 59th overall pick in the draft, G.M. Jason Licht explained the move by heaping superlatives on the player. "I was very excited along with my staff and coaches about Roberto for a very long time," Licht told PFT Live in May 2016. "It's not [
more
]
Source: Mike Florio of ProFootballTalk
Powered by WPeMatico
Broncos holding their breath on Derek Wolfe
Only two days after losing Billy Winn for the year with a torn ACL, the Broncos are now sweating out another potentially serious injury along the defensive line. Via multiple reports, Broncos defensive lineman Derek Wolfe was carted off the field during practice on Saturday. It's being described as a right ankle injury by coach [
more
]
Source: Mike Florio of ProFootballTalk
Powered by WPeMatico