6 NFL Rookies Exceeding Their Draft Position
Find out who were the best value picks of the 2014 NFL Draft.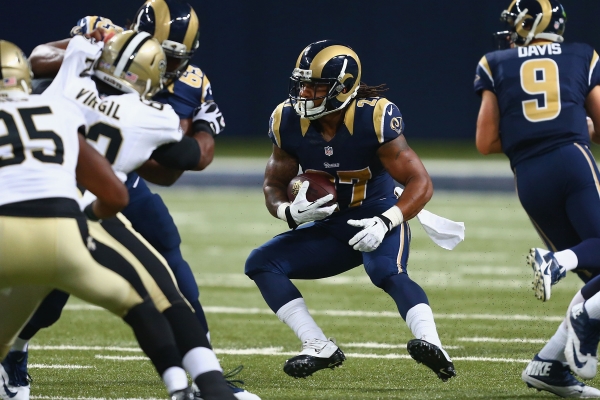 Everyone knows about Jadeveon Clowney, Blake Bortles and Sammy Watkins, but what about the rookies who were expected to do very little? Today we're going to look at the best value picks of the 2014 NFL Draft. Here are some rookies who seemed to slip through the cracks:
Telvin Smith, LB (Jaguars), 5th round, 144th overall- Rookie linebacker Telvin Smith has been one of the few bright spots on the Jacksonville Jaguars this year.
The fifth-round selection made his impact felt in a big way as he won Defensive Rookie of the Week following the team's win over the Cleveland Browns, as he contributed four tackles, two pass breakups, one interception and a forced fumble.
Jaguars head coach Gus Bradley sees great potential in Smith.
"Telvin's really going up, the way he plays and his understanding of the defense," Bradley said. "He'll keep progressing. I like it that he's gaining weight. That was one of the concerns when he first got here was how will he hold up? Every week he's gotten better. Will he continue that? We hope so. If he does, his future is really bright."
The former Florida State Seminole stands 6-foot-3 and 218 pounds, and played a key role on the 'Noles national title team in 2013. He is currently a reserve with Jacksonville but look for him to have a bigger role going forward.
Tre Mason, RB (Rams), 3rd round, 75th overall – The St. Louis Rams had been using a three-back system, but rookie Tre Mason is now starting to receive the bulk of the carries. It all started last week, when the Rams defeated the reigning Super Bowl champs.
"Tre got a hot hand and it was just kind of a different thing," Rams head coach Jeff Fisher said. "We felt that we may have a chance to crease their defense at times with him."
The former Auburn Tiger was the fifth running back taken in the draft. Mason realizes that being a third-round selection means he has to outwork his competition.
"I was always told to take full advantage of the opportunities you get because there may not be many," Mason said. "That's just kind of a message that I grew up on. There may not be many opportunities but when you get those few, make the most of them because it can change into a lot."
It will be fun seeing Mason's 4.5 speed displayed on the turf inside the Edwards Jones Dome.
Avery Williamson, LB (Titans),5th round, 151st overall – The 6-foot-1, 246 pound linebacker was a former Kentucky Wildcat, where he earned second-team all-SEC honors during his senior season.
Williamson totaled four tackles in his NFL debut against the Cincinnati Bengals in Week 3. The rookie has been active in both nickel and special teams roles, and he looks like a player who the Titans will lean on more going forward.
John Brown, WR (Cardinals), 3rd round, 91st overall – This 5-foot-10 rookie is making a case to be one of the league's diminutive dynamos. Brown, picked in the late third round, has made an instant impact, as he's found the end zone three times.
While there were rumblings about Larry Fitzgerald complaining about touches, Fitzgerald's presence alone has done wonders for the young Brown. When preparing for Arizona's offense, Fitzgerald is the main focal point, which allows things to open up for Brown.
Two of Brown's four touchdowns came against the San Francisco 49ers . Cardinals backup quarterback Drew Stanton recognizes the talent.
"If you blink, he might be on the other side of you, and then it's over," Stanton said of the talented rookie.
Brown added to his rookie resume Sunday, as he was on the receiving end of a game-winning 78-yard touchdown that proved to lift Arizona past Philadelphia. 
"When it's time to step up, that's what you have to do," Brown said. "They had a safety on me, so when they put him on me, all I had to do was run past him."
With the tutelage of Fitzgerald, Brown has a chance to be one of the premier receivers in the game.
E.J. Gaines, CB (Rams), 6th round, 188th overall – The Missouri native has been playing in his hometown his entire life. Gaines went to high school in Independence (city outside of Kansas City), played college ball at Mizzou and now he's a member of the St. Louis Rams, after being selected in the sixth round.
The 5-foot-10, 190-pound cornerback has impressed in St. Louis.  Through eight games, the rookie has totaled 29 tackles and snatched one interception.
Gaines displays good techniques for a young player. As he gets more reps, expect to see major improvement over time.
Jerick McKinnon, RB (Vikings), 3rd round, 96th overall – The Adrian Peterson fiasco still hovers over the Minnesota Vikings, but rookie Jerick McKinnon is slowly taking that negative aura away. Standing at 5-foot-9, McKinnon has been a pleasant surprise after being selected in the third round.
McKinnon has 392 yards on 76 carries (5.2 YPC). When he's had at least 18 carries, he's piled up over 100 yards rushing.  He's also proven to be a threat catching passes out the backfield, totaling 17 catches for 92 yards.
Offensive coordinator Norv Turner has been pleased with his progression.
"He obviously flashed from the beginning and has done a good job making big plays," Turner said of McKinnon. "He's learning how to play in this league and he's become more consistent. He's finding the correct lanes; he's understanding defenses better."
Buccaneers admit mistake, boot Aguayo
In the NFL, it's always better to admit a mistake than to compound it. For the Buccaneers, the decision to burn a 2016 second-round pick on kicker Robert Aguayo has proven to be a mistake. The Buccaneers made the definitive admission of their error on Saturday, cutting Aguayo. He exits with $428,000 in fully-guaranteed salary [
more
]
Source: Mike Florio of ProFootballTalk
Powered by WPeMatico
Did Bucs put too much pressure on Aguayo?
After the Buccaneers surprised everyone by taking a kicker with the 59th overall pick in the draft, G.M. Jason Licht explained the move by heaping superlatives on the player. "I was very excited along with my staff and coaches about Roberto for a very long time," Licht told PFT Live in May 2016. "It's not [
more
]
Source: Mike Florio of ProFootballTalk
Powered by WPeMatico
Broncos holding their breath on Derek Wolfe
Only two days after losing Billy Winn for the year with a torn ACL, the Broncos are now sweating out another potentially serious injury along the defensive line. Via multiple reports, Broncos defensive lineman Derek Wolfe was carted off the field during practice on Saturday. It's being described as a right ankle injury by coach [
more
]
Source: Mike Florio of ProFootballTalk
Powered by WPeMatico