11-18-2015 NFL Mock Draft
Even after tearing his ACL Georgia Bulldogs Todd Gurley still will be a first round pick reminiscent of Willis McGahee.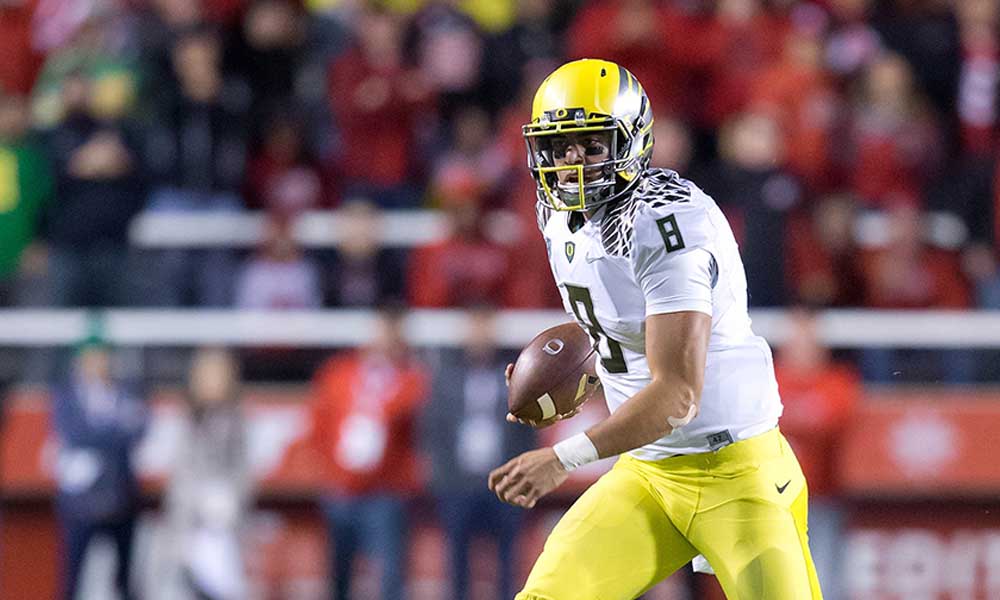 It's never too early to look ahead at the upcoming NFL Draft. Entering Week 12 of the NFL season, we've started to see every teams' holes, which could be addressed through the draft. Here is our latest 2015 NFL Mock Draft:
1. Oakland Raiders – Current Record, 0-10
Randy Gregory, Nebraska, DE: The Raiders are 0-10 and remain the only winless team in the NFL. The voids on the Raiders' roster leave a copious amount of players available to be selected No. 1 overall. USC defensive tackle Leonard Williams is in the running, but Gregory will adapt better to the current defensive scheme in Oakland. If he declares early for next year's draft Gregory fits the mold they want at defensive end. Gregory ranks first on the Nebraska defense with 5.5 sacks. He is second on the team with seven tackles-for-loss. His athleticism is too much to ignore as he consistently provides a pass-rush.
2. Jacksonville Jaguars – Current Record, 1-9
Leonard Williams, USC, DT: The Jaguars rank 27th overall in total offense and are bottom feeders in the NFL in points scored ranking 32nd. Unfortunately, the defensive side doesn't fare much better in Jacksonville. The Jags rank 30th in total team defense and have allowed the third highest amount of points (282) in the league. Jacksonville can't score and can't stop opposing teams from scoring on them. Considered one of the top prospects in the draft, Williams will be vying to be the No. 1 pick.
3. Tampa Bay Buccaneers – Current Record, 2-8
Marcus Mariota, Oregon, QB: The Oregon signal caller has all the physical and mental aspects teams look for in a young franchise prospect. Mariota's ability will be put to the test early in Tampa Bay. Head coach Lovie Smith has exhausted his options at quarterback flip-flopping between Josh McCown and Mike Glennon. Smith has shown little faith in second-year quarterback Glennon after reuniting himself with journeyman signal-caller McCown, who he worked with in Chicago. Long-term, both McCown and Glennon are not the answer for the Buccaneers. Mariota is the top quarterback prospect, especially with Florida State's Jameis Winston's constant struggles to stay out of trouble. Mariota possesses the ability and smarts to be considered a franchise quarterback in the NFL.
4. New York Jets – Current Record, 2-8
Jameis Winston, Florida State, QB: Winston jumped 27 spots from the previous Mock Draft where he was headed to the Dallas Cowboys with the 31st overall pick. Michael Vick is now the starter in New York as the 34-year old quarterback has taken over for the second-year quarterback Geno Smith. The Jets' could be in store for a complete makeover next season including the coaching staff. Winston has all the tools you want in a quarterback. The Seminoles' quarterback has some growing up to do to prove he can lead an NFL locker room. In terms of pure talent he is the best quarterback available in 2015.
5. Tennessee Titans – Current Record, 2-7
Amari Cooper, Alabama, WR: Tennessee ranks 31st in total offense and dead last (32nd) in points scored. With both Mariota and Winston off the board the team elects to draft one of the real play-makers available in Cooper. His quickness off the snap and first-step acceleration make Cooper difficult to defend. After ten games in 2014, Cooper is leading the nation in receiving yards with 1,303 and is fourth overall with 8.7 receptions per game.
6. Washington Redskins – Current Record, 3-7
Landon Collins, Alabama S: The defense in Washington leaves plenty to be desired especially in the secondary. Ryan Clark, who turns 36 next year, and Brandon Meriweather are Washington's two starting safeties. Meriweather has been suspended three games over the last two years for illegal hits. Collins brings a 'legal' intimidation factor that is missing in Washington. The ball-hawking safety is a furious hitter that Washington desperately needs moving forward.
7. New York Giants – Current Record, 3-7
Shawn Oakman, Baylor, DE: Eli Manning hasn't been able to snap out of his funk of ill-advised throws and the defense has not done much better. New York's two Super Bowl winning teams under head coach Tom Coughlin featured one of the deepest and most talented defensive fronts in the league. The size and strength of Oakman can be utilized on the interior of the Giants' defense. Valuable pieces still remain on the roster like Jason Pierre-Paul and second-year defensive tackle Johnathan Hankins but additional help is needed in order to keep the Giants' offense on the field. Oakman is freakishly athletic at 6-foot-8 and 275 pounds and is on the cusp of tapping into his immense talent.
8. Carolina Panthers – Current Record, 3-7-1
Vic Beasley, Clemson, OLB: The hallmark of the 2013 NFC South Division Champion Panthers' season was defense. Ron Rivera is known for his ability to be one of the best defensive minds in the game but the Panthers' are far from their dominant form in 2014. Beasley is viewed as a tweener type prospect due to his size (6-foot-2, 235 pounds) and playing defensive end in college. Beasley is an impact player with extreme upside potential.
9. Minnesota Vikings – Current Record, 4-6
Cedric Ogbuehi, Texas A&M, OT: Inconsistency and blitz recognition continue to plague the Vikings' offensive line. Ogbuehi is not a cure to all that is wrong with the Vikings, but he is a piece to build around especially with all the young and talented new faces in Minnesota. Texas A&M offensive line coach B.J. Anderson has helped produce two All-Americans and high NFL first-round draft picks in his two seasons in Aggieland. The recent trend of Aggies' offensive lineman going near the top of the NFL Draft continues in 2015. Jake Matthews was drafted sixth-overall in 2014 and Luke Joeckel went second-overall one year earlier. Barring injury Ogbuehi will be the third.
10. New Orleans Saints – Current Record, 4-6
Brandon Scherff, Iowa, OT: It is easy to say the Saints' should target defense in round one of the NFL Draft next year. The truth is the team wins with Drew Brees and head coach Sean Payton's creative offensive mind. Scherff is as tough as they come and while not close to the craziness of former Saints' offensive lineman Kyle Turley, the Hawkeyes' 2013 offensive team MVP brings a much-needed attitude of intimidation. Scherff houses the ability to be drafted in the top five overall in next years NFL Draft.
11. Chicago Bears – Current Record, 4-6
Shaq Thompson, Washington, OLB: The Bears are allowing 29 points per game which ranks 32nd in the NFL. Dead last! Widely known as the "Monsters of the Midway," the Bears' defense is downright ghastly to watch. Age has reached its pinnacle with five players considered key contributors over 30 years old. The list includes Jared Allen (32), Jay Ratliff (33), Lance Briggs (33), D.J. Williams (32) and Charles Tillman (33). Thompson has shown flashes of being a special player and the strong linebacker tradition in Chicago gives birth to another star. He is a bit undersized but overall his production and ability is too much to ignore.
12. St. Louis Rams – Current Record, 4-6
Marcus Peters, Washington, CB: Peters was dismissed from the team after another argument with assistant coaches in practice. Prior to his suspension he led Washington in interceptions (3). "These are not decisions that are taken lightly," head coach Chris Petersen said. "We have high standards for players in our program and they are held accountable when those standards are not met. I wish Marcus the best in the completion of his education and in achieving his football goals." Peters is an elite talent, but the mental and disciplinary side of his game remains the big question. If talent still supersedes off the field issues a player always has a chance in the NFL and Peters definitely has the ability.
13. Houston Texans – Current Record, 5-5
Andrus Peat, Stanford, OT: In Week 11, we witnessed quarterback Ryan Mallett's debut win on the road against the Cleveland Browns 23-7. Can the guy who threw a record 62 touchdowns at Arkansas help the Texans' cross off quarterback on their 2015 want list? If the quarterback position is no longer desired look for Houston to an offense up front. One way to keep Mallett and the offense heading in the right direction is deepening the talent along the offensive line. Peat is big and has enough skills to play either tackle or guard if Houston was in a pinch.
14. Cleveland Browns (via Buffalo Bills) – Current Record, 5-5
Benardrick McKinney, Mississippi State, ILB: Paul Kruger has excelled under new head coach Mike Pettine, but former first round pick Barkevious Mingo remains unproductive. Enter McKinney, who is the anchor of the country's former top-ranked team in college football. Plenty of talented players are mentioned in this mock draft but he could be the most athletic of the group. McKinney is a freak of nature.
15. Cleveland Browns – Current Record, 6-4
Jaelen Strong, Arizona State, WR: Cleveland has to be pleasantly surprised by their collection of young unknown small and speedy receivers. The concerns for the Cleveland air attack revolve around two key players. The enigma of Josh Gordon will remain until he proves himself to be reliable off the football field and there are growing concerns over tight end Jordan Cameron and his bout with concussions. Strong provides another big target for the passing game while providing insurance for if or when Gordon faces another suspension.
16. Pittsburgh Steelers – Current Record, 6-4
Eddie Goldman, Florida State, DE/DT: The defense in Pittsburgh needs help in a couple of areas. The secondary obviously could use a jolt, but the interior up front defensively is not deep with talent. The Steelers' love their lineman over 300-pounds and Goldman weighs in at 320. Playing among a very deep and talented unit at Florida State sometimes Goldman gets lost in the mix. The size and strength of Goldman can be utilized on the interior of the Steelers' defense.
17. Baltimore Ravens – Current Record, 6-4
Todd Gurley, Georgia, RB: Do you remember watching Willis McGahee gruesome knee injury in the 2003 Fiesta Bowl National Championship Game? He was immediately hit by Ohio State safety Will Allen, bending his left knee backwards and causing tears of the ACL, PCL, and MCL. McGahee was drafted 112 days later on April 26th by the Buffalo Bills in the first round of the NFL Draft. Gurley's injury is not as severe and even the way the injury is treated compared to almost a decade ago has grown by leaps and bounds. GM Ozzie Newsome will add another blue chip draft selection to his already impressive resume by drafting Gurley. He is not just a prospect he's an elite, once every decade type of player.
18. San Diego Chargers – Current Record, 6-4
Trae Waynes, Michigan State, CB: The Chargers' defense could use a little help on the back side. Free agent addition in 2014 Brandon Flowers signed a one-year deal leaving him free to walk in 2015. The rest of the secondary has shown flashes of good mixed in with the bad. Waynes has the length and athleticism that NFL teams covet, especially facing Peyton Manning twice a year.
19. San Francisco 49ers – Current Record, 6-4
Sammie Coates, Auburn, WR: The 49ers are physical and tough both offensively and defensively. Offensively they lack speed and the ability to get vertical which would play splendidly into the arm strength of quarterback Colin Kaepernick. Coates reportedly has been clocked in the 4.3s in the 40-yard dash and his speed will bring another dimension to the Niners' offense. Anquan Boldin is nearing the end of his career and Michael Crabtree is in the final year of his rookie contract.
20.  Seattle Seahawks – Current Record, 6-4
Devin Funchess, Michigan, TE/WR: Either at tight end or receiver, Funchess has been one of the most productive Wolverines over the last two years. The Seattle offense has had its hiccups while the defense has not been as stingy, but still they remain one of the league's best. With the possibility of Marshawn Lynch not returning in 2015 increases the emphasis to add weapons around quarterback Russell Wilson. At 6-foot-5 and 230 pounds, Funchess instantly is an overwhelming mismatch for linebackers. His initial burst off the line for a guy his size is impressive.
21. Miami Dolphins – Current Record, 6-4
La'el Collins, OT, LSU: Miami ranks 16th overall in the NFL in total offense, and improving the quality and depth of their offensive line could push the offense into the top ten in 2015. Collins in a mauler on the field and possesses the versatility to spend time at guard or tackle for the Dolphins.
22. Dallas Cowboys – Current Record, 7-3
P.J. Williams, Florida State, CB: The defense has played phenomenal under defensive coordinator Rod Marinelli, but don't let their success fool you. They are out playing their talent. One area the Cowboys' should focus on is the secondary. Their 2012 first-round pick Morris Claiborne has been a huge disappointment. His inability to produce pushes the envelope for Dallas draft Williams. Williams has the athleticism and instincts in coverage, as well as the physicality to make an impact in run support.
23. Green Bay Packers – Current Record, 7-3
Danny Shelton, Washington, DT: B.J. Raji has been a fixture in the middle of the Green Bay defense since being drafted in 2009. This past preseason Raji tore his bicep and was lost for the regular season. He is a free agent in 2015. Shelton would be envisioned as the next big man in the interior of the Packers' defense. He leads the Huskies' in tackles (82) and is second on the team with 8.5 sacks and 16 tackles-for-loss. Shelton is a space-eater with the ability to collapse the pocket. It is possible that Shelton emerges as one of the most desired players in next years NFL Draft.
24. Kansas City Chiefs – Current Record, 7-3
A.J. Cann, South Carolina, OG: Andy Reid builds from the inside out. Very rarely under his watch does the team shy from addressing the interior of either the offensive or defensive line. Cann brings great intangibles for the position. The Gamecocks' durable team leader will give the Chiefs a long-term solution to the guard position.
25. Atlanta Falcons – Current Record, 4-6
Shane Ray, Missouri, DE: Atlanta ranks last in the NFL in total defense as they have just 13 sacks. To help put things into perspective on how inadequate their defense is, Kansas City Chiefs' outside linebacker Justin Houston has 12 sacks alone. The Tigers' have had a good run of producing NFL-quality defensive lineman, and Ray continues the trend. Ray has the skills to excel at the next level.
26. Indianapolis Colts – Current Record, 6-4
Melvin Gordon, Wisconsin, RB: Gordon electrified college football last Saturday as he rushed for a FBS college-record 408 yards along with four touchdowns. Gordon eclipsed the single-game mark held since 1999 by TCU's LaDainian Tomlinson by two yards. Trent Richardson still has been unable to answer the bell for the Colts' losing snaps to Ahmad Bradshaw (free agent in 2015). Gordon is a patient runner that excels at finding the hole and hitting another gear to pick up big chunks of yards.
27. Cincinnati Bengals – Current Record, 6-3-1
Ifo Ekpre-Olomu, Oregon, CB: The Bengals drafted Alabama's Dre Kirkpatrick in 2012 and the jury is still out on if he is a bust or not. Bengals defensive coordinator Paul Guenther has an arsenal of smaller quick cornerbacks on the roster. Ekper-Olomu fits the mold to perfection.
28. Philadelphia Eagles – Current Record, 7-3
Jordan Jenkins, Georgia, OLB: Chip Kelly is winning with his offense but he could win it all if the defense catches up with the high-octane offensive unit. The Eagles' defense has had its moment of dominance but lack a true identity. Jenkins can bring a bounty of pressure to the quarterback. It hasn't been since the team's late defensive coordinator Jim Johnson was with the team that the defense was feared in Philly.
29. Detroit Lions – Current Record, 7-3
Malcom Brown, Texas, DT: The Lions' boast one of the best defensive fronts in the NFL as they top the NFL in total defense. They rank number one against the run allowing only 68.8 yards per game. Keeping that stout front going will be critical this off-season. The team built through the draft, adding Ndamukong Suh, Nick Fairly and Ziggy Ansah over the last five years. Suh is essentially in the final year of his rookie contract as 2015 is a voidable year, and he's likely to leave. Brown is a big bad man who elevates the players around him.
30. Denver Broncos – Current Record, 7-3
Hau'oli Kikaha, Washington, DE/OLB: Von Miller is as good as any pass rusher in the NFL. The Broncos signed DeMarcus Ware to replace Elvis Dumervil, whom they lost via free agency in 2012. Kikaha will be groomed to replace Ware, who enters the twilight of his career in Denver. Named to the preseason watch list for the Bednarik Award (given to the top defensive player), Kikaha is relentless in pursuing the quarterback. Currently, Kikaha is tied for number overall among FBS schools with 16.5 sacks.
31. New England Patriots – Current Record, 8-2
Kevin White, West Virginia, WR: Tom Brady has found his stride even with a misfit bunch of offensive weapons. He started out slowly throwing only one touchdown pass in each of his first four games this season. Since Week Five, he has thrown 20 touchdown passes clicking on all cylinders. The Patriots have tried several times to address the receiver position via the NFL Draft. White has the kind of size (6-foot-3, 210 pounds) needed be physical yet he runs crisp patterns a definite plus in the NFL.
32. Arizona Cardinals – Current Record, 9-1
Dorial Green-Beckham, Oklahoma, WR: Arizona is one tough cookie to crack. Key losses on both sides of the football since the beginning of training camp haven't kept this team from being tops in the NFL. Larry Fitzgerald is far from being washed up, but picking 32nd  and seeing a guy the caliber of Green-Beckman staring you in the face, you make the pick. Fitzgerald is surrounded by a lot above average players, but let's be realistic you must have at least one horse to make the offense go. Green-Beckman is a huge target with unlimited upside.
Buccaneers admit mistake, boot Aguayo
In the NFL, it's always better to admit a mistake than to compound it. For the Buccaneers, the decision to burn a 2016 second-round pick on kicker Robert Aguayo has proven to be a mistake. The Buccaneers made the definitive admission of their error on Saturday, cutting Aguayo. He exits with $428,000 in fully-guaranteed salary [
more
]
Source: Mike Florio of ProFootballTalk
Powered by WPeMatico
Did Bucs put too much pressure on Aguayo?
After the Buccaneers surprised everyone by taking a kicker with the 59th overall pick in the draft, G.M. Jason Licht explained the move by heaping superlatives on the player. "I was very excited along with my staff and coaches about Roberto for a very long time," Licht told PFT Live in May 2016. "It's not [
more
]
Source: Mike Florio of ProFootballTalk
Powered by WPeMatico
Broncos holding their breath on Derek Wolfe
Only two days after losing Billy Winn for the year with a torn ACL, the Broncos are now sweating out another potentially serious injury along the defensive line. Via multiple reports, Broncos defensive lineman Derek Wolfe was carted off the field during practice on Saturday. It's being described as a right ankle injury by coach [
more
]
Source: Mike Florio of ProFootballTalk
Powered by WPeMatico