Week 8 NFL Quarterback Rankings
There's a shakeup at the top of our rankings! Find out where your favorite QB stands.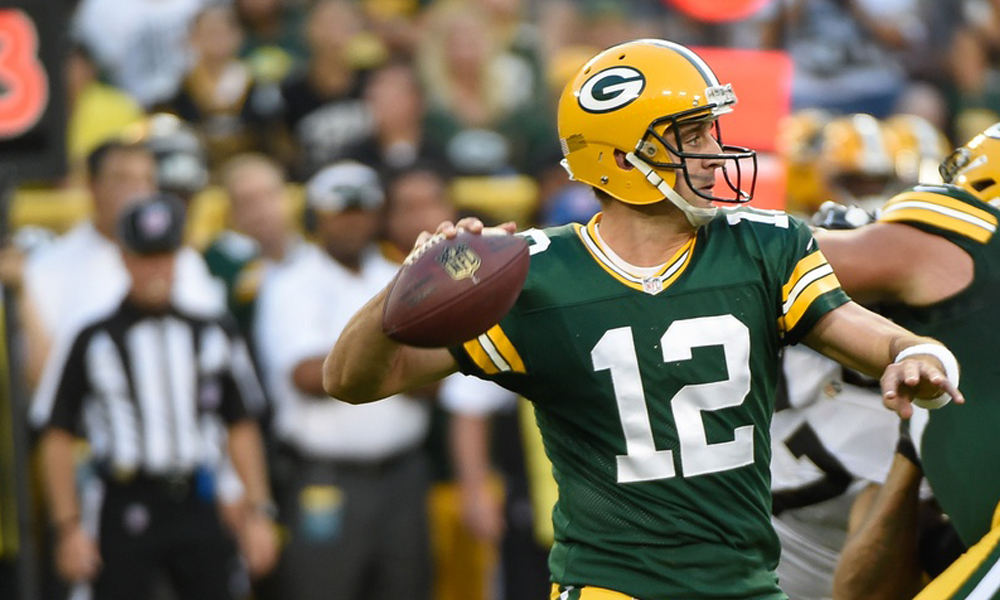 Every week, Football Insiders will rank the NFL's quarterbacks. We have a new No. 1 as Aaron Rodgers has been unbelievable in the month of October.
1. Aaron Rodgers- After a slow start by the team, Rodgers has been incredible. He has thrown for an amazing 18 touchdowns and only one interception on the season, and he's single-handedly lifting the Packers to the NFC North lead.
2. Peyton Manning- If Aaron Rodgers wasn't so unbelievable, Peyton would be an easy choice at No. 1. Manning doesn't have the strong arm, but he's the smartest quarterback alive and he continues to manipulate defenses.
3. Philip Rivers-Rivers does more with less around him than anyone else in the game. It wasn't his fault that the Chargers lost on Sunday.
4. Andrew Luck- Luck continues to play at an unbelievably high level and he takes the Colts from a team drafting in the top 10 to a team that can contend for the Super Bowl.
5. Tony Romo- Romo continues to make perfect throws all over the football field. As we've said many times before, Romo wasn't part of the problem in Dallas.
6. Russell Wilson- If anyone told you that Russell Wilson would be the first quarterback in NFL history to throw for 300 yards and run for 100, would you believe that they would've lost to the Rams? Certainly not his fault.
7. Tom Brady- Brady made just enough plays for the Patriots to beat a Jets team that really outplayed them for most of the game. Brady's slipping a bit, but he's still a guy you want in a big spot.
8. Drew Brees- There's something wrong with Brees and the Saints. They keep losing close games and it feels as if there's just something missing.
9. Cam Newton- Cam is getting healthier and he's back to being a dual threat. Unfortunately, the defense has fallen off the cliff.
10. Alex Smith- Cutler made big throws when he had to against a bad Falcons defense.
11. Andy Dalton- Dalton played remarkably well on Sunday. Not his fault the kicker missed a chip-shot.
12. Ryan Tannehill- The Dolphins quarterback makes the biggest jump of the week as he's been really great over his past three games.
13. Ben Roethlisberger- He's on the short list of guys you'd want if you had one game to win. Ben takes too many hits and goes in slumps, but he usually delivers when the team needs a big play late.
14. Colin Kaepernick- He only made one real mistake in Sunday night's game against Denver. Unfortunately, he needed to score on just about every possession.
15. Matthew Stafford- Stafford has a flare for the dramatic as he's been really good in close games. He's going to play much better when Megatron is healthy.
16. Carson Palmer-Palmer is having a renaissance late in his career under Bruce Arians. The Cards are one of the best teams in the NFC and Palmer has a lot to do with that.
17. Joe Flacco- Flacco appears to have a very good defense again and with that the Ravens are back to being contenders.
18. Jay Cutler-All the arm talent that anyone could ask for and some of the best weapons in the NFL. So why isn't he better?
19. Eli Manning –Eli is very good when the line gives him time to throw. Odell Beckham looks like he's going to be a nice fill-in for Victor Cruz.
20. Nick Foles- Foles doesn't get penalized for a bye week. He has to play better though.
21. Matt Ryan- He has no offensive line left and he doesn't have the time to throw deep to his great weapons.
22. Austin Davis – The Rams rookie is decisive and isn't afraid to make mistakes. He shredded the Seahawks secondary en route to the biggest win in years for the Rams.
23. Geno Smith- Geno was tremendous in the Jets' loss to the Patriots. Percy Harvin should help him going forward.
24. Kyle Orton- He shaved his mustache but he still had the strength of the mustache as he led the Bills to a last-second victory.
25. Blake Bortles- Bortles had his worst game as a pro on Sunday… and the team won. Go figure?
26.Ryan Fitzpatrick- He doesn't trust his arm enough to throw into traffic, but he doesn't have the arm strength to consistently beat defenses outside the numbers. He's a good backup at this point.
27. Brian Hoyer- He may have had his worst game as a pro against one of the worst defenses in the NFL. If Hoyer doesn't have a good running game, there's serious questions whether he can succeed.
28. Jake Locker/Charlie Whitehurst- Titans are going nowhere with these two.
29. Derek Carr- Carr avoided turning the ball over against a good Cardinals defense. That's pretty good.
30. Teddy Bridgewater- He looks really indecisive in the pocket. Once the game slows down a bit he'll be fine.
31. Mike Glennon- Glennon didn't lose during the bye week.
32. Kirk Cousins- Cousins was benched for Colt McCoy so this is the last we'll see of Kirk Cousins on this list.
Buccaneers admit mistake, boot Aguayo
In the NFL, it's always better to admit a mistake than to compound it. For the Buccaneers, the decision to burn a 2016 second-round pick on kicker Robert Aguayo has proven to be a mistake. The Buccaneers made the definitive admission of their error on Saturday, cutting Aguayo. He exits with $428,000 in fully-guaranteed salary [
more
]
Source: Mike Florio of ProFootballTalk
Powered by WPeMatico
Did Bucs put too much pressure on Aguayo?
After the Buccaneers surprised everyone by taking a kicker with the 59th overall pick in the draft, G.M. Jason Licht explained the move by heaping superlatives on the player. "I was very excited along with my staff and coaches about Roberto for a very long time," Licht told PFT Live in May 2016. "It's not [
more
]
Source: Mike Florio of ProFootballTalk
Powered by WPeMatico
Broncos holding their breath on Derek Wolfe
Only two days after losing Billy Winn for the year with a torn ACL, the Broncos are now sweating out another potentially serious injury along the defensive line. Via multiple reports, Broncos defensive lineman Derek Wolfe was carted off the field during practice on Saturday. It's being described as a right ankle injury by coach [
more
]
Source: Mike Florio of ProFootballTalk
Powered by WPeMatico