Week 5 NFL QB Rankings
Find out where your favorite signal caller ranks as we list each of the starting QB's, 1-32.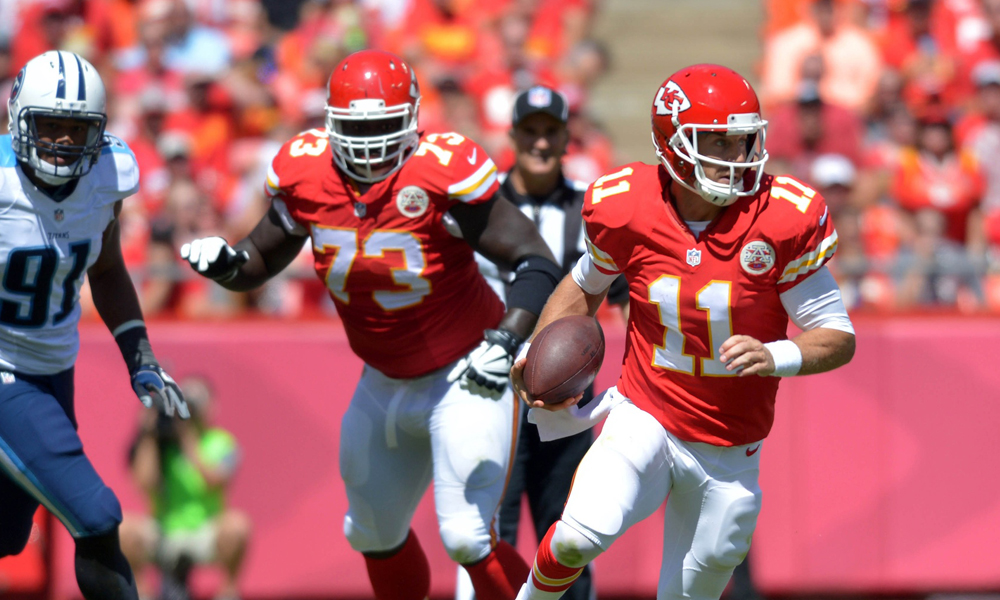 Every week, Football Insiders will rank the NFL's quarterbacks. There's not much of a change at the top as Philip Rivers was spectacular and some of the top guys had their bye weeks.
1. Philip Rivers- Another strong performance against a bad team.
2. Russell Wilson- Bye week is over and he gets to take on a bad Redskins defense on Monday night.
3. Peyton Manning- Peyton has a really nice matchup with the great Patrick Peterson and the Arizona Cardinals on Sunday.
4. Andrew Luck- Luck has been excellent over the past few weeks and leads the NFL in touchdown passes.
5. Aaron Rodgers- Rodgers finally looked like himself against a bad Bears defense. We'll see if the momentum carries over on the short week against Minnesota.
6. Tony Romo- Romo looks like a completely different guy than when the season started. He's healthier, more nimble and making very good decisions.
7. Andy Dalton- Dalton has a great matchup on Sunday night against the Patriots. Dalton has struggled in the past against the elite teams so this is a good measuring stick game for the Bengals.
8. Drew Brees- Brees' offensive line really struggled against Dallas and the game situation forced the Saints' offense to be one-dimensional.
9. Ben Roethlisberger- Ben continues to make great throws when he needs to. It's not his fault the defense allowed a game-winning drive to Mike Glennon.
10. Matthew Stafford- Bounce-back game from Stafford, who played mistake-free football against a very good Jets defense.
11. Tom Brady- There are major issues with the Patriots' offense and Brady just looks off. He only trusts two receivers and they have no vertical threats whatsoever.
12. Alex Smith- Everyone's favorite game manager managed Monday's game to perfection. Smith made plays when he needed to and limited mistakes.
13. Matt Ryan- Ryan is a different quarterback away from home, which is something we see often from dome quarterbacks.
14. Arizona Cardinals*- The Cards had a bye but expect Carson Palmer back next week when they travel to Denver. This will be a good opportunity for Palmer to measure up against Peyton Manning.
15. Cam Newton- With most of the Panthers' running backs hurt, they need Cam to give the team a lift. He hasn't been doing that.
16. Jay Cutler- Good Jay in the first half, bad Jay in the second half. After almost nine seasons, I think that's who he is.
17. Eli Manning– Two great games in a row for Eli. He's benefiting from great offensive line play the last two weeks.
18. Joe Flacco- Joe Cool was really good against what used to be a good Carolina defense. Don't look now but the Ravens are 3-1.
19. Colin Kaepernick- Colin made his fair share of plays and mistakes. Overall, the defense was good enough to overcome their quarterbacks mistakes.
20. Brian Hoyer- Most thought that the bye week would allow Brian Hoyer to be benched in favor of Jonathan Football. That won't happen anytime soon if Hoyer stays healthy.
21. Nick Foles- He probably played his worst game in a couple years against San Francisco. He was inaccurate and made poor decisions.
22. Ryan Tannehill- There's nothing like a game against the Raiders for a quarterback with waning confidence. Tannehill rode a solid game plan and a strong running game.
23. Ryan Fitzpatrick- He wasn't great against his old team but he was better than E.J. Manual.
24. Kirk Cousins- He was atrocious against the Giants and he has to be much better if he's going to convince Washington or anyone else to make him a full-time starter.
25. Teddy Bridgewater- Teddy was really great against a questionable Falcons defense before hurting his ankle. Let's hope he's well enough to play Thursday.
26. Blake Bortles- The Blake Bortles era represents lots of hope for Jaguars fans. Bortles made some great plays and some bad ones, but he's an enormous upgrade over Chad Henne.
27. Mike Glennon- Glennon made plays when he needed to and led the Bucs to a last-second victory. He still has plenty of footwork issues, but he's the best they have right now.
28. Jake Locker- Charlie Whitehurst didn't play well enough to take Locker's job, but someone has to.
29. Austin Davis- Davis had a nice week off to fix some mistakes. We'll see how well he does next week against Philadelphia.
30. Geno Smith- Geno keeps turning the ball over in crucial spots. If that persists, they're going to make the move to Michael Vick.
31. Kyle Orton- E.J. Manuel was pretty bad on Sunday but he didn't get much help as his receivers dropped a lot of balls. That was enough to get Kyle Orton the starting nod.
32. Derek Carr- Carr hurt his knee and ankle and will have to take a seat on the bench for a while. Matt McGloin will take his turn.
Buccaneers admit mistake, boot Aguayo
In the NFL, it's always better to admit a mistake than to compound it. For the Buccaneers, the decision to burn a 2016 second-round pick on kicker Robert Aguayo has proven to be a mistake. The Buccaneers made the definitive admission of their error on Saturday, cutting Aguayo. He exits with $428,000 in fully-guaranteed salary [
more
]
Source: Mike Florio of ProFootballTalk
Powered by WPeMatico
Did Bucs put too much pressure on Aguayo?
After the Buccaneers surprised everyone by taking a kicker with the 59th overall pick in the draft, G.M. Jason Licht explained the move by heaping superlatives on the player. "I was very excited along with my staff and coaches about Roberto for a very long time," Licht told PFT Live in May 2016. "It's not [
more
]
Source: Mike Florio of ProFootballTalk
Powered by WPeMatico
Broncos holding their breath on Derek Wolfe
Only two days after losing Billy Winn for the year with a torn ACL, the Broncos are now sweating out another potentially serious injury along the defensive line. Via multiple reports, Broncos defensive lineman Derek Wolfe was carted off the field during practice on Saturday. It's being described as a right ankle injury by coach [
more
]
Source: Mike Florio of ProFootballTalk
Powered by WPeMatico