Week 16 NFL Quarterback Rankings
Find out where your favorite quarterback ranks through 15 weeks of the NFL season.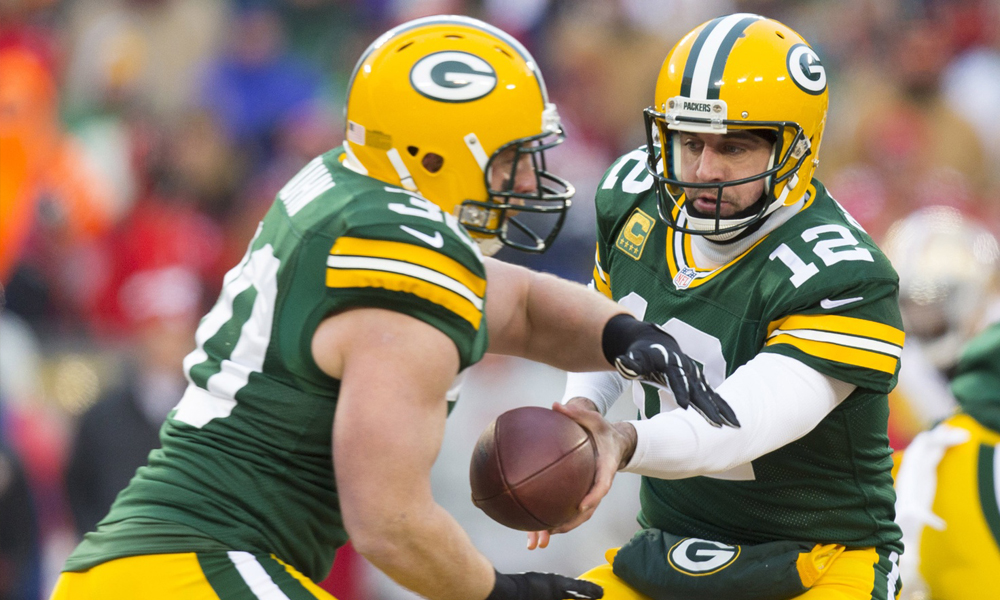 Every week, Football Insiders will rank the NFL's quarterbacks. We had quite a few shakeups in the Top 10.
Aaron Rodgers- Rodgers looked horrid on Sunday, completing just 17 of 42 passes for 185 yards, no touchdowns, and two interceptions. Though, he is still deserving of the number one spot in this week's countdown. It was his first game of the year without a touchdown. He nearly doubled his interception total, now totaling five on the season. Even with the poor performance, Rodgers still is on pace for 4,385 yards, 40 touchdowns, and six interceptions. He leads the league with a 111.2 passer rating.
Tom Brady- The Patriots only held the ball for 26:14 minutes, but still managed 41 points against the strong defense of the Miami Dolphins. Brady totaled 305 yards, two touchdowns, and an interception. The seemingly age-less Tom Brady is having a strong bounce-back season after a disappointing regular season last year. His 99.8 passer rating is the fourth highest of his 15-year career and he is on pace for 37 touchdowns, the third highest of his career.
Peyton Manning- After his worst performance of the year last week, Manning bounced back and completed 70.0 percent of his passes for 233 yards, one touchdown, and a passer rating of 125.6. He threw just six incomplete passes and had an outstanding 11.65 yards per pass attempt. Manning, however, is in the midst of a four game streak where he has failed to throw over 260 yards. In fact, his last four passing yard totals have been 257, 179, 173, and 233. Even with these totals, the future Hall of Famer is on pace for 4,735 yards and 43 touchdowns. If he can keep his 106.4 passer rating above 100.0, it will mark his thirst straight season with at least 100.0 passer rating. He did that one other time in his career with Indianapolis (2004-2006).
Tony Romo- Romo came up huge in a must-win game for the Cowboys against the Eagles on Sunday Night Football. He threw for 265 yards, three touchdowns, and no interceptions on his way to leading the Cowboys to 38 points. Amazingly, it was the fifth time of the year having at least three touchdowns and no interceptions in a game. He raised his total passer rating to 110.4 on the season, just barely trailing Aaron Rodgers' 111.2. He is tied with Drew Brees for the highest completion percentage in the NFL (69.3).
Andrew Luck- Luck had a tough time against the Houston Texans' defense on Sunday. He was constantly feeling pressure and was sacked twice, both by J.J. Watt. At age 25, Luck is leading the league in passing yards and touchdowns, even with having the most dropped passes by receivers in the NFL (35, next closest team is the Giants with 25).
Drew Brees- Brees led the Saints to a huge 31-15 win against the Bears on Monday Night Football. He threw for 375 yards, three touchdowns, and no interceptions. He now has 31 touchdowns on the season and 12 interceptions. He now leads the league is completion percentage.
Ben Roethlisberger- Big Ben upped his passing yard total to 4,415 with 360 in a 27-20 win against the Falcons on Sunday. He didn't throw a touchdown, but he put Le'Veon Bell in a position to run for two touchdowns. At age 32 and in his eleventh season, Roethlisberger has already broken his previous high in passing yards and is on pace to break his highs in completion percentage, touchdowns, and QBR (total quarterback rating). He and Antonio Brown have hooked up for 1,498 yards and 11 touchdowns on the season thus far.
Russell Wilson- Though the Seahawks got the win, Wilson struggled. He threw for a season-low 168 yards and completed just 12 of 24 passes. He threw a touchdown for the fifth straight game and had his first interception since Week 10. His 27 rushing yards was also his third-lowest of the season. Though, he is still on pace for an incredible 862 rushing yards and six touchdowns.
Phillip Rivers- The Chargers are on a two-game losing streak that can directly correlate to Rivers' poor play. Granted the losses were against the Patriots and the Broncos, Rivers still has to play better than he did. In the last two games, he has 421 yards, two touchdowns, and three interceptions. The Chargers are now a game out of the playoffs and tied with the Chiefs and Bills. He is on pace for his sixth 4,000 passing yard-season; only Peyton Manning and Drew Brees have had more 4,000 yard seasons. He will tie Tom Brady, Brett Favre, and Dan Marino with six.
Matt Ryan- Though the Falcons are having another disappointing season, Matt Ryan is not. In fact, he is on pace for 4,700 yards, 31 touchdowns, and 14 interceptions. His 96.0 passer rating is the second highest of his career and at age 29, he should be entering his prime years.
Joe Flacco- Flacco is changing the perception that he is only good in the playoffs. He is having an incredibly strong season, having thrown for 3,479 yards, 23 touchdowns, and only nine interceptions thus far. The Ravens are slated to make the playoffs as the sixth seed, which would mean the AFC North would have three playoff teams. Flacco, who is in the running for most improved player, raised his passer rating from a horrid 73.1 last year to a strong 94.8 this season. His completion percentage (64.2) is the highest of his career.
Alex Smith- Since Week 2, Smith has only thrown three interceptions in 13 games. That's what makes him such a good starting quarterback. He rarely makes mistakes and he knows his role in the offense. He threw for 297 yards (highest season total) and two touchdowns in a 31-13 win against the streaky Oakland Raiders. The 49ers are starting to really miss this guy.
Eli Manning- Eli is having a very impressive bounce-back season after throwing for 18 touchdowns, 27 interceptions, and 69.4 passer rating last year. He has 3,590 yards, 26 touchdowns, 13 interceptions, and a passer rating of 90.0 this season. Eli is one of the most reliable starters in the NFL, having not missed a game in the last ten years. He and Odell Beckham Jr. could possibly be a top-five quarterback to wide receiver combo in the coming years.
Ryan Tannehill- The 26-year-old quarterback is having a very promising season. His passer rating has risen in every season since his rookie year and he is on pace to surpass his career high in touchdowns and completion percentage while throwing significantly less interceptions (11). His running numbers have also been impressive this season, having run for 316 yards and one touchdown this far. That is the fourth highest total among quarterbacks, trailing only Russell Wilson, Cam Newton, and Colin Kaepernick.
Jay Cutler- Cutler felt the wrath of the Chicago Bears fans on Monday Night Football after throwing three interceptions early in the game. He now has the most turnovers in the NFL. He or Marc Trestman has to go.
Derek Anderson- Filling in for Cam Newton, Anderson threw for 277 yards, one touchdown, and no interceptions. He has a passer rating of 105.2 on the season and is 2-0 as a starter (both wins against the Buccaneers). He has five touchdowns and no interceptions on the season.
Matthew Stafford- Stafford threw for 153 yards and a touchdown in a 16-14 win against the Minnesota Vikings on Sunday. He has had a very strong three-game stretch, throwing for 854 yards, six touchdowns, and no interceptions. The Lions' are 10-4 on the season and are in a position to make the playoffs. His passing-yard total has been declining ever since the 2011 season (5,038 to 4,967 to 4,650 to 3,797 thus far this season).
Colin Kaepernick- The 49ers lost their third straight game on Sunday and were eliminated from playoff contention. Kaepernick could be held at fault for that. In the past three games, the 49ers are averaging just seven points per game, and only 11 in their past five. Kaepernick has failed to throw for more than one touchdown in a game since Week 6 and has thrown for 200+ yards just once in the past four games. After scoring nine times on the ground since 2012, Colin has failed to run a touchdown in. 49ers' fans are shaking their heads at the move to get rid of Alex Smith now.
Shaun Hill- Arguably one of the streakiest quarterbacks in the league, Hill threw for just 229 yards and an interception in a game where the Rams offense failed to score a touchdown. Hill has played in six games this season; three times having a passer rating over 100.0 and three times having a passer rating below 60.0. There's no 'middle ground' for this guy.
Teddy Bridgewater- In the past seven games, Bridgewater has ten touchdowns and five interceptions. He threw for 315 yards against the Lions defense on Sunday, marking his second straight game of 300+ yards. He also has a completion percentage of over 70.0 in his last three games. He is showing tremendous skill in his rookie year and has given the Vikings a light at the end of the tunnel.
Drew Stanton- Before leaving the game due to a knee injury, Stanton threw for 109 yards and no touchdowns. Stanton did a decent job of filling in for the injured Carson Palmer; he averaged 214 passing yards per game and had seven touchdown and five interceptions.
Robert Griffin III- Griffin had to come in for the injured Colt McCoy in Sunday's 13-24 loss to the Giants. Griffin played well, throwing for 236 yards, one touchdown, and 46 rushing yards. Jay Gruden announced that RGIII will be starting next week against the Eagles. Gruden said after the game that RGIII had some good plays and played with tons of energy. We'll see if he can take advantage of the starting job.
Mark Sanchez- In the seven games that Sanchez has started, the Eagles are 4-3 and are averaging 30 points per game. He is averaging 250 passing yards per game, which would have put him on pace for 4,000+ yards in a full season. He has definitely showed signs of improvement since playing for the Jets, but should play out the rest of his days as a solid backup quarterback.
Andy Dalton- Dalton continues to disappoint. Even with the overly-talented offense of the Bengals (A.J. Green, Mohamad Sanu, Jeremy Hill, and Giovani Bernard), Dalton still finds good games as a rarity. He threw for 117 yards and an interception on Sunday against the Browns. He has fifteen touchdowns and fourteen interceptions on the season. One could only wonder how good A.J. Green would be with a better quarterback throwing him the ball.
Kyle Orton- Kyle Orton outplayed Aaron Rodgers. I repeat. Kyle Orton outplayed Aaron Rodgers and the Bills won. Hearing this, you might think, "Wow! What did he have? 300 yards and three touchdown? 400 yards?" Nope, he had 158 yards and one interception. That's still better than Rodgers' though… The Bills are 6-4 with Orton starting. He has fourteen touchdowns and eight interceptions on the season.
Josh McCown- In a 17-19 loss to the Panthers, McCown threw for 154 yards, one touchdown, one interception, and ran for a touchdown. He has more interceptions (12) than touchdowns (10) this season and has a passer rating of just 72.6.
Geno Smith- Smith has played well the past two games, throwing for 433 yards, two touchdowns, and one interception. He shows bright spots here and there, but still makes too many mistakes. He completes just 58 percent of his passes for a weak 6.21 yards per attempt and has nine touchdowns to 12 interceptions on the season.
Derek Carr- Carr threw for 222 yards on Sunday, marking the first time this season he has thrown for 200+ yards in back-to-back games (scary to think Luck threw for 300+ yards in eight straight). In the past two games, he also has four touchdowns and no interceptions. He is on pace for 3,312 yards, 21 touchdowns, and thirteen interceptions. For quarterbacks who have over 400 pass attempts, Carr has the third lowest completion percentage (58.4) and has the lowest among quarterbacks who have thrown over 500 passes.
Blake Bortles- Bortles had his fourth game of the season where he threw for no touchdowns and at least one interception. Even though he has started every game this season, he has yet to have a game where he threw for over two touchdowns. He is on pace for 3,058 yards, 11 touchdowns, and 19 interceptions.
Charlie Whitehurst- Whitehurst replaced the injured Jake Locker midway through the Titans' 16-11 loss to the Jets. He ended the game with 203 yards and no touchdowns or interceptions. He completed just 41.7 percent of his passes. He will be the Titans starter for the last two weeks of the season.
'Texans Starter'- Both Ryan Fitzpatrick and Tom Savage were hurt in the Texans 17-10 loss to the Colts on Sunday. It will either be newly-signed Case Keenum or third-year veteran Thad Lewis. Either way, it's going to be a rough last two weeks for the Texans.
Johnny Manziel- Johnny "football" had, to say the least, a very disappointing first-start in the NFL. He threw for just 80 yards and had two interceptions, leading to a total quarterback rating of 1.0. Manziel said that he "saw the field fine today but when I came down to it, I just needed to throw the ball and let it rip, and I didn't do a very good job of that."
Broncos holding their breath on Derek Wolfe
Only two days after losing Billy Winn for the year with a torn ACL, the Broncos are now sweating out another potentially serious injury along the defensive line. Via multiple reports, Broncos defensive lineman Derek Wolfe was carted off the field during practice on Saturday. It's being described as a right ankle injury by coach [
more
]
Source: Mike Florio of ProFootballTalk
Powered by WPeMatico
Buccaneers admit mistake, boot Aguayo
In the NFL, it's always better to admit a mistake than to compound it. For the Buccaneers, the decision to burn a 2016 second-round pick on kicker Robert Aguayo has proven to be a mistake. The Buccaneers made the definitive admission of their error on Saturday, cutting Aguayo. He exits with $428,000 in fully-guaranteed salary [
more
]
Source: Mike Florio of ProFootballTalk
Powered by WPeMatico
Did Bucs put too much pressure on Aguayo?
After the Buccaneers surprised everyone by taking a kicker with the 59th overall pick in the draft, G.M. Jason Licht explained the move by heaping superlatives on the player. "I was very excited along with my staff and coaches about Roberto for a very long time," Licht told PFT Live in May 2016. "It's not [
more
]
Source: Mike Florio of ProFootballTalk
Powered by WPeMatico