Week 11 NFL Quarterback Rankings
A look at how the quarterbacks line up through Week 10.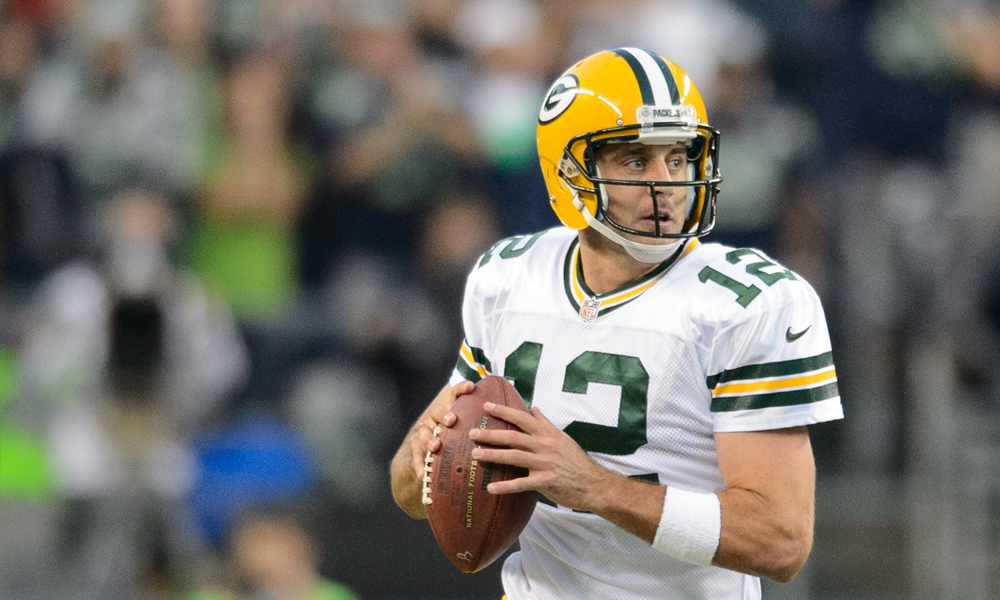 Every week, Football Insiders will rank the NFL's quarterbacks. We had quite a few shakeups in the Top 10.
Aaron Rodgers- He isn't human. Rodgers threw for six, count 'em six touchdowns in the first HALF against the Bears. If it wasn't for the 40+ point lead, who knows what he would have done. He absolutely picked apart the secondary with ease; That was his fourth game of having a quarterback rating over 138.0 this season; Manning and Brady are second with two types of those games each. He is on pace for 4,279 yards, 44 touchdowns, 5 interceptions, and a quarterback rating of 120.1, which is the third-highest rating in a season ever (Note: he also has the highest rating ever in a season; 2011, 122.5 rating).
Peyton Manning- Does this guy age? He threw two interceptions this past week, but also had 340 yards and five touchdowns. He continues to make his case for the greatest quarterback of all-time. Winning the Super Bowl could solidify that.
Tom Brady- Coming off a bye, Brady will look to continue his recent tear of five-straight wins while throwing eighteen touchdowns and just one interception this weekend against Andrew Luck and the Colts.
Andrew Luck- Also coming off a bye, Luck will try to keep pace with his first half performance in order to break the all-time season passing yards record. He is on pace for 5,484 yards. Peyton Manning has the record with 5,477 yards in 2013.
Tony Romo- Romo didn't miss a beat after his one-game absence. He completed 74 percent of his passes on his way to 250 yards and three touchdowns on Sunday. The Cowboys are 7-3 and Romo is looking to lead them to their first division title since the 2007 season.
Drew Brees- He made some costly turnovers against the 49ers, but he still had 292 yards and three touchdowns. However, the Saints are once again under .500.
Ben Roethlisberger- After his amazing two-game stretch, Big Ben dropped a goose egg against the Jets, giving New York just their second win of the season.
Carson Palmer- Unfortunately, this will be Palmer's last time on these rankings. He suffered a season-ending ACL injury right after signing a three-year, $50 million contract extension. The Cardinals were also considered contenders for the Super Bowl before the devastating injury. Palmer still threw for 241 yards and they beat the Rams to go 8-1 on the season.
Philip Rivers- Hopefully, this bye week helped Rivers and he will return to his early-season self. Well, that's what Chargers fans are hoping for anyways.
Alex Smith- Rarely commits turnovers, knows what he is supposed to do to keep the Chiefs winning. Ran in the game-winning touchdown from eight yards out against the Bills on Sunday.
Russell Wilson- Showing how dominant his running game is. Has ran for over 100 yards for the third time this season and is on pace for close to 900 yards and seven rushing touchdowns.
Colin Kaepernick- The 49ers were fighting for their season on Sunday and came out victorious against the Saints in overtime on the road.
Kyle Orton- Still surprised this guy is on the list?
Eli Manning- Tom Brady who? Eli has a touchdown to interception ratio of 14:2 over the last seven games. However, the Giants are 3-4 during that stretch.
Matthew Stafford- He moved up from last week, though he should be higher. With the return of Calvin Johnson, Stafford looked more comfortable and had his highest quarterback rating since September 28th.
Matt Ryan- Ryan is playing well, but the Falcons might be the NFL's most disappointing team two straight years.
Ryan Tannehill- He continues to have a breakout season. The Dolphins' have a bright future.
Mark Sanchez- Never thought you'd see this guy back in a starting job at NFL level, did you? Well, he's taking advantage of it. He threw some perfect balls on Monday and led the Eagles to a 45-21 destruction of the Panthers.
Brian Hoyer- Hoyer threw for just 200 yards, but controlled the ball long enough to sink the Bengals. He knows how to run the offense.
Joe Flacco- The most dependable 200-yard passer in the NFL.
Jay Cutler- Having a rough season. Might be the reason Marc Trestman gets fired.
Michael Vick- Has had a quarterback rating of over 100.0 the past two games and showing flashes of the old Vick (in the good way).
Cam Newton- Not breaking the Top 20 with the talent Newton has is inexcusable. He had four turnovers in the Panthers' embarrassing Monday Night Football loss against the Eagles.
Andy Dalton- His Thursday Night performance was, to say the least, ugly. He had a passer rating of 2.0. After their hot start, fans in Cincinnati are getting restless.
Austin Davis- Doing all he can with the mediocre talent around him.
Ryan Fitzpatrick- The Texans' had a bye and Fitzpatrick's beard got longer. It's now Ryan Mallett's turn.
Teddy Bridgewater- Vikings' fans are hoping he unleashes all his potential soon, they need something to cheer about.
Josh McCown- Played his first game in nearly two months, he picked up right where he left off; with a loss to the Falcons.
Robert Griffin, III- He led the Redskins to 26 points in a loss, yet received much of the blame.
Zach Mettenberger- He's good at taking selfies. Could he be the poster boy for the Titans? No.
Derek Carr- The last time Raiders' fans were excited for Carr was back in Week 1.
Blake Bortles- Had one interception and zero touchdowns last week, putting him on pace for 28 interceptions and 16 touchdowns if he were to play sixteen games.
Buccaneers admit mistake, boot Aguayo
In the NFL, it's always better to admit a mistake than to compound it. For the Buccaneers, the decision to burn a 2016 second-round pick on kicker Robert Aguayo has proven to be a mistake. The Buccaneers made the definitive admission of their error on Saturday, cutting Aguayo. He exits with $428,000 in fully-guaranteed salary [
more
]
Source: Mike Florio of ProFootballTalk
Powered by WPeMatico
Did Bucs put too much pressure on Aguayo?
After the Buccaneers surprised everyone by taking a kicker with the 59th overall pick in the draft, G.M. Jason Licht explained the move by heaping superlatives on the player. "I was very excited along with my staff and coaches about Roberto for a very long time," Licht told PFT Live in May 2016. "It's not [
more
]
Source: Mike Florio of ProFootballTalk
Powered by WPeMatico
Broncos holding their breath on Derek Wolfe
Only two days after losing Billy Winn for the year with a torn ACL, the Broncos are now sweating out another potentially serious injury along the defensive line. Via multiple reports, Broncos defensive lineman Derek Wolfe was carted off the field during practice on Saturday. It's being described as a right ankle injury by coach [
more
]
Source: Mike Florio of ProFootballTalk
Powered by WPeMatico