Three Players Who Deserve More Playing Time
A look at three players who deserve to get more playing time from their respective teams.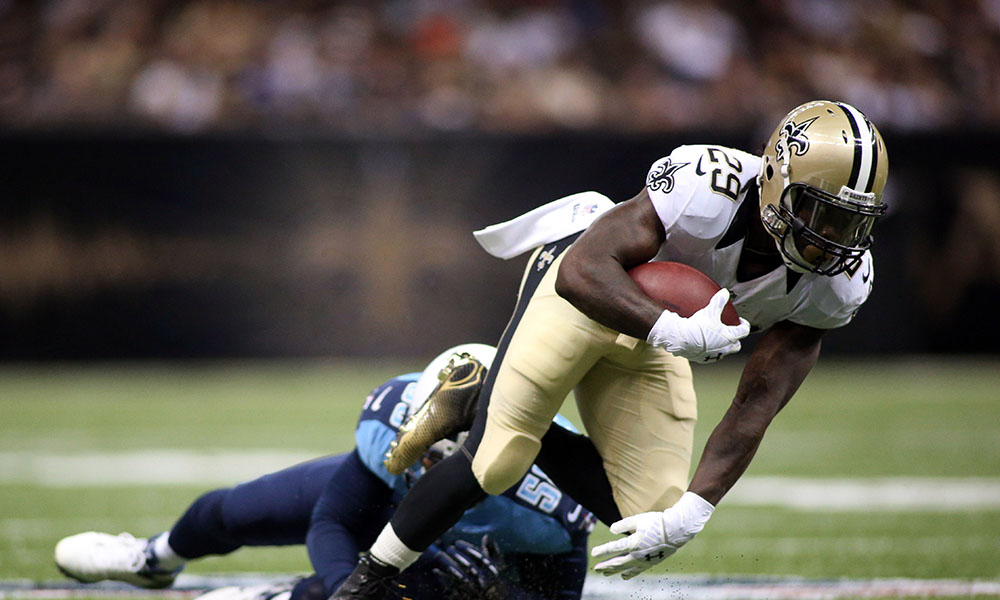 Oftentimes, NFL coaches are very stubborn people by nature. They believe in their scheme or philosophy so wholeheartedly that they will not change unless they are forced to. This is why depth charts usually don't change much throughout the season, unless there is an injury or extenuating circumstances. This leads to players, who could be significant contributors, being underutilized for a large majority of a season.
The best football coaches are the ones who tailor their scheme to their team's strong points and play the best players no matter what. Regardless of contracts, where they were drafted or what they've done in the past, a coach should play the players who have the ability to make the biggest impact at that moment. Unfortunately, there are not many coaches who put this principle into practice. Therefore, there are players across the league who don't get the playing time they deserve, which not only hinders the impact they make, but it doesn't allow the team to operate at an optimum level.
Khiry Robinson – New Orleans Saints (Running Back)
Thus far this season, Robinson has only played in 120 out of 376, roughly 32 percent, Saints' offensive snaps this season. At the moment, he is sharing time with Pierre Thomas due to Mark Ingram's injury. At first glance, it may appear that Robinson and Thomas have had a similar impact. They are both averaging five yards per carry with two touchdowns. Having said that, they have gone about those yards and touchdown in very different ways. Robinson is averaging 2.7 yards per carry after contact, which equates to seventh in the NFL per Pro Football Focus, while Thomas only averages 2.3 yards after contact.
At the moment, Saints head coach Sean Payton utilizes Robinson as a pure running back and Pierre Thomas as the receiving back. Thomas has lined up at running back during 102 pass plays and only 24 running plays. Conversely, Robinson has been on the field for 64 running plays and only 40 pass plays. Robinson averages about 12 carries a game this season; however, he deserves to have at least 18. Robinson is a dynamic runner who is able to run on the outside and between the tackles. He can turn a one-yard gain into a four-yard gain on a regular basis, which is incredibly rare for a running back.
One might point to the fact that the Saints are averaging 26.6 points per game, good for 10th in the NFL, as a reason why the Saints shouldn't switch their running back rotation. The Saints' biggest problem is that their defense is every bit as bad as their offense is good. The Saints' defense is giving up 28.2 points per game, 28th in the NFL, and is the biggest reason they are 2-3 on the season. The best way to help a bad defense is for the offense to eat up the clock. The less amount of time the defense is on the field means there are reduced opportunities for the opposing offense to score. The most efficient way to do this is with a dominant running game and Robinson is the Saints' best chance to achieve that.
Travis Kelce – Kansas City Chiefs (Tight End)
In his limited opportunities, Kelce has been fantastic. He has recorded 20 receptions for 274 yards and three touchdowns from only 164 snaps. Furthermore, Kelce is second among tight ends with at least 25 targets with 3.01 yards per route run according to PFF. Despite these facts, Kelce has only played in 49 percent of the Chiefs offensive snaps. Contrarily, Anthony Fasano, the other Chiefs' tight end, has roughly 93 percent of the offensive snaps. The fact that Fasano has played in almost twice as many plays as Kelce is one of the most puzzling coaching decisions thus far this season.
Some of the more acutely aware fans may say that the reason for the disparity in snaps would be because Fasano is a better blocker than Kelce; however, that is just not the case. During the plays where Kelce is asked to block, he does an adequate job. He is not a dominating or imposing blocker, but he gets his job done more often than not. He is not a liability as a blocker by any means.
Kelce's size, athleticism and ball skills make him a nightmare for opposing defenses in the pass game. He is not yet a savvy route-runner, but his speed and athleticism make him a bad matchup for linebackers, while his size makes him a poor matchup for defensive backs. His ability to hurt defenses doesn't end when he catches the ball; Kelce has a unique ability to gain yards after catch. Kelce is third among tight ends in broken tackles and yards after catch per PFF.
The longer that Kelce is relegated to half of the Chiefs' offensive snaps, the longer the Chiefs offense will remain in mediocrity.
Robert Ayers – New York Giants (Defensive End)
During the offseason, the Giants signed Ayers to be a rotational defensive end who had the ability to spare Mathias Kiwanuka and Jason Pierre-Paul, but he has been much more than that this season. Ayers was a player who had never realized his potential with his former team, the Denver Broncos. It appears as though he is finally realizing that potential now.
For the majority of his career, Ayers was great against the run, but mediocre as a pass rusher. This season, Ayers has remained a great run defender, but he has become extremely effective as a pass rusher as well. Ayers has a pass rush productivity (a stat that takes quarterback hits, hurries and sacks to determine how productive a pass rusher was) of 13.1, which is good for second among 4-3 defensive ends with at least 90 snaps per PFF. Ayers displayed improvement quickness and hand fighting ability. He was already great in terms of leverage, but his ability to win at the point of attack while rushing the passer has been extremely impressive.
Thus far this season, Ayers has only played in about 49 percent of the Giants' defensive snaps, while Kiwanuka has played in about 77 percent of those snaps. If we go off only how each player as performed this season, Ayers should be the one with the majority of snaps, not Kiwanuka. Ayers played in 95 fewer snaps, but has more sacks, quarterback hits, hurries and stops than Kiwanuka. With Pierre-Paul commanding double teams at the right defensive end position, the Giants need a defensive end on the opposite side who can win one-on-one battles on a consistent basis; Ayers is the man for the job.
Each one these players have proven they deserve more opportunities from their respective teams. They all make a significant impact despite a relatively small amount of chances.
The definition of underutilization, according to businessdictionary.com, is "a condition wherein the resources available are not being used to their fullest potential." At the moment, Robinson, Kelce and Ayers are the epitome of underutilization, it will be up to each of their respective teams to change that.
Buccaneers admit mistake, boot Aguayo
In the NFL, it's always better to admit a mistake than to compound it. For the Buccaneers, the decision to burn a 2016 second-round pick on kicker Robert Aguayo has proven to be a mistake. The Buccaneers made the definitive admission of their error on Saturday, cutting Aguayo. He exits with $428,000 in fully-guaranteed salary [
more
]
Source: Mike Florio of ProFootballTalk
Powered by WPeMatico
Did Bucs put too much pressure on Aguayo?
After the Buccaneers surprised everyone by taking a kicker with the 59th overall pick in the draft, G.M. Jason Licht explained the move by heaping superlatives on the player. "I was very excited along with my staff and coaches about Roberto for a very long time," Licht told PFT Live in May 2016. "It's not [
more
]
Source: Mike Florio of ProFootballTalk
Powered by WPeMatico
Broncos holding their breath on Derek Wolfe
Only two days after losing Billy Winn for the year with a torn ACL, the Broncos are now sweating out another potentially serious injury along the defensive line. Via multiple reports, Broncos defensive lineman Derek Wolfe was carted off the field during practice on Saturday. It's being described as a right ankle injury by coach [
more
]
Source: Mike Florio of ProFootballTalk
Powered by WPeMatico