The Most Misused Players in the NFL
Find out which players are criminally misused on their current teams.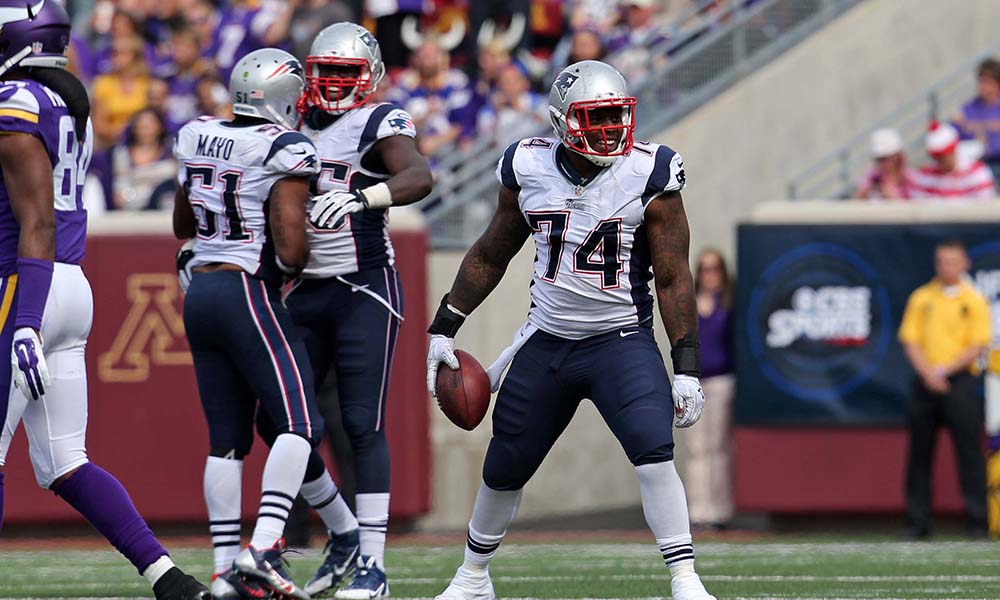 Some of the sharpest football minds in the world coach and run NFL teams; however, there are times where they make mistakes. One of the most prevalent mistakes they make is when players are not utilized in the best way to adhere to their strengths. This can happen in a myriad of ways; a scheme change can leave a player in a position that doesn't play to his strengths or a player could just be playing the wrong position. Whatever the reason, there are numerous players who are like a fish out of water, they just don't fit in that environment. These players have the potential to be game-changing players, but are held back by the way they are used.
Dominique Easley, New England Patriots
The first player who comes to mind is New England Patriots defensive end Dominique Easley. In college, Easley was an elite one-gap penetrator from a variety of spots along the defensive line at Florida. His elite first-step quickness and technical hand usage had many believing he was on the same level with the No. 13 pick Aaron Donald. If it weren't for a torn ACL during his last year of college, he would have likely been a top-15 pick. Nonetheless, the New England Patriots with the No. 29 overall selection drafted him in the first round.
The Patriots are known as a two-gap team, where the defensive linemen play the gaps on both sides of where they are lined up instead of just penetrating a single gap, the result has been cringe worthy. Easley looks badly out of place, as he doesn't have the strength to hold up against offensive linemen at the point of attack on a regular basis. To succeed as a two-gap player, one must have an elite understanding of leverage along with great physical strength, neither of which are Easley's strong points.
He is playing out of position as a 5-technique defensive end, when he would be much better as a 3-technique defensive tackle. As a 3-technique in a 4-3 defense, he would be allowed to utilize his quickness to get up field and wreak havoc in the backfield. It will be interesting to see if Easley develops the traits necessary to thrive in a two-gap scheme or if it will take a change of scenery for him to truly thrive.
Brandon Graham, Philadelphia Eagles
Another player who is being critically misused is Philadelphia Eagles outside linebacker Brandon Graham. The Eagles' base defense, similar to the Patriots, is a two-gapping 3-4 defense (three down lineman with four linebackers), which requires the outside linebackers to have similar responsibilities to a 4-3 defensive end (set the edge against the run and rush the passer off the edge), but with the added caveat that they play a great deal of snaps in coverage.
Graham thrives when he is asked to pin his ears back and rush the passer off the edge, he also does an adequate job when he has to set the edge against the run. When Graham was initially drafted, it was to be a great pass rusher for the Eagles 4-3 defense and he was fantastic at it. In 2012, he had a pass rushing productivity (a stat that takes quarterback hits, hurries and sacks to determine how productive a pass rusher was) of 17.32, which is the highest score of any player since the stat was invented in 2008 according to Pro Football Focus.
Having said that, he is not very good in coverage and looks lost at times. This is a large reason why Graham doesn't see as much playing time as he should on Sundays. Graham only played in 27 percent of the Eagles defensive snaps last year and has only played in 34 percent of them this year. For a player with the pass-rush ability that Graham has that is a huge injustice. If Graham were still in a 4-3 defense, he would probably be one of the most effective defensive ends in the NFL. Nonetheless, he is twirling in obscurity.
Vinny Curry, Philadelphia Eagles
The last player who has been criminally misused also plays in Philadelphia, Vinny Curry, who, much like Easley, plays most of the time at the 5- or 4i-technique defensive end spot for the Eagles. Nonetheless, his skill set is better used as a traditional 4-3 defensive end. The thing about Curry is that even the Eagles will tell you that they don't use him to his full strength.
"The two-gap part of it, he's a little undersized, but getting better and better and better at two-gapping. So when you talk about Vinny and you put him in there in a 4-i (lined up opposite the guard's inside shoulder) and ask him to take on 500 pounds of men and double team, that's not his world," Eagles defensive coordinator Bill Davis said. "When you ask Vinny to get in the gap and penetrate, that's his world."
Curry is at the very least a starting caliber 4-3 defensive end in the NFL; however, since he has been miscast as a 3-4 defensive end, he has only played about 29 percent of the Eagles' defensive snaps.
Oftentimes, when there is a transition of coaching staffs there are players who are forced to play at positions they weren't brought in to play. It appears as though Graham and Curry are two casualties of this type of change in philosophy. Both players were great fits under Juan Castillo's 4-3 defense in 2012, but the change to a 3-4 has significantly diminished their value.
The problem with a large majority of coaches is that they don't mold their schemes to fit their players. Instead, they will stubbornly try to smash a square peg in a round hole in hopes that the square peg will eventually morph into a round object and fit into that hole. Only the best coaches have the knowledge and humility to change their scheme to best fit their players' strengths. A great example of this is with the Dallas Cowboys' defensive coordinator Rod Marinelli. Last year, the Cowboys cornerbacks played a great deal of zone and off-coverage, which didn't play to their strengths and led to the Cowboys having the worst defense in the NFL. This season, Marinelli switched up the scheme to include more man coverage plus zone coverage with man concepts, which fits the Cowboys personnel much better. This critical scheme change has the Cowboys only allowing 20.2 points per game this year as compared to 27 points per game a year ago.
The real problem with misusing players in the NFL is that it severely hampers their ability to get their true value on the open market. When Curry (2015), Graham (2016) and Easley (2018) finally hit free agency they will not receive a contract that is on par with the type of players they are. Because each player is not used in a way that highlights their strengths, they are not as productive in their current systems as they could be in others. Therefore, once they hit free agency they will only be offered contracts on par with the type of production that they had recently shown they could accomplish. Furthermore, that means a team whose scheme fits any of the aforementioned players could likely sign one of them to contract at a fraction of the percentage of their true value to that scheme. However, if Graham, Curry or Easley were in a scheme that fit their strengths, they would garner much more money on the open market because they would have been much more productive.
Graham, Curry and Easley are stuck on the Island of Misfit Toys and they don't appear to be getting off anytime soon.
Buccaneers admit mistake, boot Aguayo
In the NFL, it's always better to admit a mistake than to compound it. For the Buccaneers, the decision to burn a 2016 second-round pick on kicker Robert Aguayo has proven to be a mistake. The Buccaneers made the definitive admission of their error on Saturday, cutting Aguayo. He exits with $428,000 in fully-guaranteed salary [
more
]
Source: Mike Florio of ProFootballTalk
Powered by WPeMatico
Did Bucs put too much pressure on Aguayo?
After the Buccaneers surprised everyone by taking a kicker with the 59th overall pick in the draft, G.M. Jason Licht explained the move by heaping superlatives on the player. "I was very excited along with my staff and coaches about Roberto for a very long time," Licht told PFT Live in May 2016. "It's not [
more
]
Source: Mike Florio of ProFootballTalk
Powered by WPeMatico
Broncos holding their breath on Derek Wolfe
Only two days after losing Billy Winn for the year with a torn ACL, the Broncos are now sweating out another potentially serious injury along the defensive line. Via multiple reports, Broncos defensive lineman Derek Wolfe was carted off the field during practice on Saturday. It's being described as a right ankle injury by coach [
more
]
Source: Mike Florio of ProFootballTalk
Powered by WPeMatico