Point-Counterpoint: Did Redskins Make Right Move with RG3?
Are the Redskins making the right move benching Robert Griffin III? Charlie Bernstein and Jeff Carlson discuss.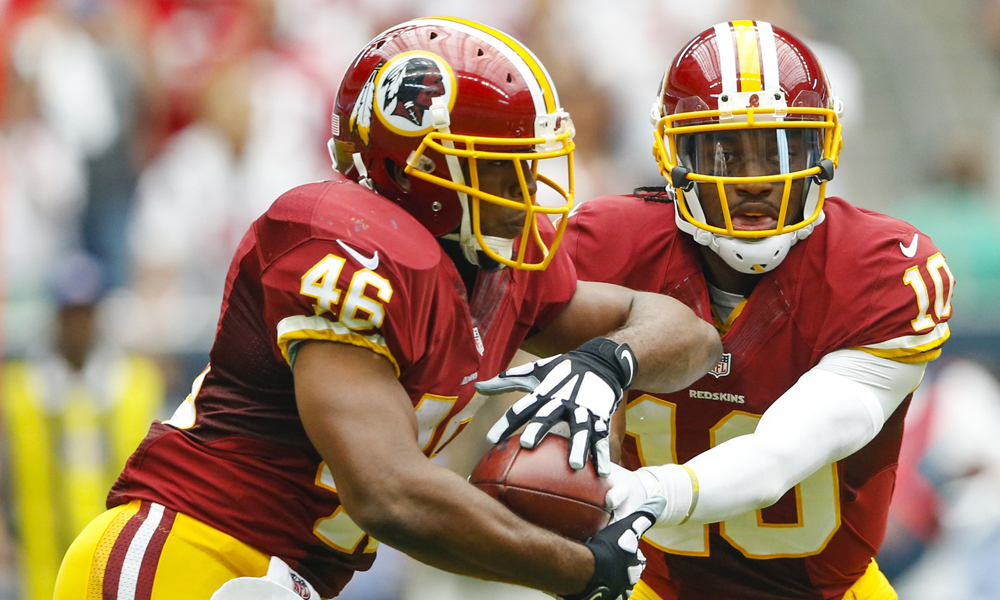 Washington Redskins head coach Jay Gruden will bench starting quarterback Robert Griffin III in favor of journeyman Colt McCoy, according to reports. Is Gruden making the right move? Charlie Bernstein and Jeff Carlson of Football Insiders shared their opinion.
This is a gutsy move by Jay Gruden and the Washington Redskins. They are doing the one thing players usually ask for: play the guy who gives you the best chance to win.
Colt McCoy came in for an ineffective Kirk Cousins while RG3 was injured and led the team to a come-from-behind victory over the Tennessee Titans. McCoy then started the following week and led the Redskins to an upset victory over the Dallas Cowboys before returning to the bench in favor of a healthy (healthier?) Robert Griffin III.
In McCoy's limited duty, he completed 85.7 percent of his throws for 427 yards with a touchdown and an interception for a quarterback rating of 107.0. McCoy is the only Redskins quarterback this season to start and finish a victory.
Griffin, a former No. 2 overall pick, has started five games and completed four of them. The team has lost each of the starts that he's completed.
Griffin has completed nearly 70 percent of his throws, a career high, but has averaged just 7.3 yards per attempt with two touchdowns, three interceptions and a quarterback rating of 85.7.
Another factor that played a role in Griffin's benching were his comments after the team's Week 11 blowout loss to the Tampa Bay Buccaneers.
"We can't throw knives and stab each other in the back," said Griffin, right before stabbing his teammates in the front. "It takes 11 men. It doesn't take one guy and that's proven. If you want to look at the good teams in this league and the great quarterbacks, the Peyton [Manning]s and the Aaron Rodgers, those guys don't play well if their guys don't play well. They don't."
Coach Gruden fired back at his quarterback.
"Robert needs to understand he needs to worry about himself, number one, and not everybody else," Gruden said. "It's his job to worry about his position, his footwork, his fundamentals, his reads, his progressions, his job at the quarterback position. It's my job to worry about everybody else. Yes, everybody else needs to improve, there's no question about it. It's not his place. His place is to talk about himself."
It's rare that there's such a great exchange of honesty, not only in the NFL, but in professional sports.
Sometimes, honesty is not the best policy. Neither is starting the player who gives you the best chance to win (McCoy) if the player you're replacing is tabbed as the face of the franchise (Griffin). That is especially true when that soon-to-be former franchise player is only 24 years old and the current general manager gave up three first-round picks to acquire him.
This is different than the situation in Buffalo when former first-round pick E.J. Manuel was benched in favor of Kyle Orton. Although Manuel is a nice guy and a serviceable backup, he never looked like a starting-caliber quarterback at any point in his career and the Bills were (and still are) in playoff contention when they made the move.
RG3 led the Redskins to a division title as a rookie and won the AP's NFL Offensive Rookie of the Year Award. Griffin won more games as a rookie than McCoy has in his entire five-year career.
With the Redskins sitting at 3-8, there's no real upside in making a move to a veteran quarterback. What is the best-case scenario? Getting a lower draft pick? In the same draft where Washington will pick in the first round for the first time since drafting Griffin in 2012?
Gruden is drawing a line in the sand. Either celebrity spokesperson RG3 or Gruden won't be with the Redskins in 2015. This may be the best thing for Gruden in the here and now, but it's certainly not the best thing for the Redskins franchise.
– Charlie Bernstein
The Washington Redskins have pulled the plug.  It may not be forever, but rookie head coach Jay Gruden has done the right thing for the team and put RGIII on the sideline and reinserted Colt McCoy back into the starting lineup for their next game against the Indianapolis Colts.
Speaking on the radio before Washington played at the Tampa Bay Buccaneers three weeks ago, I said that it would be better for the Buccaneers if RGIII started at QB, because he would give the Bucs defense more chances for turnovers and big plays.  Within minutes of kickoff, he had a catchable, but low and behind his receiver, pass go off his hands and into a Bucs linebacker inside the Redskins' 20-yard line.  He threw another interception, a slant route tipped by a linebacker and returned by Johnthan Banks for a Tampa Bay touchdown.  The game was eventually won by Tampa 27-7, only the second Bucs' win of the season.
RGIII hasn't been protected at all this season, but he hasn't played well at all behind it either, many times causing his own problems, which is why Colt McCoy is the right answer at this point in their very disappointing season.  McCoy won't dazzle like GIII can do at times, but he won't lose the game trying to do too much (usually) either.
Dallas Cowboys owner Jerry Jones was recently interviewed on ESPN and said he believes in the embattled Redskins' QB, because he has watched him do amazing things against his Cowboys, but referenced his rookie season, when the phenomenon that became RGIII was in full swing.  He has been seriously injured multiple times in his legs since then and isn't the same player.
He is meeting the axis of athletic QB and NFL QB very early on in his career.  Much like Michael Vick when he entered the league, but with better throwing mechanics, RGIII wowed everyone.  But, Vick was able to take his team to the NFC Championship game while his legs were still his best weapon.  RGIII's best weapon was taken from him so early in his career with that devastating knee injury.  Vick almost regained his elite status, even after his prison stay in the middle of his career, but with the legs long gone now and his QB skills never fully developed, he is a mere shadow of his former self and looks like he really doesn't want to play the game all that much.  Right now, RGIII is at the same crossroads, and with legs that aren't what they once were, can he take his quarterbacking up to NFL standards?
For now, McCoy is the right choice at QB for the Redskins, as he is playing the position at a higher level than his more famous teammate.  Will RGIII go back and work on his shortcomings and improve himself enough to win his job, teammates, coaches and fans back? Or will he have to try to salvage his career elsewhere? We will all wait and see.
– Jeff Carlson
Buccaneers admit mistake, boot Aguayo
In the NFL, it's always better to admit a mistake than to compound it. For the Buccaneers, the decision to burn a 2016 second-round pick on kicker Robert Aguayo has proven to be a mistake. The Buccaneers made the definitive admission of their error on Saturday, cutting Aguayo. He exits with $428,000 in fully-guaranteed salary [
more
]
Source: Mike Florio of ProFootballTalk
Powered by WPeMatico
Did Bucs put too much pressure on Aguayo?
After the Buccaneers surprised everyone by taking a kicker with the 59th overall pick in the draft, G.M. Jason Licht explained the move by heaping superlatives on the player. "I was very excited along with my staff and coaches about Roberto for a very long time," Licht told PFT Live in May 2016. "It's not [
more
]
Source: Mike Florio of ProFootballTalk
Powered by WPeMatico
Broncos holding their breath on Derek Wolfe
Only two days after losing Billy Winn for the year with a torn ACL, the Broncos are now sweating out another potentially serious injury along the defensive line. Via multiple reports, Broncos defensive lineman Derek Wolfe was carted off the field during practice on Saturday. It's being described as a right ankle injury by coach [
more
]
Source: Mike Florio of ProFootballTalk
Powered by WPeMatico