Playoff Legacies: Where does your QB rank?
Peyton Manning needs another ring to go along with his statistical dominance.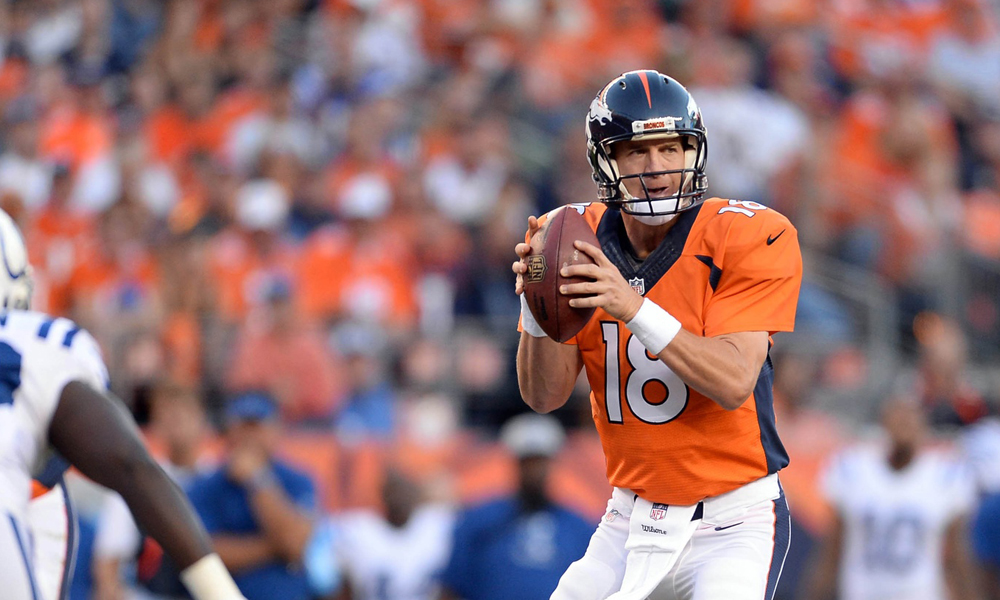 The chase for Super Bowl XLIX is fully upon us, with a very good first weekend of Wildcard games, along with a good dose of controversy and conspiracy talk for good measure.  Nearly half a century of playoff tournaments made me pause and reflect on some of the best and worst playoff legacies for quarterbacks over these last five decades.
Otto Graham and his NFL Championships are before my time and before it was even called the Super Bowl, but he probably would top the list if he was included.  For me there is no question that the best of all time is Joe Montana.  No one can really ever do better than the 11 TD's and 0 INT's during his four wins and three MVP performances.
How different John Elway's playoff legacy would look today if he had not allowed Terrell Davis to be a humongous part of the Denver Broncos offense in those back to back wins in 1998-99.  Elway would have led his team through the playoffs and to the big game multiple times, only to be outshone by Phil Simms, Doug Williams and Joe Montana in three blowouts.  Five appearances would be a great achievement, but the wins make his legacy stand tall.
On the flip side, Jim Kelly accomplished the amazing feat of appearing in four straight SB's with the Buffalo Bills, but just couldn't find the "W," whether it was "wide right" by Scott Norwood against the New York Giants in Super Bowl XXV in Tampa following Whitney Houston's perfect rendition of "The Star Spangled Banner" during Operation Desert Storm or against the machine that was the Dallas Cowboys.  Kelly's failures in those games didn't keep him from the Hall of Fame, but without a win in four opportunities, it puts him in a category with few members.
Fran Tarkenton was also winless after getting his Minnesota Vikings to three in a four year span.  Tarkenton did run into some pretty good signal-callers on the opposite sidelines to be sure.  Bob Griese, Terry Bradshaw and Kenny Stabler all have their own glorious playoff legacies and with Bradshaw's four wins, he does get Montana-like consideration for best legacy of all time, as Troy Aikman and Tom Brady follow not far behind.
Brady may still add a fourth trophy to the New England Patriots case, but even with all the records Peyton Manning will amass, it seems his playoff legacy will only shortly outdistance Dan Marino's.   Aaron Rogers, Joe Flacco and Ben Roethlisberger still have plenty to add to their legacies, but one thing there surely is no doubt, they all fall short of the glory of "Joe Cool."
Buccaneers admit mistake, boot Aguayo
In the NFL, it's always better to admit a mistake than to compound it. For the Buccaneers, the decision to burn a 2016 second-round pick on kicker Robert Aguayo has proven to be a mistake. The Buccaneers made the definitive admission of their error on Saturday, cutting Aguayo. He exits with $428,000 in fully-guaranteed salary [
more
]
Source: Mike Florio of ProFootballTalk
Powered by WPeMatico
Did Bucs put too much pressure on Aguayo?
After the Buccaneers surprised everyone by taking a kicker with the 59th overall pick in the draft, G.M. Jason Licht explained the move by heaping superlatives on the player. "I was very excited along with my staff and coaches about Roberto for a very long time," Licht told PFT Live in May 2016. "It's not [
more
]
Source: Mike Florio of ProFootballTalk
Powered by WPeMatico
Broncos holding their breath on Derek Wolfe
Only two days after losing Billy Winn for the year with a torn ACL, the Broncos are now sweating out another potentially serious injury along the defensive line. Via multiple reports, Broncos defensive lineman Derek Wolfe was carted off the field during practice on Saturday. It's being described as a right ankle injury by coach [
more
]
Source: Mike Florio of ProFootballTalk
Powered by WPeMatico