NFL Young QB Update: 2014 Class Shows Promise
Former NFL QB Jeff Carlson breaks down first and second-year signal callers.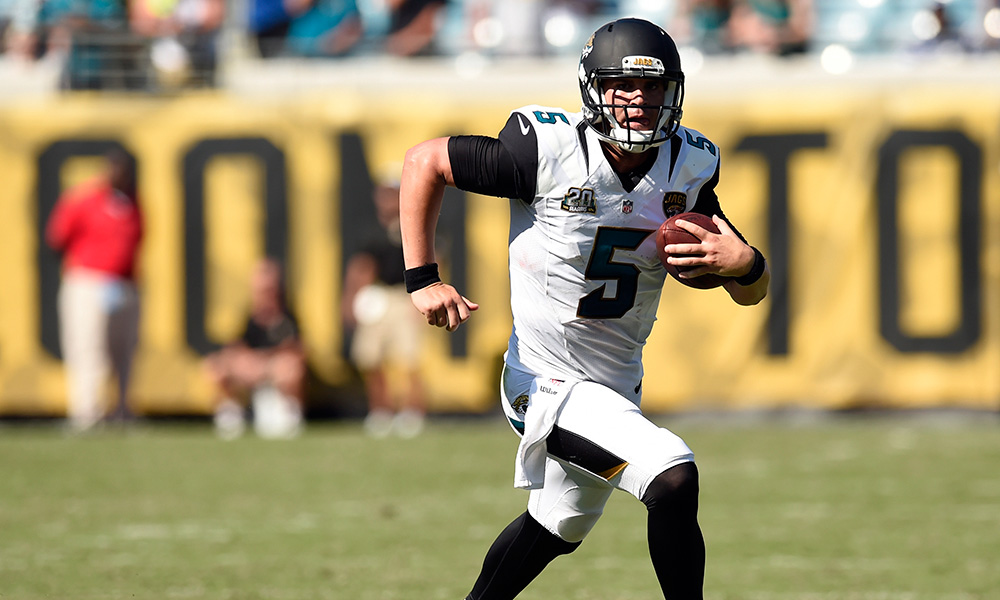 The last couple of years have not generated the greatest potential stars of the future at the quarterback position.
As Geno Smith's name crept to the top of the draft a few weeks prior the 2013 NFL draft, I was wondering if I was missing something in him, but now that the New York Jets' fans and the rest of the NFL has gotten a pretty good taste of what he has to offer, Rex Ryan may just find the unemployment line with Smith as his signal caller.  E.J. Manuel actually was the first quarterback to be taken in the 2013 NFL Draft, but the Buffalo Bills are finding out that he may only be slightly better than JaMarcus Russell.  None of the other prospects have much of a playing future, but Mike Glennon will probably have the longest backup career.
Fast forward to 2014 and although I believe Blake Bortles has the goods to become a solid starter, if not star, for the Jacksonville Jaguars, the only QB in the past draft that actually got me excited to watch play, was Johnny Football.  My prediction for Johnny Manziel has been that he will be fun to watch.  He will probably be quite a roller-coaster to follow and I think he will endure more than his share of injuries, even though he will play less recklessly in the pros than he did at Texas A & M.  Currently, Brian Hoyer has the Cleveland Browns quite competitive and holding a winning record, so Manziel will continue to get a special play or two to pacify Browns fans waiting for their guy.
The guy that so many were high on in April was Teddy Bridgewater from Louisville.  Like Geno Smith from the year before, I was not.  I do not see greatness in him for slightly different reasons though.  Bridgewater's delivery is low off of his shoulder.  I have never been high on guys who  start their throw from that low slot.  Dan Marino could throw from a lower slot many times and no one can argue his passing greatness, but I doubt Bridgewater will come close to reaching Marino's shoelaces.  He is getting his shot for the Minnesota Vikings right now, but struggling through some nicks and bruises, something predicted because of his relatively small frame, similar to Manziel.
I thought Derek Carr had potentially the most upside of the 2014 quarterbacks and going to the Raiders would give him his early shot.  Unfortunately, like his brother, the Raiders are as bad as the Texans were as an expansion team and his fate may be written before he or his team can mature enough to be competitive week in and week out.
Lastly, I wrote recently that although Tom Brady and his Patriots had a slow start to the season, he was far from washed up as others were quick to start etching his epitaph, but that doesn't mean that getting rid of Ryan Mallett for this year's draft pick Jimmy Garoppolo wasn't a really great move.  Garoppolo is out of Eastern Illinois, so he didn't get a ton of attention coming out, but he could very well become the next Tony Romo type player from EIU and will be that heir apparent when Tom Terrific does finally take a seat.
The 2014 quarterback prospects have a much better upside than the year prior.  In fact, 2013 may be one of the worst quarterback classes in recent memory.  This year's signal callers, on the other hand, could end up with a handful of regular starters and a couple of ultimate stars in the not too distant future.
Broncos holding their breath on Derek Wolfe
Only two days after losing Billy Winn for the year with a torn ACL, the Broncos are now sweating out another potentially serious injury along the defensive line. Via multiple reports, Broncos defensive lineman Derek Wolfe was carted off the field during practice on Saturday. It's being described as a right ankle injury by coach [
more
]
Source: Mike Florio of ProFootballTalk
Powered by WPeMatico
Buccaneers admit mistake, boot Aguayo
In the NFL, it's always better to admit a mistake than to compound it. For the Buccaneers, the decision to burn a 2016 second-round pick on kicker Robert Aguayo has proven to be a mistake. The Buccaneers made the definitive admission of their error on Saturday, cutting Aguayo. He exits with $428,000 in fully-guaranteed salary [
more
]
Source: Mike Florio of ProFootballTalk
Powered by WPeMatico
Did Bucs put too much pressure on Aguayo?
After the Buccaneers surprised everyone by taking a kicker with the 59th overall pick in the draft, G.M. Jason Licht explained the move by heaping superlatives on the player. "I was very excited along with my staff and coaches about Roberto for a very long time," Licht told PFT Live in May 2016. "It's not [
more
]
Source: Mike Florio of ProFootballTalk
Powered by WPeMatico