NFL Rumor Mill- 9/18
We look at a possible change at quarterback and the potential trade of a Pro Bowler.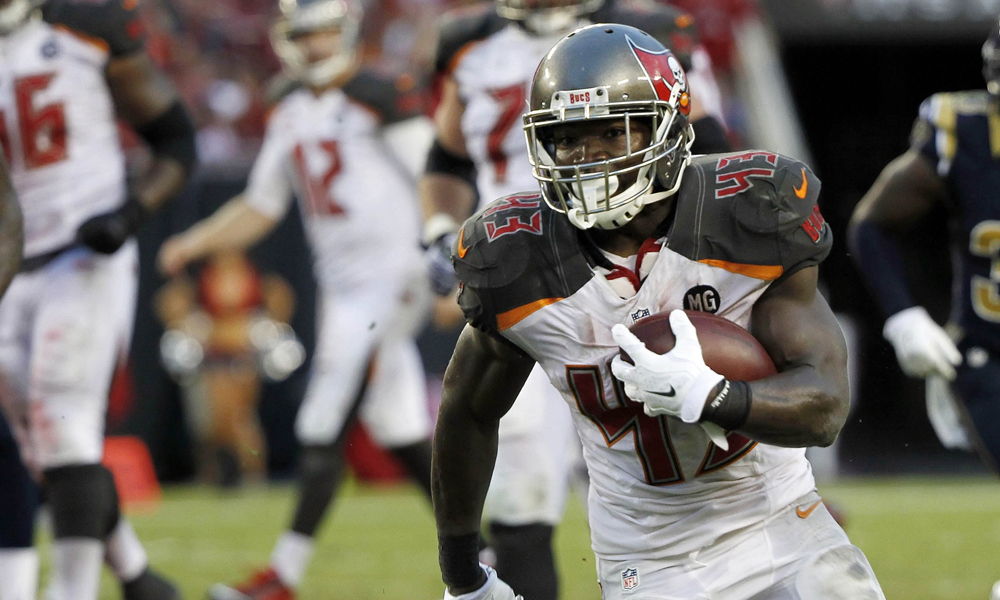 In this edition of the Rumor Mill, we look at what is going on in the Jacksonville Jaguars' locker room and what the Tampa Bay Buccaneers should do about their loaded backfield.
Does The Locker Room Want Bortles?
The Jaguars are off to an 0-2 start and their offensive woes are all too familiar. They currently rank dead last in the NFL in offense (227 yards per game), which is no departure from the previous three seasons in which they ranked 31st, 29th and 32nd respectively.
The Jaguars drafted former UCF quarterback Blake Bortles with their third-overall pick and after a mostly spectacular preseason performance, they've relegated him to the bench in favor of journeyman Chad Henne who is doing his best Blaine Gabbert impersonation.
"Chad brings stability with a younger group, and I think, given time [to throw], he can make some plays," Jaguars head coach Gus Bradley said earlier this week.
The problem is that Bradley mentions the time to throw, and Henne sits in the pocket and holds the ball until he gets sacked. He's been the most sacked quarterback in the NFL this season as he has been brought down for a loss 13 times, 10 in Sunday's 41-10 loss to Washington.
Jason Cole of Bleacher Report has reported that there are many players in the Jaguars locker room who would like to see Bortles start, due to his tendency to get the ball out quickly. However, the Jaguars are hesitant to "throw Bortles into the fire" as their offensive line is poor and they don't want him to pick up bad habits or become injured.
Our take: If you're worried about Bortles becoming skittish from the rush, as former quarterback Blaine Gabbert did, then you chose the wrong guy in the first place and it's best to figure that out earlier rather than later. Henne is a quarterback who needs everything to be perfect- perfect pocket, open receivers, great running game- to succeed. With the injuries on the Jaguars' roster, it's going to be a long time before that's the case. They're simply wasting time by playing Henne.
Should The Bucs Shop Doug Martin?
The Tampa Bay Buccaneers have a crucial game in Atlanta tonight, as their season is on life support with an 0-2 record. Another loss could potentially drop them three games behind division leading Carolina, with an 0-2 division record and all three losses in the conference.
Lovie Smith wants to play conservative football by running the ball and playing good defense and the Bucs have been able to accomplish some of that. One of the highlights in the otherwise dismal start has been the play of reserve running back Bobby Rainey. The 5'7, 212-pound back went undrafted and bounced around between Cleveland and Baltimore before finding a home in Tampa Bay last season as he helped fill in for the injured Doug Martin.
Rainey has shown himself capable of running effectively, and had a breakout game the last time that the Buccaneers and Falcons squared off, as Rainey gained 163 yards on the ground and scored three touchdowns. Rainey had 144 yards on the ground last week against the St. Louis Rams and added three receptions for 30 yards.
"All of the backs that we have, have displayed at one point or the other since we've been here that they can be starter backs and rush for 144," said Bucs quarterback coach Marus Arroyo.
The Buccaneers have a good problem, but nevertheless a problem. They have a first-round pick invested in Doug Martin (2012), a sixth-round pick invested in Mike James (2013) and a third-round pick that they used back in May on running back Charles Sims, who is currently out for the season.
Then there's Rainey, who has proven that he can "tote the rock," but the team has no investment in.
The last time Martin was healthy for a full season all he did was gain 1,454 yards on the ground and scored 11 touchdowns. The problem is that he's not completely healthy and Rainey is just as effective.
"We're really fortunate to have both of those guys," Arroyo said when asked about which running back will start. "I think to have a guy like Bobby come in and spell Doug when Doug comes back, we have Doug and Bobby. It's not a draft, we have both and they are here."
Should the Bucs cash in one of their chips and try to turn Martin into a draft pick, which could turn into some much needed offensive line help? Are you really losing any production if you do? At this point, it doesn't appear that way.
Our take: The idea of trading a former first-round pick who is still in his prime seems crazy… unless you have someone to replace him, which the Bucs clearly do. The real problem with this idea is what the market would bear from Martin. The running back position has been legitimately devalued and look no further than the Bucs own backfield as the undrafted Rainey is performing at a high level. If Martin is worth no more than a fourth- or fifth-round pick, is it really worth giving up on a 25-year-old former Pro Bowler that you have a first-round pick invested in? I don't believe it is.
Buccaneers admit mistake, boot Aguayo
In the NFL, it's always better to admit a mistake than to compound it. For the Buccaneers, the decision to burn a 2016 second-round pick on kicker Robert Aguayo has proven to be a mistake. The Buccaneers made the definitive admission of their error on Saturday, cutting Aguayo. He exits with $428,000 in fully-guaranteed salary [
more
]
Source: Mike Florio of ProFootballTalk
Powered by WPeMatico
Did Bucs put too much pressure on Aguayo?
After the Buccaneers surprised everyone by taking a kicker with the 59th overall pick in the draft, G.M. Jason Licht explained the move by heaping superlatives on the player. "I was very excited along with my staff and coaches about Roberto for a very long time," Licht told PFT Live in May 2016. "It's not [
more
]
Source: Mike Florio of ProFootballTalk
Powered by WPeMatico
Broncos holding their breath on Derek Wolfe
Only two days after losing Billy Winn for the year with a torn ACL, the Broncos are now sweating out another potentially serious injury along the defensive line. Via multiple reports, Broncos defensive lineman Derek Wolfe was carted off the field during practice on Saturday. It's being described as a right ankle injury by coach [
more
]
Source: Mike Florio of ProFootballTalk
Powered by WPeMatico