NFL Rumor Mill- 1/5/14- Eagles Eyeing A Trade Up
Will Chip Kelly trade up? Is Marvin Lewis' job safe? Doug Marrone looks likely to wear green and white.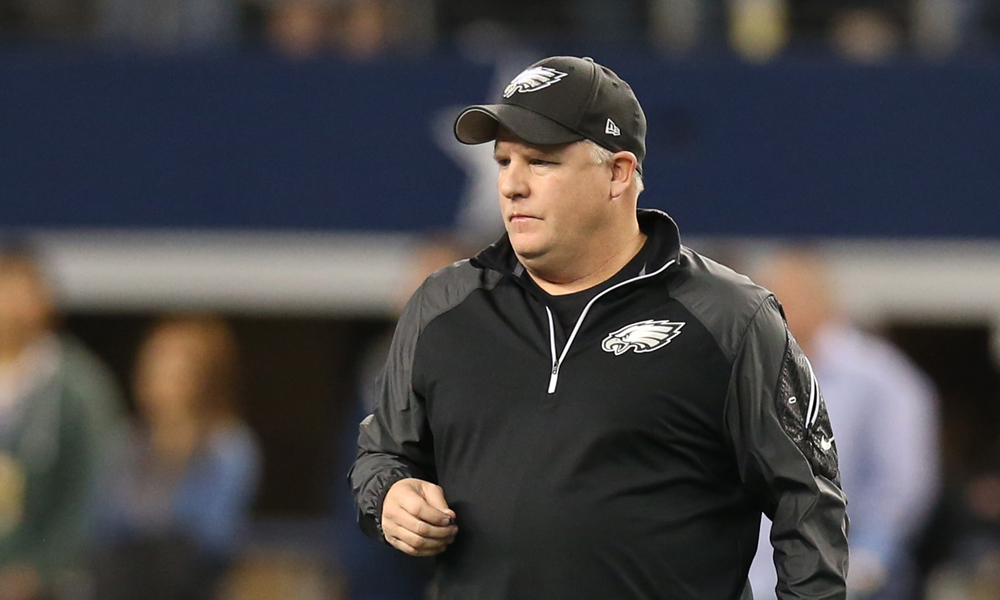 Kelly Eyeing Mariota
Philadelphia Eagles head coach Chip Kelly pulled off a power play last week as he received a promotion and now has control over all personnel.
With nobody standing in his way, rumors are swirling about Kelly giving Tampa Bay Buccaneers' general manager Jason Licht a call and finding out what it would take for the Eagles to move from the 20th overall pick in the draft to the top spot.
The move would likely involve Kelly reuniting with his former recruit at Oregon, 2014 Heisman Trophy winner Marcus Mariota.
A move from Pick No. 20 to Pick No. 1 would be unprecedented and the compensation involved would be difficult to ascertain. When the St. Louis Rams traded back with the Washington Redskins in 2011, the cost was three first-round picks and a second-round pick. That was to move back from second to sixth.
Unlike the Redskins, the Eagles could potentially include quarterback Nick Foles in a prospective deal, but one would assume that to move from No. 20 to No. 1 would have to include Foles (if the Bucs want him) and a minimum of three first-round picks.
A potential deal would depend on Tampa's valuation of not only Marcus Mariota but also Florida State quarterback Jameis Winston (assuming he declares for the draft). If the Buccaneers deem one of the two quarterbacks to be worthy of franchise status, it would be dangerous to pass on one of those when there is clearly no answer on the current roster.
If Tampa Bay doesn't believe Mariota or Winston, both of whom have question marks to their progression to the NFL, is a potential franchise quarterback, they can receive quite a haul from the Eagles. Tampa can receive enough picks to fill many of the numerous holes on their roster.
Marrone Likely To End Up With Jets
Former Buffalo Bills head coach Doug Marrone is one of the hot coaching candidates ever since he opted out of his contract last week. Many facts and sources point to Marrone landing in New York with the Jets.
Marrone has beaten Woody Johnson and his Jets three out of four times in his two seasons in Buffalo.
Johnson has also hired Charlie Casserly as a special advisor to assist with the coaching search and he's reportedly "infatuated" with Marrone, according to Rich Cimini of ESPN.
"He was totally infatuated with [Marrone]," a source told Cimini. "You have to know Charley: When he gets on something, he's a pitbull. I know he's got Woody all lathered up."
Marrone also happens to be a "New York guy" who grew up in the city. He coached the Jets offensive line from 2002-2005 as well.
As far as his talent as an NFL head coach, the jury is still out. Marrone improved the Bills over two seasons but much of that improvement came on the defensive side of the football. Marrone is an offensive head coach.
Lewis Will Likely Be Back With Bengals
Marvin Lewis is the second-longest tenured head coach in the National Football League. He's also the only coach in modern history to be at his same job 12 seasons without a playoff victory.
Lewis' Bengals lost yet another playoff game on Sunday, 26-10 to the Indianapolis Colts, moving his postseason record to 0-6.
With Lewis continuing to not get his team where it needs to go, there will be plenty of talk about the Bengals moving in a different direction.
A source inside the Bengals front office told Football Insiders, "I can't imagine we would make a change. Marvin has done a great job here."
Although those inside the Bengals organization believe that Lewis will be back, should he be?
Marvin Lewis continues to stick by his quarterback that has been consistently terrible in big games. There hasn't been a legitimate quarterback competition since Andy Dalton arrived and despite having a very good roster the Bengals underperform year after year, big game after big game.
Eventually either Marvin Lewis, Andy Dalton or both is going to have to either win a big game in January or the Bengals will find people who will.
Buccaneers admit mistake, boot Aguayo
In the NFL, it's always better to admit a mistake than to compound it. For the Buccaneers, the decision to burn a 2016 second-round pick on kicker Robert Aguayo has proven to be a mistake. The Buccaneers made the definitive admission of their error on Saturday, cutting Aguayo. He exits with $428,000 in fully-guaranteed salary [
more
]
Source: Mike Florio of ProFootballTalk
Powered by WPeMatico
Did Bucs put too much pressure on Aguayo?
After the Buccaneers surprised everyone by taking a kicker with the 59th overall pick in the draft, G.M. Jason Licht explained the move by heaping superlatives on the player. "I was very excited along with my staff and coaches about Roberto for a very long time," Licht told PFT Live in May 2016. "It's not [
more
]
Source: Mike Florio of ProFootballTalk
Powered by WPeMatico
Broncos holding their breath on Derek Wolfe
Only two days after losing Billy Winn for the year with a torn ACL, the Broncos are now sweating out another potentially serious injury along the defensive line. Via multiple reports, Broncos defensive lineman Derek Wolfe was carted off the field during practice on Saturday. It's being described as a right ankle injury by coach [
more
]
Source: Mike Florio of ProFootballTalk
Powered by WPeMatico