NFL Playoffs 5 Big Things: Wild Card Weekend
Check out five stories that could impact this weekend's Wild Card action.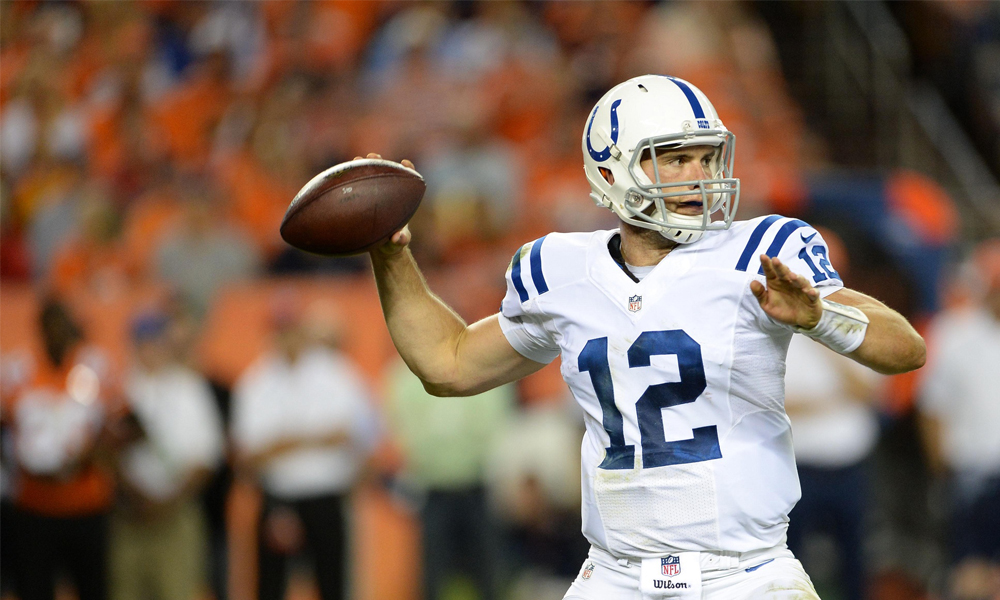 During the NFL's regular season, we give you 10 big things to look for during that week's games. Now that the playoffs are here it's time to narrow are focus to the stories that impact those still vying for a Lombardi Trophy.  Here are four stories that could impact this weekend's Wild Card action, and one point I had to get off my chest. Happy New Year, and enjoy the playoffs!
1.  The bad vs. the ugly: Despite the fact the Carolina Panthers finished the season on a four game winning streak, it's hard to call the Panthers' 7-8-1 season anything but bad. While the Arizona Cardinals had a very good season, finishing 11-5, the results have quickly become ugly as the team lost its final two games behind a completely unprepared and inept Ryan Lindley.  Lindley completed just 48.4 percent of his passes during the regular season with two touchdowns and four interceptions and his play has brought the Cardinals offense to a screeching halt. While the Carolina Panthers have only given up 43 points over the last four games, the defense that was one of the best in the game in 2013 was mediocre at best through most of this campaign. While someone has to walk away winners in this game, this is a strange match-up of weaknesses you rarely see in an NFL playoff game. Enjoy the less than thrilling start to your Wild Card weekend!
2. AFC North home cooking: As much as the Panthers – Cardinals game might be as much of a dud as any playoff match-up in recent history, there isn't a fan in the NFL that doesn't like watching the Pittsburgh Steelers and Baltimore Ravens renew their bitter rivalry on a cold January night. It's typically a knock-down, drag-out fight whenever these teams get together, but this season that hasn't been the case. Perhaps it's a symptom of the fact that both teams have been wildly inconsistent this season, but for whatever the reason, the home team has won each of the Steelers – Ravens games this season handily. Baltimore was in the midst of the Ray Rice controversy when they welcomed the Steelers to town on a Thursday night in Week 2. Despite all the suggestions that the short week combined with the distraction of Rice's release would leave the Ravens completely unprepared to play, the Ravens won 26-6, holding the Steelers to under 100 yards rushing and without a touchdown. Their Week 9 game in Pittsburgh could not have gone more differently as Ben Roethlisberger torched the Ravens for 340 yards and six touchdowns as the Steelers went on to win, 43-23. The Steelers will hope for more home cooking when the teams meet at 8:15 EST Saturday night, but if we know anything about this rivalry, it will likely be won on a last second field goal after one of the defenses creates a turnover.
3. Indianapolis Colts hoping for Week 7 replay: The Cincinnati Bengals must have done a lot of soul searching this week. The Bengals were dominated so thoroughly in in their 27-0 shutout loss Week 7, that it's hard to imagine them finding a way to win in Indianapolis Sunday afternoon. I can't remember a game in recent memory where a team was beaten so badly and shutout without committing a single turnover. Cincinnati kept Kevin Huber busy that day as their punter punted the football 11 times as the Bengals picked up just 32 yards on the ground, and Andy Dalton threw for just 126 yards while completing just 18 of his 38 passes. The Colts had their best defensive game of the season that Sunday in Indianapolis, as they rattled Dalton all game long, sacking the Bengals quarterback four times and recording six tackles for loss. The Colts defense has been up and down throughout the year and hasn't been battle tested down the stretch. Indianapolis has played two quality offenses since their Week 10 bye, and both the New England Patriots and Dallas Cowboys put up 42 points in those games. The Bengals didn't have A.J. Green the first time around, and should be confident his addition will keep them from being shut out again. Whether or not their offense can put up enough points to get by Andrew Luck and the Colts remains to be seen, but they'll have to do a much better job of protecting their quarterback if they hope to.
4. Detroit Lions need their offense to wake up: When Jim Caldwell built his new staff after taking over as head coach of the Lions, he tapped Saints assistant Joe Lombardi as offensive coordinator. With Lombardi promising to install a Saints like offense that would quickly shift from three tight ends to a four wide set, there was promise the Lions offense could be explosive. When the season began, Detroit's offense looked to be as good as advertised as they scored easily and controlled the pace of the game against the New York Giants. Injuries, including to each of the teams versatile tight ends, made being multiple and using as many different packages much more difficult, and the Lions offense struggled to find their stride during the regular season. If the Lions are going to have any hope against the Dallas Cowboys who have won four straight since getting waxed at home against the Philadelphia Eagles on Thanksgiving, the offense is going to have to put up points. Dallas has scored at least 38 points in each of its four straight victories, and while they haven't played a defense as good as Detroit's, the Lions can't expect to win this one 14-10.
5. It's time to reseed: I'd never be a proponent of leaving a division champion out of the playoffs, but it's an absolute travesty that the 7-8-1 Carolina Panthers are actually hosting the Arizona Cardinals on Saturday. With the NFL likely getting ready to expand the playoffs to 14 teams next season, this is the perfect time for the competition committee to address playoff seeding. It makes complete sense to allow the teams with better records to host games once the playoffs begin. Sneaking into the playoffs while teams with better records than yours sit at home should be benefit enough for winning a division like the NFC South was this season. Let's stop the advantages of playing in football's wasteland there. When you add the seventh playoff team from each conference, fix the way they're seeded as well. What do you say, NFL?
Buccaneers admit mistake, boot Aguayo
In the NFL, it's always better to admit a mistake than to compound it. For the Buccaneers, the decision to burn a 2016 second-round pick on kicker Robert Aguayo has proven to be a mistake. The Buccaneers made the definitive admission of their error on Saturday, cutting Aguayo. He exits with $428,000 in fully-guaranteed salary [
more
]
Source: Mike Florio of ProFootballTalk
Powered by WPeMatico
Did Bucs put too much pressure on Aguayo?
After the Buccaneers surprised everyone by taking a kicker with the 59th overall pick in the draft, G.M. Jason Licht explained the move by heaping superlatives on the player. "I was very excited along with my staff and coaches about Roberto for a very long time," Licht told PFT Live in May 2016. "It's not [
more
]
Source: Mike Florio of ProFootballTalk
Powered by WPeMatico
Broncos holding their breath on Derek Wolfe
Only two days after losing Billy Winn for the year with a torn ACL, the Broncos are now sweating out another potentially serious injury along the defensive line. Via multiple reports, Broncos defensive lineman Derek Wolfe was carted off the field during practice on Saturday. It's being described as a right ankle injury by coach [
more
]
Source: Mike Florio of ProFootballTalk
Powered by WPeMatico