NFL Free Agent Offensive Linemen Rankings
We take a look at the top offensive linemen available in unrestricted free agency.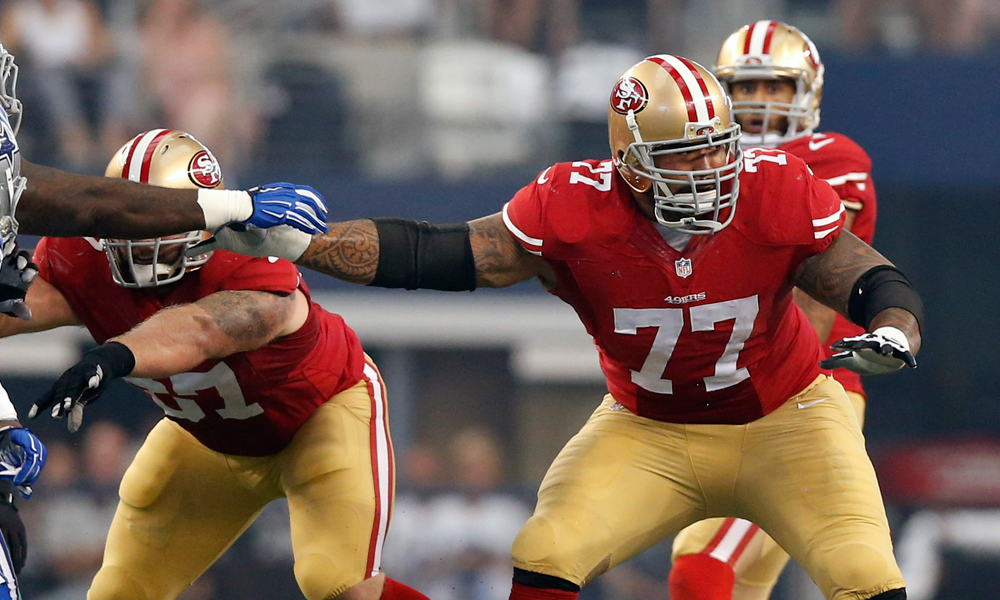 With the value of quarterbacks increasing exponentially, the value of those assigned to protecting the quarterback have seen their value increase significantly as well. The main players tasked with protecting the signal-caller are the offensive line. Without a good offensive line, a team will never reach their true potential as everything they do will be significantly more difficult.
Here is a ranking of the top impending free agent offensive linemen.
1. Mike Iupati
At the top of the impending free agent list is the San Francisco 49ers' Mike Iupati. If you were building an ideal offensive guard, he would look similar to Iupati who has incredible size (6-foot-5 and 331 pounds) to go along with good feet, hips and hands.
Iupati is just 27 years old and he could be the rare player who hits free agency while the are still in their prime. He is an absolute road grader in the run game as he consistently creates movement downhill, while also showing the ability to get to the second level.
The real treasure from Iupati's game is his feet. A person with his size shouldn't be able to move like he does, especially in the interior of the line. Iupati's feet are so good that coming out of college a lot of teams worked him out as a tackle, which illustrates that he has the lateral mobility to be successful in a zone- or man-blocking scheme.
Iupati is one of the premier guards in the NFL and it is likely that he will get paid as one, either by the 49ers or another lucky team.
2. Michael Roos
Next on the list is a player who has the rare ability to thrive at one of the hardest positions in the NFL: left tackle. Michael Roos is, when healthy, a top-10 offensive tackle in the NFL.
Roos is a massive human being as he stands in at 6-foot-7 and 313 pounds. With the emergence of rookie Taylor Lewan coupled with Roos' right knee injury that put him on injured reserve; it is unlikely that Roos will be re-signed by the Tennessee Titans.
In the same vain as Iupati, Roos does his best work when he is going downhill in the running game. He can maul opposing defenders as he can create big seams in the defense for his running back to run through. Roos displays enough power to deal with power-rushers and he has good enough feet to mirror speed-rushers.
Roos is not a player who will command a ton of money in free agency because of his age (32) and injury history. However, no other free agent tackle has the ability that Roos has. Any team that signs him is getting a potentially great player for two to four years.
3. Nick Hardwick
Next on the list is a player who has only played 16 total snaps before suffering a neck injury that cut his season short: Nick Hardwick.
When healthy, Hardwick is one of the best centers in the league and does a great deal for the San Diego Chargers. He is a savvy veteran who has incredible football acumen as he does a great job of makes line calls, while also executing his assignments extremely well. He isn't the biggest guy at 6-foot-4 and 305 pounds or the best athlete, but he is a real technician, which makes up for it.
An intelligent center is one of the most important players on a given team. They usually make any line adjustments, which means that, he has to know everyone else's assignments along with his own so that he can accurately change the protection or blocking scheme on a given play.
Hardwick does a great job of securing blocks at the first level as he makes his way to the second level of the defense in the running game. He can pass of stunts extremely well and he has a great initial punch with his hands.
For Hardwick, it all comes down to the health of his neck. If his neck recovers well then he will be a huge steal in free agency for any team.
4. Doug Free
Next up on the list is the unsung hero of the Dallas Cowboys offensive line, Doug Free. The Cowboys have one of the best offensive lines in the NFL and Free is the elder statesman and unquestioned leader.
Free stands in at 6-foot-6 and 325 pounds and has been a solid right tackle for the last two years. Before that, Free had a very up and down career, but it appears that he has made the necessary improvements to become more consistent.
When he plays with proper footwork, balance and technique, he has the ability to block anyone in the league. He tends to have more trouble with speed rushers, but he has significantly improved the quickness that he gets out of his stance with, which has significantly helped.
The Cowboys have a lot of free agents they have to make a decision on and Free is one of them. It is very possible that the Cowboys let Free walk in lieu of a younger lineman.
If he does hit free agency, whoever signs Free will be getting a solid player and dependable player who will do his job at a high level.
5. Bryan Bulaga
The final player on the list is the Green Bay Packers' impending free agent Bryan Bulaga. Throughout his career, Bulaga has had serious injury problems, like his torn ACL in 2013, which means a team may be able to sign him relatively cheaply.
Bulaga is a solid starting caliber right tackle in the NFL. His biggest weakness is speed-rushers off the edge as evidenced by his trouble against Cameron Wake in Week 6. Having said that, Bulaga has great size (6-foot-5 and 314 pounds) and quickness to be able to handle most rushers that he will face.
Bulaga is technically sound and savvy with the way he plays the position. He showcases good footwork and lateral quickness, but he has trouble getting into his pass set quick enough. Unlike some of the others on this list, Bulaga's strength is in pass protection as he is by no means a road-grader against the run. He isn't bad in the run-blocking department, but it's not what he is best at.
Bulaga is still young, 25, and he has the ability to still grow and improve as his career moves on. If a team can get past Bulaga's injury history, then he may be one of most underrated signings of this offseason.
Best of the Rest
Some of the other offensive linemen names that could become available include: OG Ronald Leary, OT King Dunlap, OG Clint Boling, OG James Carpenter, OC Brian De La Puente, OC Will Montgomery.
Broncos holding their breath on Derek Wolfe
Only two days after losing Billy Winn for the year with a torn ACL, the Broncos are now sweating out another potentially serious injury along the defensive line. Via multiple reports, Broncos defensive lineman Derek Wolfe was carted off the field during practice on Saturday. It's being described as a right ankle injury by coach [
more
]
Source: Mike Florio of ProFootballTalk
Powered by WPeMatico
Buccaneers admit mistake, boot Aguayo
In the NFL, it's always better to admit a mistake than to compound it. For the Buccaneers, the decision to burn a 2016 second-round pick on kicker Robert Aguayo has proven to be a mistake. The Buccaneers made the definitive admission of their error on Saturday, cutting Aguayo. He exits with $428,000 in fully-guaranteed salary [
more
]
Source: Mike Florio of ProFootballTalk
Powered by WPeMatico
Did Bucs put too much pressure on Aguayo?
After the Buccaneers surprised everyone by taking a kicker with the 59th overall pick in the draft, G.M. Jason Licht explained the move by heaping superlatives on the player. "I was very excited along with my staff and coaches about Roberto for a very long time," Licht told PFT Live in May 2016. "It's not [
more
]
Source: Mike Florio of ProFootballTalk
Powered by WPeMatico