NFL AM: Veteran Pats OL Connolly Retires
Pats OL Dan Connolly calls it quits; Brady may take NFL to court; Trip to Pluto cheaper than Vikings stadium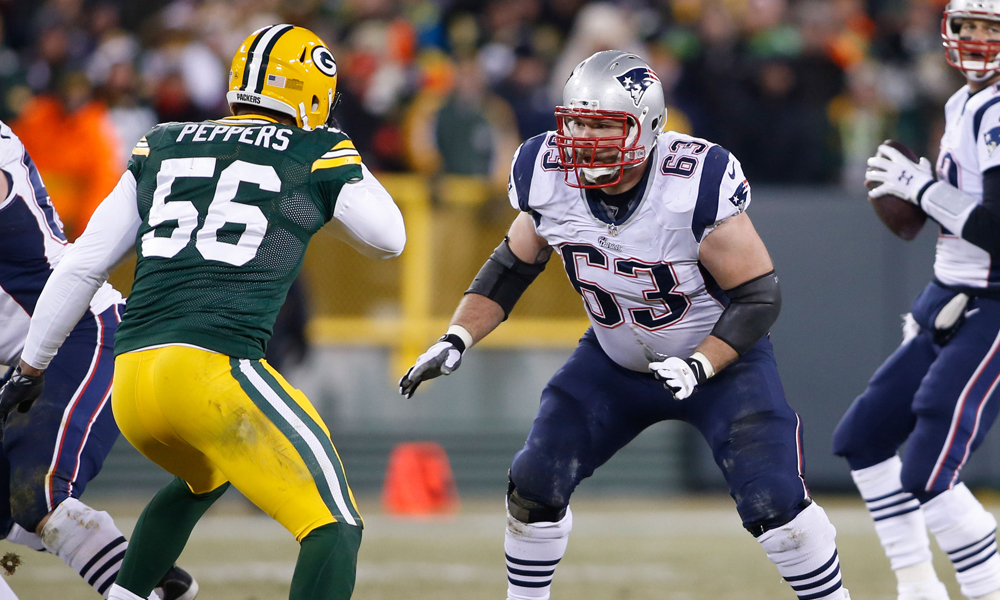 Pats lineman Connolly hangs it up after 10 seasons
Veteran offensive lineman Dan Connolly is calling it a career after 10 NFL seasons.
Signed by the Jaguars as an undrafted free agent out of Southeast Missouri State in 2005, he has been a mainstay for the Patriots since 2007. Connolly's versatility was his strength, as he was able to play all three interior line spots for New England over the course of his career.
The Patriots chose not to re-sign Connolly after his contract expired following the season, and after shopping around for a new team the 32-year-old determined that retirement was his best option.
"It's important to me to leave the game healthy," Connolly told ESPN Boston. "I'm able to be here for my kids and walk away on my own terms. I feel like I got everything I could out of football in playing 10 years, winning a Super Bowl, and playing alongside some truly great players."
Connolly was diagnosed with four concussions during his career in addition to another suffered in high school.
For many fans, the most enduring image of the 305-pound Connolly was when he managed to pick up a squibbed kickoff against Green Bay in 2010 and return it 71 yards before running out of steam just short of the end zone.
Will Brady take NFL to court?
If Tom Brady doesn't win his suspension appeal against the NFL, there's a chance he will take them to court. Or at least that is what ABC News is reporting.
Even though a reduction of his four-game suspension is likely, particularly given that "accused" domestic abuser Greg Hardy had his suspension reduced from 10 games to four, ABC says Brady is prepared to take the league to court even if he has to sit out a single game.
The NFLPA is apparently itching to use the Brady case as an example that Goodell's unchecked disciplinary power is a labor violation.
If Brady files a lawsuit, the report says it will likely be in a US District Court in either Massachusetts or Minnesota. The latter court is significant because that is where Adrian Peterson won a suspension-related lawsuit against the league in February.
Trip to Pluto costs less than Vikes new stadium
Minnesota and Pluto have won the same number of Super Bowls in their long and frozen existences, but it turns out Pluto may be the greater bargain.
As reported by Minnesota station WCCO, NASA's $720 million New Horizons satellite, the first spacecraft to take photos of the planet Pluto – we still consider it a planet at Football Insiders – is cheaper than the Vikings' new stadium.
U.S. Bank Stadium, which is scheduled to open in time for the 2016-17 season, will come with a final construction price tag of $1 billion.
Perhaps the presence of Teddy Bridgewater makes up for the difference?
Buccaneers admit mistake, boot Aguayo
In the NFL, it's always better to admit a mistake than to compound it. For the Buccaneers, the decision to burn a 2016 second-round pick on kicker Robert Aguayo has proven to be a mistake. The Buccaneers made the definitive admission of their error on Saturday, cutting Aguayo. He exits with $428,000 in fully-guaranteed salary [
more
]
Source: Mike Florio of ProFootballTalk
Powered by WPeMatico
Did Bucs put too much pressure on Aguayo?
After the Buccaneers surprised everyone by taking a kicker with the 59th overall pick in the draft, G.M. Jason Licht explained the move by heaping superlatives on the player. "I was very excited along with my staff and coaches about Roberto for a very long time," Licht told PFT Live in May 2016. "It's not [
more
]
Source: Mike Florio of ProFootballTalk
Powered by WPeMatico
Broncos holding their breath on Derek Wolfe
Only two days after losing Billy Winn for the year with a torn ACL, the Broncos are now sweating out another potentially serious injury along the defensive line. Via multiple reports, Broncos defensive lineman Derek Wolfe was carted off the field during practice on Saturday. It's being described as a right ankle injury by coach [
more
]
Source: Mike Florio of ProFootballTalk
Powered by WPeMatico