NFL AM: The Good, The Bad and The Jets
A look at Big Ben's record-setting day, the Jags' self-inflicted wounds and the Jets doing what only they can do.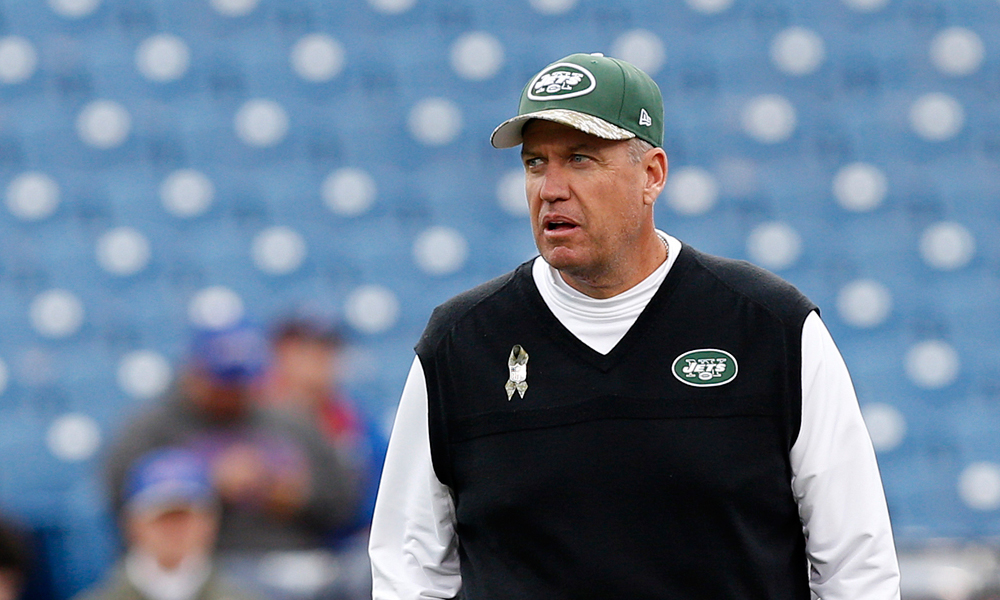 In this edition of "The Good, The Bad and The Ugly" we explore Ben Roethlisberger's fantasy record-breaking day, Blake Bortles sabotaging his team and the Jets playing like they want a new coach.
The Good
In one of their very rare opportunities as a home underdog, the Pittsburgh Steelers made the most of their Vegas slight as they pounded the first-place Indianapolis Colts, 51-34.
Ben Roethlisberger, winner of two Super Bowls, had to spend all week hearing about how Colts quarterback Andrew Luck, winner of one playoff game, was the elite quarterback in the matchup and he had a career day – for anyone.
Big Ben was an amazing 40 for 49, for 522 yards and six touchdowns, with a 150.6 quarterback rating. The yardage and touchdown totals were each Steelers' records.
"He won't admit it but I'm sure (the praise for Luck bothered him)," Steelers head coach Mike Tomlin said. "You don't ascend to the position that he is professionally without that competitive fire burning."
"We just felt like they couldn't stop us because we were just clicking," Roethlisberger said. "It was one of those nights that players talk about when things feel like they're going right."
Roethlisberger improved his record to 100-50 (.667) as a starter in the regular season, joining Tom Brady (116) and Pro Football Hall of Famers Joe Montana (108) and Terry Bradshaw (102) as the only quarterbacks in the Super Bowl era (since 1966) to win at least 100 games in their first 150 career starts.
"Ben is Ben. He never surprises me. It's a great day at the office," said Steelers wide receiver Antonio Brown, who caught 10 passes for 133 yards and two touchdowns.
The Steelers quietly have a 5-3 record and find themselves just one game in the loss column behind the Cincinnati Bengals in the AFC North. A pretty good turnaround since their "sky is falling" 31-10 loss to the Cleveland Browns a couple weeks ago.
The Bad
After a promising start in which he made numerous plays and injected life to an offense on life support, Jacksonville Jaguars rookie quarterback Blake Bortles has seemingly hit a wall over the past two weeks. Bortles' mistakes on Sunday destroyed any chance the Jaguars had of beating the Miami Dolphins in their 27-13 loss.
The Jaguars' third-overall pick completed just 18 of 34 throws, for 221 yards with one garbage time touchdown and two interceptions that were both returned for touchdowns. He also had a drive-killing fumble deep into Miami territory. Bortles became the first quarterback to throw two "pick-sixes" in a game since Geno Smith accomplished the dubious feat last season against Cincinnati.
"(The) defense played really well, offensive line played really well. I'm killing us, so I've got to try to eliminate different things and get better," Bortles said following the game.
Bortles' mistakes ruined an unbelievable effort from a Jaguars defense that has been surging in recent weeks. The Jacksonville defense didn't allow their initial first down to Miami until roughly three minutes left in the first half, and the team dominated the stat sheet thoroughly. At one point in the first half, the Jaguars out gained the Dolphins 202-4.
"I thought the defense came out really well," Jaguars head coach Gus Bradley said. "I think they were one of the best teams as far as three and outs, offensively not having too many. The defense came out and we wanted to get more opportunities for the offense. I can't fault how the defense played but I'm sure we will find some things we need to get better at."
Growing pains are expected with a rookie quarterback, no matter how high he was drafted. You hope to see the early mistakes turn into big plays and improvement along the way. After seeing some improvement during Bortles' first handful of starts, he's been hurting the team significantly over the last two weeks.
"I've been playing quarterback for a long time," Bortles said. "So it's not like the first time I've done it – it's not like you're throwing these routes and this stuff for the first time. I've doing it for a while now and I think it's not really an excuse to say, 'You're a rookie. You're going to make rookie mistakes.' I've been doing it for almost my whole life."
"I'm not sure if I baited him, but I definitely like to fish," Dolphins safety Louis Delmas, who ran Bortles' first interception back 81 yards to give Miami a 7-0 lead, told Football Insiders.
On a day in which the Jaguars ran for 176 yards and held the Dolphins to just 56 offensive plays, there's no way that they should have been getting blown out on their home field.
The Jets
Just 10 days after giving the New England Patriots all they could handle in front of a national television audience, the New York Jets were back to playing 2014 New York Jets football in their 43-23 loss to the Buffalo Bills.
For the second time this season, starting quarterback Geno Smith was benched as he completed more passes to Buffalo Bills' defenders than he did his own wide receivers. Smith was 2 for 8, for 5 yards with three interceptions and a Blutarski-like 0.0 quarterback rating.
"He just seemed off," Jets head coach Rex Ryan said of Smith. "He was zipping the ball all week. I was really impressed and encouraged by him. He was misfiring. It was disappointing."
The call to the bullpen was made in the second quarter and Michael Vick quickly took the Jets down the field and put them on the scoreboard.
"I made the move to go with Mike and I thought we responded," Ryan said. "We did a lot of good things with Mike in there and that he did personally. We have to take care of the football better."
Vick wasn't without his fair share of hiccups. The 14-year veteran completed just 18 of his 36 throws, for 153 yards, one interception and two lost fumbles. Vick was also sacked four times.
As for who the quarterback will be going forward, Rex Ryan failed to declare a starter.
"I have no idea," Ryan said. "We'll look at that later."
The Jets managed to turn the football over six times and lose by 20 points in a game in which they had nearly double the amount of first downs as the Bills (22-12), ran for 175 yards, had three times the amount of third-down conversions (9-3) and won time of possession, 32:17- 27:43.
That's difficult to accomplish.
A Jets team that was supposed to compete for a playoff spot now has a 1-7 record halfway through the season. It would appear at this point that Rex Ryan has the job security of a Brady Hoke or Will Muschamp.
Ryan was asked about his concern for his own job after the game.
"No," Ryan responded. "I'm worried about our team. The team is always the focus. That's the truth. I tell you that because it's true. I'm not thinking about my future or anything else. I'm just trying to get this team to play better."
The team will have to play better next week as they take on the Kansas City Chiefs. Another six-turnover outing like Sunday will likely ensure that Rex Ryan will be spending more time with his family and it could be as early as next Monday.
Buccaneers admit mistake, boot Aguayo
In the NFL, it's always better to admit a mistake than to compound it. For the Buccaneers, the decision to burn a 2016 second-round pick on kicker Robert Aguayo has proven to be a mistake. The Buccaneers made the definitive admission of their error on Saturday, cutting Aguayo. He exits with $428,000 in fully-guaranteed salary [
more
]
Source: Mike Florio of ProFootballTalk
Powered by WPeMatico
Did Bucs put too much pressure on Aguayo?
After the Buccaneers surprised everyone by taking a kicker with the 59th overall pick in the draft, G.M. Jason Licht explained the move by heaping superlatives on the player. "I was very excited along with my staff and coaches about Roberto for a very long time," Licht told PFT Live in May 2016. "It's not [
more
]
Source: Mike Florio of ProFootballTalk
Powered by WPeMatico
Broncos holding their breath on Derek Wolfe
Only two days after losing Billy Winn for the year with a torn ACL, the Broncos are now sweating out another potentially serious injury along the defensive line. Via multiple reports, Broncos defensive lineman Derek Wolfe was carted off the field during practice on Saturday. It's being described as a right ankle injury by coach [
more
]
Source: Mike Florio of ProFootballTalk
Powered by WPeMatico