NFL AM: Swapping, Sinking and Sending a Message
Familiar faces collide in the AFC North; the ship is sinking in Tampa Bay; and messages are being sent in Baltimore and San Diego.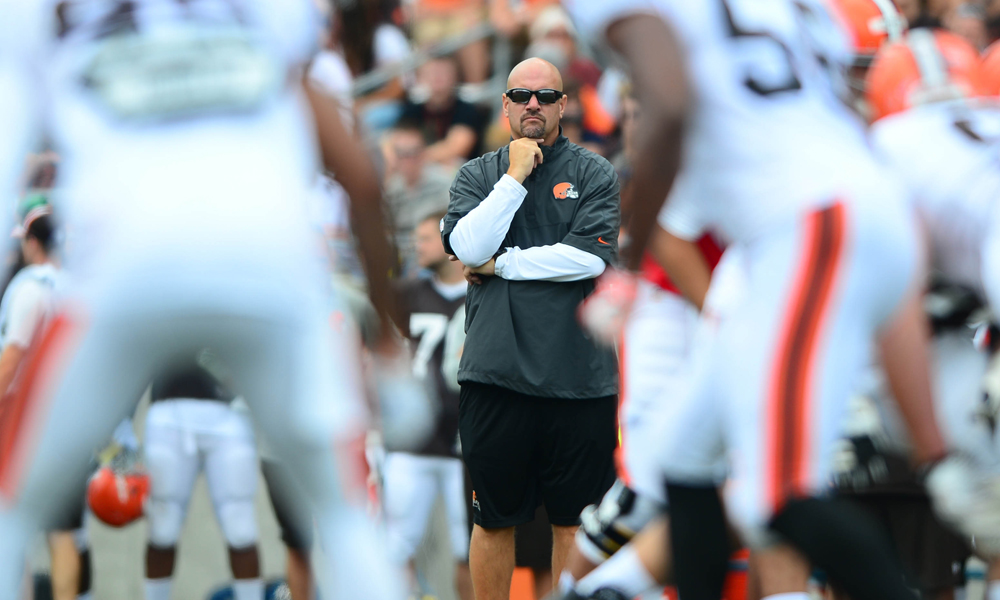 Swapped Receivers Looking for Revenge
The Bengals and Browns have undergone a receiver swap of sorts; Andrew Hawkins left Cincinnati for Cleveland as a free agent, while Greg Little wound up with the Bengals (after a brief stop in Oakland) following his release from the Browns.
Both players will face their former teams for the first time when the Bengals and Browns collide on Thursday Night Football.
"They let me go with virtually no wide receivers outside," Little said this week. "Hawkins is playing well, that's a good credit to him but it was kind of a good time — I don't know what it was, man. They let me go, I'm playing them and somebody has to pay."
Little signed with the Bengals on Oct. 14. He made an immediate impact, making a key 13-yard reception on Cincinnati's game-winning drive against the Ravens.
Hawkins' impact with the Browns has been even more sizable, as he leads the team with 39 receptions and is on pace for the first 1,000-yard season of his career.
"We know Andrew and how much heart and what a quality person and player he is," said Bengals coach Marvin Lewis. "He's leading them in receiving, and I don't have to look at the program and see what number he is when I see him run. He's doing the dirty work for them. He's cutting off linemen on the backside. He's doing all the things we know Hawk can do."
The Bengals pace the AFC North at 5-2-1, but the Browns (5-3) can leapfrog their in-state rivals in the standings with a win in Cincinnati. The teams will meet again in Cleveland in Week 15.
Lovie Smith Lost in Space
Tampa Bay's coach is making a strong case to be this season's Rob Chudzinski.
An alleged defensive specialist, Smith's defense ranks No. 31 overall. Already this season, three teams have scored 37 or more points against the Buccaneers.
The even bigger issues are on offense, where Tampa Bay cannot get anything going. Smith's biggest failure has been in his handling of the quarterback position. After starting the season with career backup Josh McCown under center, Smith was forced to go to Mike Glennon in Week 3 after McCown injured his thumb. Smith stuck with Glennon even after McCown returned to health, but Tampa Bay's embattled coach is going back to the journeyman this week.
"Mike didn't play well [Sunday]," Smith said. "He has played well in this stretch of starts he's had. You have to look at the body of work."
Evaluating either quarterback has been difficult because of Tampa Bay's struggles in pass protection. Evaluating Smith is a little easier.
The Buccaneers, once believed to be a dark-horse contender in the NFC South, are now in full-on rebuilding mode (basically admitting as much by being the biggest sellers at the trade deadline). The only thing a low-ceiling veteran like McCown can do is put the Buccaneers on the fast track to a top-three draft pick.
Perhaps that is Smith's plan. Maybe he knows Glennon and McCown are not the answer and he has his sights set on Marcus Mariota or Jameis Winston. That is, assuming he is still the head coach come draft time.
Midseason Moves Send Message
With the trade deadline now in the rearview mirror, teams are restricted in their ability to make roster improvements. That hasn't stopped a couple of AFC playoff hopefuls from making moves over the last couple of weeks.
On Tuesday, the Ravens released defensive backs Dominque Franks and Chykie Brown, a couple of former fifth-round picks who were a part of Baltimore's sub packages. The moves come just two days after Baltimore gave up six passing touchdowns in a 43-23 loss to the Steelers in Pittsburgh.
Opposing quarterbacks had a passer rating of 115.9 when throwing at Franks and Brown.
The Ravens filled the roster spots by signing Danny Gorrer off waivers from the Lions and promoting Tramian Jacobs off the practice squad. Gorrer struggled as Detroit's nickel back this season, but he spent 11 games with Baltimore in 2011, so the Ravens know what they are getting. The hope is he can help solidify the secondary until Jimmy Smith recovers from his foot injury.
Elsewhere in the conference, the Chargers added defensive end Damion Square off waivers from the Chiefs, picking up depth via the team that just leapfrogged them in the AfC West. The second-year lineman spent his rookie year in Philadelphia, where he played in 10 games and finished with four tackles and a pass break-up.
The Chargers sent safety Adrian Phillips back down to the practice squad to make room for Square.
San Diego's pickup comes just one week after the Chargers made a surprising change at cornerback, releasing veteran Richard Marshall (despite dealing with several key injuries in the secondary) and replacing him with former Redskin Richard Crawford.
Crawford was a seventh-round pick in 2012 who made some big plays as a rookie. But a knee injury cost him the 2013 season and he is just making his way back now.
What makes all these transactions interesting is they were based off performance, not health. It is rare to see contending teams swap multiple players for street free agents, but the Ravens and Chargers have left themselves little slack to work with. Both teams are mired in losing streaks that have dropped them in their respective divisions.
These moves also send a message to the other underperforming players on the roster: step up or step aside.
Buccaneers admit mistake, boot Aguayo
In the NFL, it's always better to admit a mistake than to compound it. For the Buccaneers, the decision to burn a 2016 second-round pick on kicker Robert Aguayo has proven to be a mistake. The Buccaneers made the definitive admission of their error on Saturday, cutting Aguayo. He exits with $428,000 in fully-guaranteed salary [
more
]
Source: Mike Florio of ProFootballTalk
Powered by WPeMatico
Did Bucs put too much pressure on Aguayo?
After the Buccaneers surprised everyone by taking a kicker with the 59th overall pick in the draft, G.M. Jason Licht explained the move by heaping superlatives on the player. "I was very excited along with my staff and coaches about Roberto for a very long time," Licht told PFT Live in May 2016. "It's not [
more
]
Source: Mike Florio of ProFootballTalk
Powered by WPeMatico
Broncos holding their breath on Derek Wolfe
Only two days after losing Billy Winn for the year with a torn ACL, the Broncos are now sweating out another potentially serious injury along the defensive line. Via multiple reports, Broncos defensive lineman Derek Wolfe was carted off the field during practice on Saturday. It's being described as a right ankle injury by coach [
more
]
Source: Mike Florio of ProFootballTalk
Powered by WPeMatico