NFL AM: Peterson Will Be Back Soon
The Vikings may get a shot in the arm with an Adrian Peterson return and the Texans hope that Ryan Mallett will be an upgrade.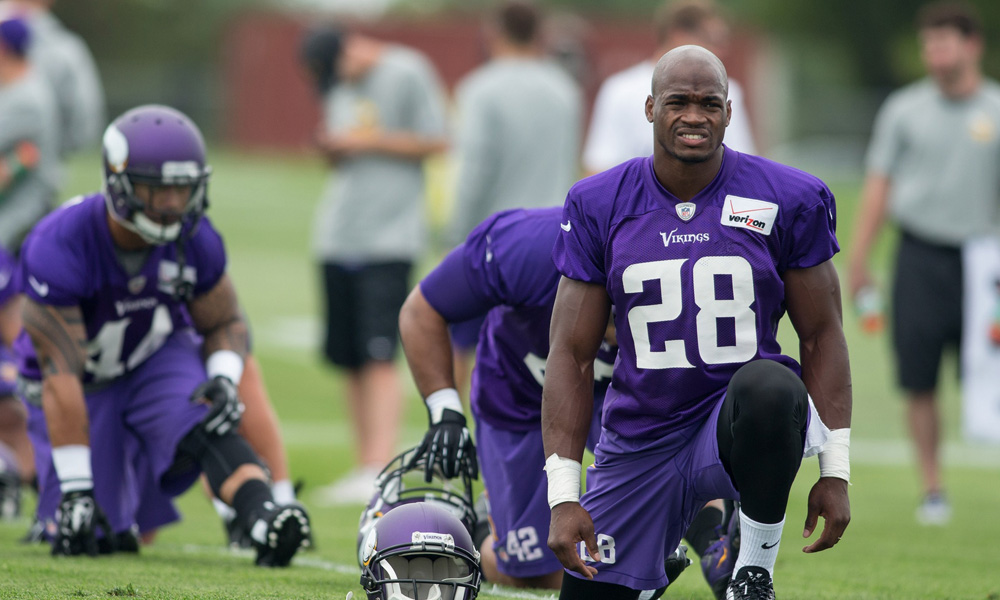 Purple Jesus Returning To The Field?
Minnesota Vikings All-Pro running back Adrian Peterson could be coming to a stadium near you.
Sooner rather than later.
Peterson pled out to a deal with Montgomery County (Texas) of a misdemeanor charge of reckless assault which defers his guilt for two years, along with a $4,000 fine and 80 hours of community service.
"I'm just glad this is over," Peterson said after the plea deal was announced. "I can put this behind me, and me and my family can move forward."
Peterson has been suspended on the commissioner's exempt list and has missed eight games with pay already this season. The purpose of the "exempt list" is to "get a player's legal affairs in order."
With Peterson's plea deal it appears that his legal issues are behind him and there really isn't precedent for Commissioner Roger Goodell to suspend Peterson any longer, being that he was guilty of a misdemeanor. The NFL will likely suspend Peterson for six or eight games with pay and then count the games he's missed as time served.
"We all know the kind of person he is," tight end Kyle Rudolph said. "We've stood behind him this whole time. You'd be crazy not to welcome him back into that locker room. It would be a big pickup for this locker room being we have so many young guys. Any time you can have a veteran back in that locker room, the leader that he is in the locker room, out on the practice field, would be huge for us.
"Guys have chatted amongst each other, and I don't think there's anyone in that locker room that would need to hear from him. We all know the kind of person Adrian is, and I feel like he's proven that over his time here."
Texans Make The Switch
After nine games and four victories, Houston Texans head coach Bill O'Brien came to the conclusion that most of America came to years ago. Ryan Fitzpatrick is not the answer at quarterback.
With that realization, O'Brien named the recently traded for Ryan Mallett as the starting quarterback going forward.
"I just felt like in the best interest of the team," O'Brien said. "This is the decision I needed to make."
The Texans traded a late-round pick to New England for the services of the former third-round pick who was buried on the Patriots' depth chart after they used a 2014 second-round pick on Eastern Illinois quarterback Jimmy Garropollo.
With Mallett's contact expiring at the end of this season, the Texans had to see what kind of player they have in the former SEC star.
"I'm going to be aggressive and I'm going to stay within the game-plan," Mallett said. "I'm passionate about this game and I'm passionate about my teammates."
Changes are usually made during the bye week and the Texans will have an extra week to get Mallett up to speed as they travel to Cleveland to take on the Browns on November 16th.
"I'm just trying to get a win against the Cleveland Browns," Mallett said. "I've got two weeks to prepare and I'm going to do the best that I can to leave no stone unturned, and try to get a win. We need one."
Through nine games the Texans offense ranks 28th in passing despite having Andre Johnson, DeAndre Hopkins, Garrett Graham and a very good receiving back in Arian Foster. Ryan Fitzpatrick ranks 22nd in the NFL in passer rating (87.1) while completing 61.8 percent of his passes for 1,980 yards with 11 touchdowns and eight interceptions.
We asked Football Insiders contributor and former NFL quarterback Jeff Carlson what he thought of Mallett.
"Ryan Mallet has the raw materials to be a good player, but it remains just that, raw until proven," Carlson said.  "I don't see him sitting around like Aaron Rogers did and then lighting it up like he did when his chance came though.  I'll be a believer after I see it."
The Texans are obviously hoping for more production from Mallett, who Pro Bowl wide receiver Andre Johnson has been rumored to have been lobbying for.
Buccaneers admit mistake, boot Aguayo
In the NFL, it's always better to admit a mistake than to compound it. For the Buccaneers, the decision to burn a 2016 second-round pick on kicker Robert Aguayo has proven to be a mistake. The Buccaneers made the definitive admission of their error on Saturday, cutting Aguayo. He exits with $428,000 in fully-guaranteed salary [
more
]
Source: Mike Florio of ProFootballTalk
Powered by WPeMatico
Did Bucs put too much pressure on Aguayo?
After the Buccaneers surprised everyone by taking a kicker with the 59th overall pick in the draft, G.M. Jason Licht explained the move by heaping superlatives on the player. "I was very excited along with my staff and coaches about Roberto for a very long time," Licht told PFT Live in May 2016. "It's not [
more
]
Source: Mike Florio of ProFootballTalk
Powered by WPeMatico
Broncos holding their breath on Derek Wolfe
Only two days after losing Billy Winn for the year with a torn ACL, the Broncos are now sweating out another potentially serious injury along the defensive line. Via multiple reports, Broncos defensive lineman Derek Wolfe was carted off the field during practice on Saturday. It's being described as a right ankle injury by coach [
more
]
Source: Mike Florio of ProFootballTalk
Powered by WPeMatico