NFL AM: New Orleans Saints Surge into First Place
The Panthers are in trouble on and off the field, while the Redskins hope their gamble pays off.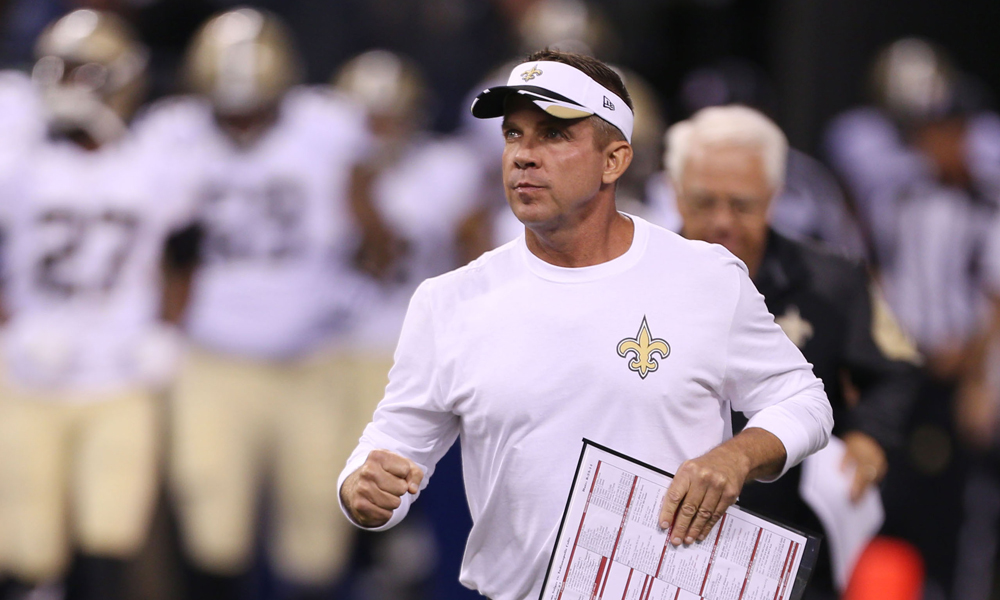 Saints Seize Control of the NFC South
The Saints finally won on the road, going into Bank of America Stadium and running over the Panthers, 28-10. Mark Ingram carried 30 times for 100 yards and two touchdowns and Drew Brees added a rushing score of his own as the Saints won time of possession by more than 10 minutes and moved into first place in the NFC South.
"We knew we had a chance to take control of the division," Ingram said. "We lost to them here at the end of last year so we felt like we left something here. We had to come back and take care of business."
The Panthers were booed off the field as the went into the locker room at halftime trailing 14-0. Cam Newton completed just 10-of-28 passes (35.7 percent) and averaged a pitiful 5.4 yards per attempt. He did not get much help from his receivers; Kelvin Benjamin dropped a pass in the end zone for the second straight week and Jericho Cotchery had a critical drop, as well.
The Panthers expected their offense to roll with running backs DeAngelo Williams and Jonathan Stewart both healthy, but those two combined for 16 carries and just 66 yards. Williams really struggled to find room to run in his first game in more than a month, averaging just 2.5 yards per carry.
Jimmy Graham, batting a shoulder injury that has plagued him for weeks, caught each of the seven passes thrown his way, good for 83 yards and a touchdown. The receptions and yardage numbers were his best since Week 4.
Hardy's Trial Postponed Until After the Season
Greg Hardy's domestic violence appeal trial, which had been scheduled for Nov. 17, has been postponed until after the season. It is tough news for Hardy, who is confident he will be found not guilty and was planning to return to the team after his trial was over.
Hardy, who has spent the last six weeks on the Exempt/Commission's Permission list, will petition Roger Goodell to be reinstated immediately.
"I believe, from what I've been told, he's been working out and doing the thing he needs to do," said Panthers coach Ron Rivera. "Hopefully, when things are all worked out and everything comes to a conclusion everybody can go forward."
Under the NFL's new policy on domestic violence, first-time offenders are subject to a six-game suspension. If Hardy had accepted the court's initial guilty verdict (rather than appealing), he could have served that six-game ban and been back on the field by now. Of course, that six-game suspension would have been unpaid, which would have cost Hardy $4.875 million. While on the exempt list, he is receiving his full $13 million salary.
Hardy will be a free agent after the season. While the team that signs him will have some PR hurdles to clear, his alleged offense was not visible like that of Ray Rice. Also, top-end pass rushers are much more difficult to find than running backs, so it is likely Hardy will find a home once he returns, although it probably won't be this season and it probably won't be in Carolina.
Redskins Plan to Start Griffin in Minnesota
Barring any setbacks, Robert Griffin III will return to the starting lineup on Sunday as the Redskins face the Vikings in Minnesota. The timing of the move is surprising, given that Colt McCoy has led the Redskins to wins in each of the last two weeks.
In six quarters of work, McCoy has completed 36 of 42 passes (85.7 percent) for 427 yards. He has scored two touchdowns (one passing, one rushing) and has just one interception. And his passer rating (107.0) is better than Tom Brady's and Andrew Luck's.
McCoy's numbers cannot be trusted because they come from such a small sample size. But it's somewhat curious that Redskins coach Jay Gruden doesn't want to see how long McCoy's stellar play could continue.
"If everything goes well, [Griffin] will start," Gruden said. "We feel like he's 100 percent physically."
Griffin was off to a strong start this season before injuring his ankle early in Week 2, completing 31 of 40 passes (77.5 percent). He also had 22 rushing yards in the first quarter of the Jaguars' game before his ankle gave out.
The Redskins traded away too much for Griffin (three first-round picks) to give up on him now. All that can be said with certainty is this: he better beat the Vikings. If Washington loses to Minnesota (3-5), Gruden will be raked over the coals for his decision to go away from McCoy's hot hand when his team was finally trending upwards.
Did Bucs put too much pressure on Aguayo?
After the Buccaneers surprised everyone by taking a kicker with the 59th overall pick in the draft, G.M. Jason Licht explained the move by heaping superlatives on the player. "I was very excited along with my staff and coaches about Roberto for a very long time," Licht told PFT Live in May 2016. "It's not [
more
]
Source: Mike Florio of ProFootballTalk
Powered by WPeMatico
Broncos holding their breath on Derek Wolfe
Only two days after losing Billy Winn for the year with a torn ACL, the Broncos are now sweating out another potentially serious injury along the defensive line. Via multiple reports, Broncos defensive lineman Derek Wolfe was carted off the field during practice on Saturday. It's being described as a right ankle injury by coach [
more
]
Source: Mike Florio of ProFootballTalk
Powered by WPeMatico
Buccaneers admit mistake, boot Aguayo
In the NFL, it's always better to admit a mistake than to compound it. For the Buccaneers, the decision to burn a 2016 second-round pick on kicker Robert Aguayo has proven to be a mistake. The Buccaneers made the definitive admission of their error on Saturday, cutting Aguayo. He exits with $428,000 in fully-guaranteed salary [
more
]
Source: Mike Florio of ProFootballTalk
Powered by WPeMatico