NFL AM: Michael Vick Unprepared For Playing Time
Michael Vick admits he wasn't prepared to play… Giants and Eagles talk trash… Texans and Colts battle for first place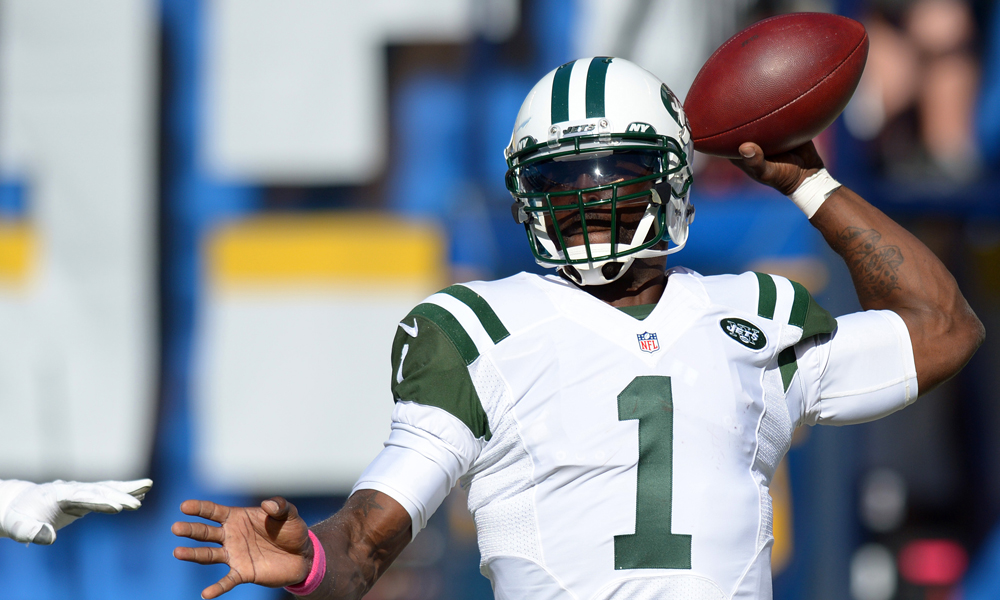 Vick Unprepared Last Week
As if things weren't going badly enough for Rex Ryan and the New York Jets, backup quarterback Michael Vick chose Wednesday to be completely candid and truthful with the media.
Vick, who played in the second half of the Jets' 31-0 blowout loss to the San Diego Chargers, completed just 8-of-19 passes for 47 yards in relief of the equally ineffective Geno Smith.
If Vick looked rusty and unprepared, it's because he was, and he said as much on Wednesday.
"Maybe I didn't prepare or I wasn't prepared, but let me tell you it won't happen again," Vick said, according to ESPN New York.
Vick backtracked a bit later in the conversation, "I didn't say I wasn't ready because of the [scout team] snaps."
Vick shouldn't be completely new to the role of backup quarterback. He backed up Chris Chandler when he was a rookie in Atlanta in 2001, then Donovan McNabb and Kevin Kolb for a short time in Philadelphia, as well as Nick Foles last season.
To put it simply, Vick shouldn't have been unprepared.
"I learned a lesson last week: always stay ready, always be prepared. That left a bitter taste in my mouth that I wasn't able to go out and put points on the board or even help this team in any fashion," Vick explained. "So this week has been a different work week from me (and) throughout the rest of the year, it's going to be totally different for me as far as my preparation."
If anyone is still questioning Rex Ryan's decision to start Geno Smith, they shouldn't. Smith may be a turnover waiting to happen, but he still completes and prepares the best he can to play. The same obviously can't be the same of Geno's backup.
First Place Battle In Clutch City
The Houston Texans were a preseason favorite to win the AFC South last season and they were even in first place after two weeks. They proceeded to lose their final 14 games en route to selecting first in the 2014 NFL Draft.
This season has had its ups and downs but it's a little more like the Texans expected as they are 3-2 through five weeks and have an opportunity to take over first place by themselves as they host their division rival Indianapolis Colts tonight.
"I think anytime you have two teams like our teams that play in the same division, [it'll be a rivalry], especially in the recent past," Texans head coach Bill O'Brien said. "Maybe not last year. I understand last year. But the recent past it has been a good rivalry, a healthy rivalry with the two teams. I think that's always good within the division and that's good for the NFL."
The Texans have started off slowly of late as they've scored just seven points combined in the first halves of the last three games. Meanwhile, the Colts haven't trailed in their last three games, all wins by an average margin of 19.3 points per game.
If Houston is going to avoid the recent trend of Thursday night blowouts, they're going to have to get off to a good start.
"I think it all starts on third down," Texans offensive coordinator George Godsey said when asked about how to get off to a better start. "You get a critical third down really early in the game to set the tempo. Those are the things that we just have to do to move the chains, we've got to go ahead and complete some balls there. Maybe take some things off of his (Ryan Fitzpatrick) shoulders as far some of the process at the line of scrimmage."
NFL fans everywhere are just hoping for a competitive game for at least one Thursday night.
Shots Fired Between Giants and Eagles
This Sunday's game between the New York Giants and Philadelphia Eagles will be seen by a national television audience and it may be a little "chippy," as both teams are doing a little pre-game taunting.
On Tuesday, Giants cornerbacks Prince Amukamara and Dominique Rodgers-Cromartie posed with a Giants fan that was wearing an Eagles "0" jerseys with the inscription, "Super Bowls" across the back.
That drew the ire of Eagles running back LeSean McCoy, who spoke about it during Wednesday's conference call.
"Did Prince win a Super Bowl? I know DRC didn't. I guess it's entertainment," McCoy said.
Eagles wide receiver Jeremy Maclin voiced his opinions as he said that Giants safety Antrel Rolle "talked too much," and that the Giants are "living in the past."
Maclin's comments were certainly a response from what Rolle said when asked about the Eagles' NFC East title in 2013.
"Last year is last year," Rolle said. "I don't feel like there was much to really battle with last year in our division. I felt like it was a weak division last year."
All of this talking isn't likely going to make for a better game on Sunday night, but it does make the week leading up to it a lot more interesting.
Buccaneers admit mistake, boot Aguayo
In the NFL, it's always better to admit a mistake than to compound it. For the Buccaneers, the decision to burn a 2016 second-round pick on kicker Robert Aguayo has proven to be a mistake. The Buccaneers made the definitive admission of their error on Saturday, cutting Aguayo. He exits with $428,000 in fully-guaranteed salary [
more
]
Source: Mike Florio of ProFootballTalk
Powered by WPeMatico
Did Bucs put too much pressure on Aguayo?
After the Buccaneers surprised everyone by taking a kicker with the 59th overall pick in the draft, G.M. Jason Licht explained the move by heaping superlatives on the player. "I was very excited along with my staff and coaches about Roberto for a very long time," Licht told PFT Live in May 2016. "It's not [
more
]
Source: Mike Florio of ProFootballTalk
Powered by WPeMatico
Broncos holding their breath on Derek Wolfe
Only two days after losing Billy Winn for the year with a torn ACL, the Broncos are now sweating out another potentially serious injury along the defensive line. Via multiple reports, Broncos defensive lineman Derek Wolfe was carted off the field during practice on Saturday. It's being described as a right ankle injury by coach [
more
]
Source: Mike Florio of ProFootballTalk
Powered by WPeMatico