NFL AM: Key Injuries Hurt Contenders
Several season-ending injuries will hurt playoff contenders… The 49ers have rallied back into contention…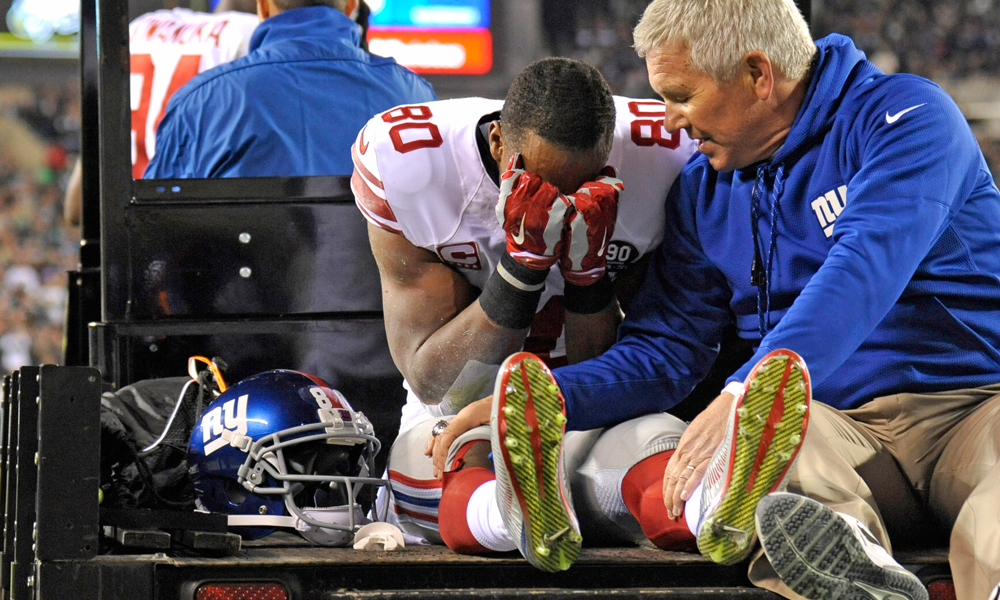 In this edition of NFL AM, we look at which contenders lost key contributors for the season and Colin Kaepernick playing up to his potential.
Season-Ending Injuries Plague Sunday
Football is a violent game and injuries are the unfortunate part of America's passion. Sunday was an especially tough day for injuries as potential playoff contenders all throughout the league lost key players.
Starting in New England, the Patriots' 37-22 victory over the Buffalo Bills didn't come without a major price to pay. New England reportedly lost a pair of starters for the season in inside linebacker Jerod Mayo and running back Steven Ridley. Mayo has a right knee injury that one source said was "bad," and Ridley is rumored to have a torn ACL and MCL.
Mayo seems like a bigger loss to the team as the Patriots employ a running back by committee approach. A pair of former Mississippi State Bulldogs will likely try to fill in for Mayo as rookie Deontae Skinner and fourth-year pro Chris White will be vying for reps.
The most high-profile injury of the weekend came on national television as Giants Pro Bowl wide receiver Victor Cruz reportedly tore his patellar tendon in the Giants' 27-0 whitewash at the hands of the Philadelphia Eagles. Cruz will miss the rest of the season, which will likely result in more targets for rookie wide receiver Odell Beckham Jr.
In that same game, Philadelphia Eagles utility return/do everything man Darren Sproles had his leg get caught underneath him and sustained a sprained MCL. Sproles will likely miss two-to-three weeks.
A huge injury that won't get as much national publicity was that to Cleveland Browns center Alex Mack. Mack reportedly broke his left leg in Sunday's 31-10 victory over the Pittsburgh Steelers and will likely miss the rest of the season. The Browns' offensive line had been ranked No. 1 in the NFL by Pro Football Focus entering Sunday's game.
"Finally, we're getting the best of Pittsburgh," a distraught Joe Thomas said after the game. "He deserved to be out there. It was hard to go on because we've been through the hell together. This is finally the payoff, and he doesn't get to be out there for us."
In the swamps of New Jersey, the New York Jets not only lost to the Denver Broncos, 31-17 but also lost former first-round pick Dee Milliner for the season with what is being reported as a ruptured achilles. Milliner's play was picking up after a rough start to his career and now Jets head coach Rex Ryan is left very thin at cornerback. Struggling former first-round pick Kyle Wilson, journeyman Phillip Adams, Darrin Walls and Antonio Allen make up the Jets' cornerback depth.
Williams Requests Trade
Once a great young prospect, Buffalo Bills wide receiver Mike Williams has seen his career go downhill and was a healthy scratch in Sunday's 37-22 loss to the New England Patriots.
According to NFL.com, Williams agent Hadley Engelhard was given permission to "Gauge interest" to request a trade for his troubled client.
Bills' general manager Doug Whaley said that the team was not actively shopping Williams.
"If he gets me compensation worthy of a No. 1 receiver, which he claimed he is," Whaley said, "then we would entertain it."
The Bills not only took on the troubled Williams when they offered up a sixth-round pick for the wide receiver, but also a bad contract. Former Buccaneers general manager Mark Domenik gave Williams a six-year, $40.5 million deal prior to the 2013 season. That deal includes $5.2 million of guaranteed money for the 2015 season that the Bills will likely have to eat.
"I'm going to go out and prove they made a mistake and this is a great decision for the Buffalo Bills," Williams said right after the trade.
Williams has just eight catches for 142 yards and a touchdown this season.
49ers Rally Back To Contention
The San Francisco 49ers have been a lightning rod for controversy this season, with the rumors about head coach Jim Harbaugh's future and the legal issues of defensive linemen Aldon Smith and Ray McDonald.
Still, the Niners are playing through the distractions and after Monday night's 31-17 victory over the St. Louis Rams, the team finds itself with a 4-2 record and tied with the Seattle Seahawks for second place in the NFC West.
After getting down 14-0, quarterback Colin Kaepernick led the team to 24 unanswered points as he completed 22 of 36 passes for a season-high 346 yards with three touchdowns and no turnovers.
The San Francisco defense terrorized rookie quarterback Austin Davis as they sacked him five times and hit him another five times. Davis didn't complete a pass in the second half until approximately four minutes were remaining in the game. The 49ers iced the game as rookie Dantae Johnson picked off Davis and took it 20 yards to the end zone.
San Francisco has their work cut out for them if they're going to advance to 5-2 next week since they're taking on the Denver Broncos Sunday night in Denver, as Peyton Manning looks to break the all-time touchdown record.
Buccaneers admit mistake, boot Aguayo
In the NFL, it's always better to admit a mistake than to compound it. For the Buccaneers, the decision to burn a 2016 second-round pick on kicker Robert Aguayo has proven to be a mistake. The Buccaneers made the definitive admission of their error on Saturday, cutting Aguayo. He exits with $428,000 in fully-guaranteed salary [
more
]
Source: Mike Florio of ProFootballTalk
Powered by WPeMatico
Did Bucs put too much pressure on Aguayo?
After the Buccaneers surprised everyone by taking a kicker with the 59th overall pick in the draft, G.M. Jason Licht explained the move by heaping superlatives on the player. "I was very excited along with my staff and coaches about Roberto for a very long time," Licht told PFT Live in May 2016. "It's not [
more
]
Source: Mike Florio of ProFootballTalk
Powered by WPeMatico
Broncos holding their breath on Derek Wolfe
Only two days after losing Billy Winn for the year with a torn ACL, the Broncos are now sweating out another potentially serious injury along the defensive line. Via multiple reports, Broncos defensive lineman Derek Wolfe was carted off the field during practice on Saturday. It's being described as a right ankle injury by coach [
more
]
Source: Mike Florio of ProFootballTalk
Powered by WPeMatico