NFL AM- Jets Remain Confident Despite Reality
The Jets believe they're a playoff team, Bruce Arians' has a quick hook and the Seahawks have one bad matchup.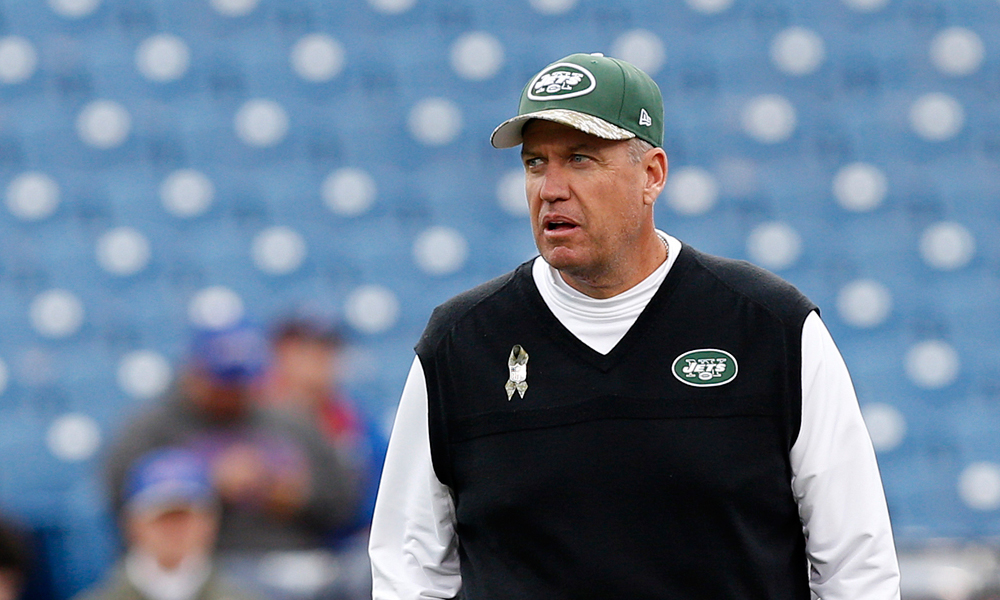 Jets Are Confident For No Good Reason
Hall of Fame head coach Bill Parcells once famously said, "you are what your record says you are."
On the surface that makes sense, but just don't tell that to the New York Jets.
The New York Jets are one of the worst teams in football. It's a statistical fact.
The Jets are ranked 27th in total offense, dead-last (32nd) in passing offense and 29th in scoring offense (16.4 points per game).
Even the once-proud defense that Rex Ryan used to hang his hat on is yielding 25.1 points per game which ranks 24th in the National Football League.
Everyone believes the New York Jets are terrible….except the New York Jets.
The team takes their cues from their leader, Rex Ryan who has maintained his ultimate level of confidence.
(My feelings) haven't changed one bit," Ryan explained when asked about his level of confidence in his coaching. "People are going to be like, 'That's crazy. You've won three games.' Yeah, that's right. Yep, I've won three games. And that's one year. And sure it hadn't gone well. I'm sure of myself. And again, I'm always a confident person. Not just because of my abilities. I was given some gifts and obviously a lot less in other areas (joking), but I can coach football and I know that. But, it's more based on the people that I'm around and the people that I know. I think that gives the belief that one day I'm going to win that thing. That's how I feel. That's it I guess. That's just the way I'm wired. I don't look at myself as a three-win coach. I know I'm better than that, yet this is where we're at right now.
Rex Ryan is far from the only one in the Jets' locker room that feels that way. Rookie first-round pick Calvin Pryor believes that his team is close to elite.
"If you look at our season, besides two or three games, we've been in every game," said rookie safety Calvin Pryor in a Comcast report. "You can cut it and slice it how you want to. I think we're — what are we, 3-12? — I think we're the best 3-12 team in the history of football. No doubt about it."
The best 3-12 team in the history of football? Is that really something to brag about?
Before you think that's the talk of a naive rookie, veteran safety Dawan Landry feels that "Gang Green" is on the cusp of greatness.
"The record doesn't dictate the team that we are," said safety Dawan Landry. "We played a lot of close games that could've gone either way. We could've easily had 10-11 wins. Easily. It just hasn't been our year. We got one more game, we're gonna try to finish it off on a high note."
New York Jets' quarterback Geno Smith has had more lowlights than highlights in his two-year career and there are major questions whether he should have been the starting quarterback in New York this year, will be next year or if he'll even be on the roster.
He's not worried about it.
"I see myself being the quarterback here for a long time," Smith said after Jets' practice. "I see myself helping this team turn things around. Obviously, I'm a part of the reason why we are in this position, so I'd love to be a part of the solution."
Geno Smith is a confident young man, just as his Jets' teammates are, despite sporting a not so shiny 3-12 record.
"I know that it takes hard work and not everyone is going to see the same things, but within this locker room, within this group of guys, we all see the potential we have as a team," Smith said. "Obviously, that's not saying much with the record that we have right now but we believe that if we work hard enough and we do what's right, we can turn things around."
It's good to have confidence. It might also be good to have humility and under Rex Ryan it appears that the Jets have far too much of the first and far too few of the second.
Quickest Hook Ever?
After Sunday night's 35-6 loss to the Seattle Seahawks, Arizona Cardinals' head coach Bruce Arians decided that rookie quarterback Logan Thomas would start the regular season finale at San Francisco.
The game is likely meaningless for the Cardinals, as Seattle is one victory over St. Louis away from locking up the top-seed in the NFC. The Seahawks are currently favored by 13 points.
"It would be a quick hook if it isn't going in a way that I want it to go," Arians said of starting Thomas on Monday, "because I do trust Ryan. I think he proved that the stadium wasn't too big for him. He just missed some throws."
Well the hook was quicker than anyone could imagine as Arians decided to go back to Ryan Lindley for Sunday's game, according to a report in the Arizona Republic.
There's no telling how horrific Logan Thomas must have looked in practice, as he's struggled with accuracy going back to his career at Virginia Tech and all the way through the draft process. In Thomas' limited action this season, he's completed just one of his nine throws (the lone completion did go for 81 yards and a touchdown).
Lindley has completed just 22 of 54 throws this season for 246 yards and an interception. Lindley is yet to throw a touchdown pass in his NFL career, but has eight interceptions.
Earlier in the week, Arians said that quarterback Drew Stanton has an "85 percent" chance of making it back for the playoffs. Although Stanton is far from a world beater, he is head and shoulders above both Lindley and Thomas.
One Bad Matchup For The Seahawks
The Seattle Seahawks are proof positive that it's a long football season and they've come full circle.
Seattle opened their Super Bowl title defense with a dominating victory over the Green Bay Packers in which they made future Hall of Fame quarterback Aaron Rodgers look ordinary.
The Seahawks then lost three of their next five games and they looked like anything but Super Bowl contenders.
The team has rebounded and is playing their best football as they've won eight of nine games and are poised to take home the No. 1 seed in the NFC.
"They're playing awesome football," Cardinals cornerback Patrick Peterson said of the Seahawks after their 35-6 victory on Sunday night. "You can't taking nothing away from that ballclub. They have a championship pedigree, what it takes to win on the road, what it takes to win the division. Obviously, it's not over yet, but they're one step closer."
The Seahawks play their best football when it counts the most and they put on the best show when people are watching. Head coach Pete Carroll is 13-1 in prime time games with Seattle, the best record of any head coach since 1970.
The Seattle defense has taken their level up several notches, as they've allowed just 33 points during their five-game winning streak.
"I think it feels better than last year," Seahawks defensive end Michael Bennett said.
As long as the Seahawks can avoid playing the Dallas Cowboys, who beat them earlier this year in Seattle, they will have favorable matchups the rest of the way, including the Super Bowl.
Buccaneers admit mistake, boot Aguayo
In the NFL, it's always better to admit a mistake than to compound it. For the Buccaneers, the decision to burn a 2016 second-round pick on kicker Robert Aguayo has proven to be a mistake. The Buccaneers made the definitive admission of their error on Saturday, cutting Aguayo. He exits with $428,000 in fully-guaranteed salary [
more
]
Source: Mike Florio of ProFootballTalk
Powered by WPeMatico
Did Bucs put too much pressure on Aguayo?
After the Buccaneers surprised everyone by taking a kicker with the 59th overall pick in the draft, G.M. Jason Licht explained the move by heaping superlatives on the player. "I was very excited along with my staff and coaches about Roberto for a very long time," Licht told PFT Live in May 2016. "It's not [
more
]
Source: Mike Florio of ProFootballTalk
Powered by WPeMatico
Broncos holding their breath on Derek Wolfe
Only two days after losing Billy Winn for the year with a torn ACL, the Broncos are now sweating out another potentially serious injury along the defensive line. Via multiple reports, Broncos defensive lineman Derek Wolfe was carted off the field during practice on Saturday. It's being described as a right ankle injury by coach [
more
]
Source: Mike Florio of ProFootballTalk
Powered by WPeMatico