NFL AM: It's time for the Jacksonville Jaguars to move on from Gus Bradley
What the Jaguars have been doing clearly isn't working.
While some NFL teams are quick to eject a bad coach or coaching staff, others seem content to wallow in mediocrity. Yes, we're looking at you, Los Angeles Rams.
There is patience and then there is ridiculousness. We're all still wondering how Jeff Fisher remains employed despite dubious quarterback handling, but there's another head coach whose time has come and gone.
The Jacksonville Jaguars have an abysmal record under Gus Bradley, with an overall record of 12-39 and not one winning record over the course of three years and three games. There hasn't even been an 8-8 season, the best record being a five win season last year.
How bad is that? Michael Davis Smith of Pro Football Talk ran the numbers.
There have been 170 coaches in NFL history who coached at least 50 games, and Bradley's winning percentage ranks 169th out of those 170. The only coach with a worse record was Bert Bell, who coached the Philadelphia Eagles from 1936 to 1941. And the only reason Bell wasn't fired is that Bell was also the Eagles' owner.
That was before Sunday's 19-17 loss to the Baltimore Ravens.
The Jaguars have improved in dribs and drabs, but always seem to fall short of where it looks like their talent should have them. Yet there appears to be no real interest in changing the head coach.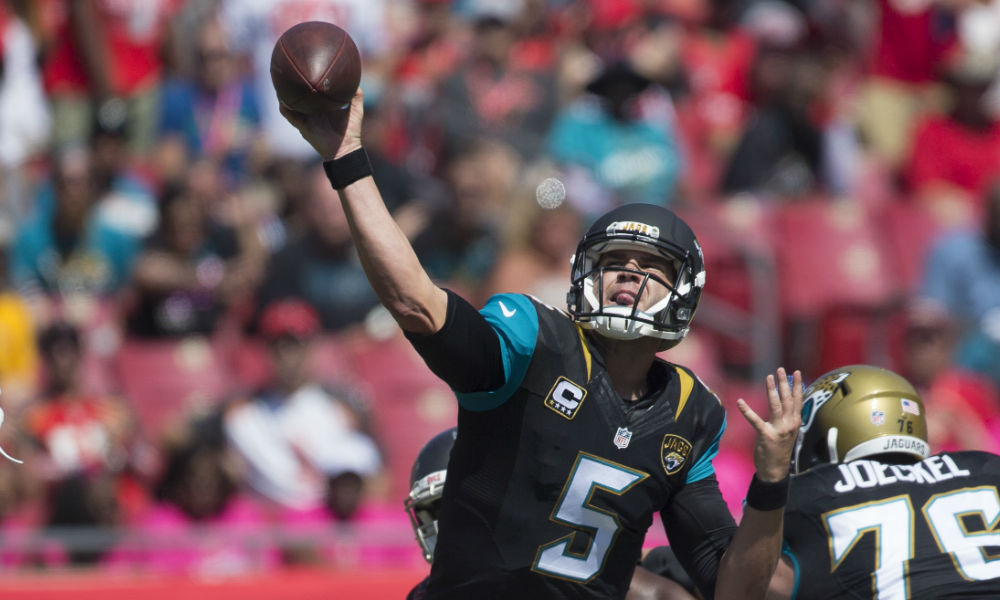 Bradley recently said this team needs to get back to playing like a good team, but so far it's hard to find evidence they ever played like that unless you go back to 2007 when they had 11 wins or more recently, 2010 when they were at least average at 8-8.
It's worth pointing out that neither of those seasons came under Bradley, instead coming under former head coach Jack Del Rio.
Maybe we can give Bradley some slack for the first two years when he was trying to fix the mess Del Rio left behind, but we're long past that. The Jaguars have undoubtedly added talent—quarterback Blake Bortles, receivers Allen Robinson and Allen Hurns, tight end Julius Thomas as well as rookie Jaylen Ramsey and Myles Jack to name a few—but the continue to do stupid things like draw bad penalties and turn the ball over.
Meanwhile the talent on the offense and defense hasn't produced consistently, which means if you have a great offensive day, you probably have to overcome a poor defensive effort, or if the defense is on fire, the offense is ice cold.
Bradley isn't concerned with his job security.
"You're not defined by one game," the seemingly always positive Bradley said. "I think if this brings us to the right places … That's my concern right now, is to make sure this game, this experience that we had, elevates our play and takes us to the right place. That's purely all the conversation we're having with our team right now."
Maybe he's not concerned, but he should be. Certainly it should be on owner Shad Khan's mind by now.
The Jaguars didn't look like they were ready for the San Diego Chargers in Week 2, and they should have been able to overcome a team without Keenan Allen and which lost Danny Woodhead.
It's not just the losses—though his record as a coach is horrible—it's the way the team is losing. Sloppy, seemingly unprepared and with often terrible play calling, the Jaguars are playing much worse than what their talent indicates they should.
Patience is one thing. Ignoring the water as it comes over the side of your ship as it is sinking is another thing.
Khan has shown enough of the first. Hopefully for Jaguars fans, he won't continue to show the second.
Buccaneers admit mistake, boot Aguayo
In the NFL, it's always better to admit a mistake than to compound it. For the Buccaneers, the decision to burn a 2016 second-round pick on kicker Robert Aguayo has proven to be a mistake. The Buccaneers made the definitive admission of their error on Saturday, cutting Aguayo. He exits with $428,000 in fully-guaranteed salary [
more
]
Source: Mike Florio of ProFootballTalk
Powered by WPeMatico
Did Bucs put too much pressure on Aguayo?
After the Buccaneers surprised everyone by taking a kicker with the 59th overall pick in the draft, G.M. Jason Licht explained the move by heaping superlatives on the player. "I was very excited along with my staff and coaches about Roberto for a very long time," Licht told PFT Live in May 2016. "It's not [
more
]
Source: Mike Florio of ProFootballTalk
Powered by WPeMatico
Broncos holding their breath on Derek Wolfe
Only two days after losing Billy Winn for the year with a torn ACL, the Broncos are now sweating out another potentially serious injury along the defensive line. Via multiple reports, Broncos defensive lineman Derek Wolfe was carted off the field during practice on Saturday. It's being described as a right ankle injury by coach [
more
]
Source: Mike Florio of ProFootballTalk
Powered by WPeMatico