NFL AM: Injury Bug Bites San Francisco 49ers, Seattle Seahawks
Injuries impact the NFC West race; the AFC playoff picture gains some clarity; and the Buccaneers sound as bad as they look.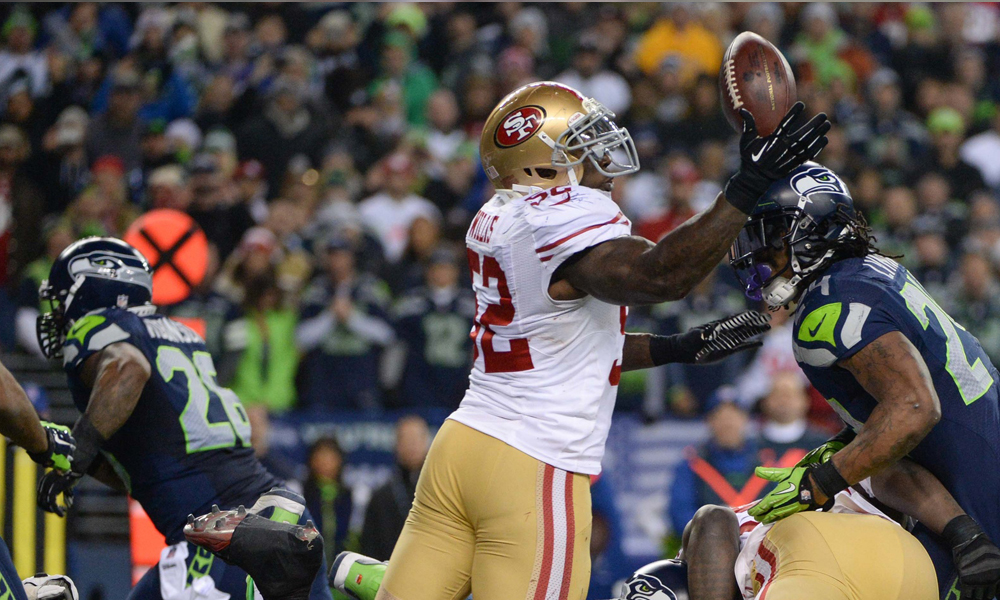 Injuries Ravage NFC West
Every team is dealing with injuries this time of year, but the injury bug is taking a serious bite out of the contenders in the NFC West.
Shortly after the Cardinals confirmed starting quarterback Carson Palmer will miss the rest of the season with a knee injury, the 49ers revealed All Pro linebacker Patrick Willis is also done for the year due to a toe injury. The Seahawks were not immune, either, losing nose tackle Brandon Mebane to injured-reserve after he tore his hamstring on Sunday against the Giants.
In placing Willis on IR, San Francisco loses a dominant two-way inside linebacker. He is a tackling machine who earned Pro Bowl invites in each of his first seven seasons.
Willis had been dealing with the toe injury for several years. He aggravated the injury during a Week 6 win over the Rams. He had hoped the time off during a Week 8 bye would help him get right, but that proved not to be the case.
"To most people, they might be like, 'Man, maybe Willis is losing a step.' But I promise you, physically and mentally, I'm just as good now as I was early on," he said. "Unfortunately, the things I need most to make me who I am are my feet."
The loss of Mebane in Seattle was equally devastating. He was enjoying the best season of his eight-year career, according to Coach Pete Carroll, and was anchoring a defense that ranks No. 4 against the run (79.8 yards per game).
The Seahawks still have veteran defensive tackles Kevin Williams and Tony McDaniel, but neither can command (and defeat) double-teams as consistently as Mebane. Jordan Hill, a third-round pick in 2013, is also in the mix.
"We'll have to see how things go," Carroll said. "Kevin will play a lot more in that spot. Kevin, Tony and Jordan are all good football players and we'll see how it fits, but there's nobody like Mebane."
Thinning the Herd
The playoff race is insane in the AFC, with 11 teams boasting five or more wins. Some separation should finally come this week, as several AFC contenders face difficult match-ups.
The Dolphins and Bills, both 5-4, will collide on Thursday Night Football. The Bengals are on the road against the home-strong Saints.  The Chiefs host the defending Super Bowl champions in Kansas City. And the upstart Browns are home against the Texans in a game Houston has to have to keep its faint playoff hopes alive.
Pittsburgh's Monday night match-up with the Titans might not seem like must-see TV, but given the Steelers have already lost to the Buccaneers and Jets this season, a loss in Tennessee is certainly plausible. The Steelers sit one-half game out of a wild-card spot.
The AFC's most marquee game comes on Sunday Night Football as the Colts host the Patriots. That game will certainly impact playoff seeding, but not necessarily the playoff race, as Indianapolis and New England are both all but certain to qualify for the postseason.
By the end of the week, the amorphous blob known as the AFC playoff race may finally have some shape to it.
McCoy Mouths Off Again
When the Buccaneers signed Gerald McCoy to a seven-year, $98 million extension earlier this season, they secured a dominant force on the defensive line and a team leader in the locker room. At least, that was the idea.
McCoy continues to voice his displease with his team's effort and discipline as Tampa Bay has sputtered to a 1-8 start. After the team's latest loss — at home to the previously 2-6 Falcons — McCoy questioned whether his teammates play with enough pride.
"I think we are playing hard. Playing with pride? I don't know," he said.
The biggest issue with McCoy calling out teammates is his own performance has not been up to snuff. Yes, he has five sacks on the season, including three in the last three games, but he fails to show up enough outside of those one or two plays per game. He has posted two or fewer tackles in five of eight games this season.
Instead of questioning his team's discipline, as he did earlier this season, he needs to focus on playing with discipline himself. And instead of criticizing the players in an already splintering locker room, he needs to be a positive force for a team already shrouded in negativity.
One would think $98 million would buy a team at least that much.
Want to talk more about these or other stories? Join Michael Lombardo for his weekly NFL Chat on Friday at 2pm EST. And there is no reason to wait till Friday … go ahead and ask your question now! 
Buccaneers admit mistake, boot Aguayo
In the NFL, it's always better to admit a mistake than to compound it. For the Buccaneers, the decision to burn a 2016 second-round pick on kicker Robert Aguayo has proven to be a mistake. The Buccaneers made the definitive admission of their error on Saturday, cutting Aguayo. He exits with $428,000 in fully-guaranteed salary [
more
]
Source: Mike Florio of ProFootballTalk
Powered by WPeMatico
Did Bucs put too much pressure on Aguayo?
After the Buccaneers surprised everyone by taking a kicker with the 59th overall pick in the draft, G.M. Jason Licht explained the move by heaping superlatives on the player. "I was very excited along with my staff and coaches about Roberto for a very long time," Licht told PFT Live in May 2016. "It's not [
more
]
Source: Mike Florio of ProFootballTalk
Powered by WPeMatico
Broncos holding their breath on Derek Wolfe
Only two days after losing Billy Winn for the year with a torn ACL, the Broncos are now sweating out another potentially serious injury along the defensive line. Via multiple reports, Broncos defensive lineman Derek Wolfe was carted off the field during practice on Saturday. It's being described as a right ankle injury by coach [
more
]
Source: Mike Florio of ProFootballTalk
Powered by WPeMatico