NFL AM: Derek Anderson Ready to Rally the Carolina Panthers
Derek Anderson readies to rally the Panthers; Jadeveon Clowney digs in for a lengthy rehab; and Marvin Lewis runs like hell.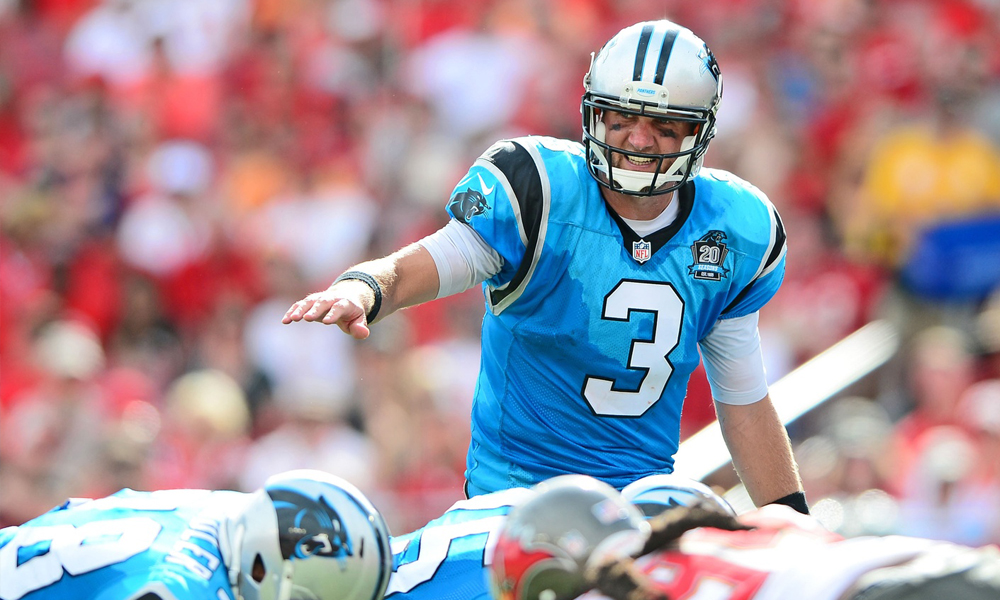 Derek Anderson Ready to Lead Panthers
The important news is that Cam Newton is in fair condition following his two-car accident on Tuesday. The team confirmed he has two transverse process fractures in his lower back, although no statement was made about how much time he will miss. When Tony Romo suffered that same injury in a game against the Redskins earlier this year, he missed only one game, so that is promising.
"Right now we have thought about Cam's well-being and we understand there was someone else in the other car who was injured," the team said in a statement. "We just hope that they're all OK."
Regardless of what happens beyond this week, it is likely Derek Anderson will make his second start of the season on Sunday. Ironically, Anderson will be starting against the Buccaneers, the same team he made his first start against way back in Week 1.
Anderson won that game against Tampa Bay, completing over 70 percent of his passes with two touchdowns and no interceptions. In fact, his numbers for the season are pretty sensational considering he has a long track record of mediocre play (and the word mediocre might be generous in some instances).
Anderson has completed 40-of-57 passes (70.2 percent) for 424 yards and four touchdowns. He has been sacked just once and has yet to turn the ball over. Admittedly, outside of his Week 1 start much of that work came in garbage time against prevent defenses, but for Anderson — who had never completed more than 56.5 percent of his passes in a season with at least five attempts — that is still quite an accomplishment.
No one will make the contention Anderson is better than Newton. However, one could make the argument that he is a better fit for this Panthers team. Anderson is a game manager who protects the ball, takes what the defense gives him and keeps the offense on schedule. He needs a strong running game and a stout defense to be successful, but that are the principles this Panthers team was built upon anyway.
There is also the rally factor, as several Panthers players — especially sensational rookie Kelvin Benjamin, who is close with Newton — will look to step up and win one for their fallen leader.
All things considered, the Panthers still have an excellent shot to win this weekend. And with the Falcons facing the resurgent Steelers and the Saints playing in the snow against the Bears, Carolina actually has a decent shot at coming out of the weekend in first place in the NFC South. That may be the ultimate "Get Well Soon!" card for their ailing quarterback.
Another Top Pick Sidelined
Tuesday was a bad day for former No. 1 overall picks. In addition to what happened to Newton, it was revealed that Jadeveon Clowney, the first pick in the 2014 draft by the Houston Texans, underwent microfracture surgery earlier this week. His expected recovery time is nine months, so while the team is optimistic he will be back in time for the start of next season, there is a very real chance he could begin next season on the PUP list.
Injuries have been the story of Clowney's young career. The Texans took a chance on him despite the fact he played through a knee injury his final season at South Carolina. Since drafting him, he has missed time with a sports hernia and a concussion, in addition to this latest setback.
"This guy has worked extremely hard to recover from injuries," coach Bill O'Brien said a couple weeks ago. "And I want to be real clear with this (about) him, as it relates to us here, to the Houston Texans: We think very highly of him. We know that he's going to be a really good player."
It is too early to call Clowney a bust, but this injury is a massive concern for a player whose main attributes are his explosiveness and speed off the edge. Not only is his rookie year a wash, but now the best-case scenario involves him playing his way into game shape throughout the course of next season.
He finished his rookie year with seven tackles and no sacks.
It is now fair to start second-guessing whether the Texans should have opted for the best quarterback in the draft — Blake Bortles — instead of Clowney. Bortles has shown a lot of promise on a rebuilding Jacksonville team. The Texans face the Jaguars twice a season, so if Houston cannot get its own quarterback situation settled here soon, Bortles will be there to give the Texans a first-hand reminder of their latest blunder with a No. 1 overall pick.
Marvin Lewis Apologizes to Everybody 
Marvin Lewis is a better coach than Rex Ryan … and it's not even close. But on Tuesday, one could only wish it was Ryan providing the quotes instead of Lewis, as the Cincinnati head coach backtracked as fast as possible from comments he made on local radio earlier this week referring to Johnny Manziel as a "midget."
"I'm aware that my comment on local radio [Monday] night was offensive to people of short stature and to their families and friends," Lewis said in a statement. "It was thoughtless on my part to use the word I did, and not excusable, and I greatly regret it. I since have read about this issue on the Little People of America website. I understand it better, and as I have apologized to Johnny Manziel and the Cleveland Browns' community, I offer the same to all others who I offended, and I pledge that I will learn from this."
Apologizing to short people is fine, even necessary in today's hyper-sensative league environment. But don't take a shot at the opposing team's quarterback — who will make his first career start this week, by the way — and then run from it. This is a rivalry game. It's one the Bengals have to win after the Steelers trimmed their division lead to just a half-game last week.
Oh, and the Browns destroyed the Bengals earlier this season in Cincinnati, 24-3.
The Bengals need to go into Cleveland and win if they are to capture a third consecutive AFC North title. Lewis would be wise to foster an us-against-the-world mentality, so go ahead and take a shot at the 6-foot Manziel. Go ahead and knock the Browns for benching the winningest quarterback they've had in decades. It's all fair game when you are facing a division rival with your playoff hopes on the line.
Say whatever you want, just don't turn and run away from your comments as soon as they leave your mouth. Right now, Lewis is running from his words like Manziel will be running from Geno Atkins on Sunday. Look, see how easy that is?
Do you want to talk more about these and other NFL headlines? Join Michael Lombardo for his weekly NFL Chat on Friday at 2pm EST. But you don't have to wait until then … go ahead and ask your question now!  
Broncos holding their breath on Derek Wolfe
Only two days after losing Billy Winn for the year with a torn ACL, the Broncos are now sweating out another potentially serious injury along the defensive line. Via multiple reports, Broncos defensive lineman Derek Wolfe was carted off the field during practice on Saturday. It's being described as a right ankle injury by coach [
more
]
Source: Mike Florio of ProFootballTalk
Powered by WPeMatico
Buccaneers admit mistake, boot Aguayo
In the NFL, it's always better to admit a mistake than to compound it. For the Buccaneers, the decision to burn a 2016 second-round pick on kicker Robert Aguayo has proven to be a mistake. The Buccaneers made the definitive admission of their error on Saturday, cutting Aguayo. He exits with $428,000 in fully-guaranteed salary [
more
]
Source: Mike Florio of ProFootballTalk
Powered by WPeMatico
Did Bucs put too much pressure on Aguayo?
After the Buccaneers surprised everyone by taking a kicker with the 59th overall pick in the draft, G.M. Jason Licht explained the move by heaping superlatives on the player. "I was very excited along with my staff and coaches about Roberto for a very long time," Licht told PFT Live in May 2016. "It's not [
more
]
Source: Mike Florio of ProFootballTalk
Powered by WPeMatico