NFL AM: Chris Ivory To Sign With The Jacksonville Jaguars
The Jaguars and Raiders have a busy Tuesday, and the Giants bolster their defensive backfield.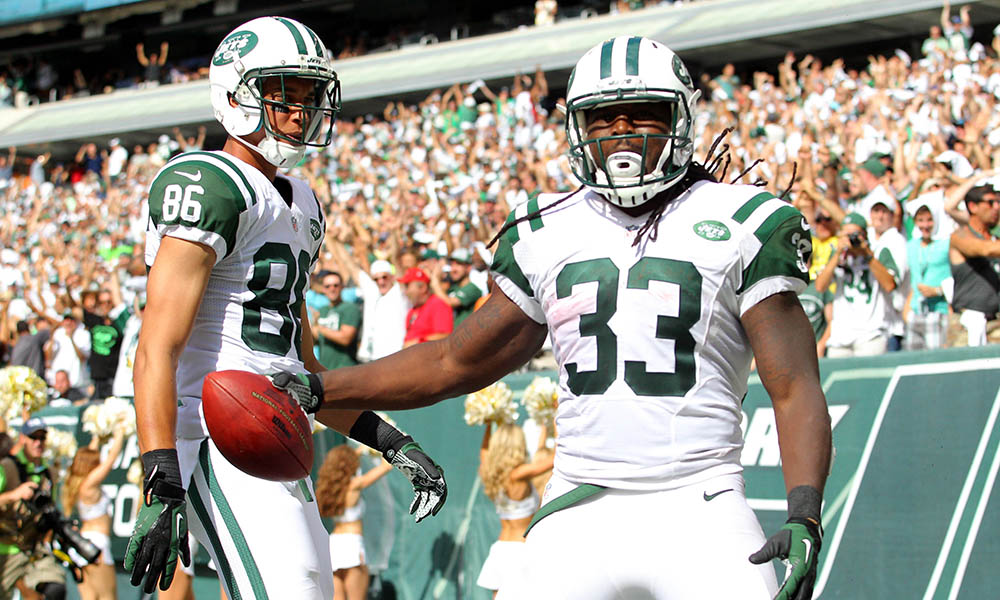 Jacksonville Jaguars to sign Chris Ivory:
The Jacksonville Jaguars made the biggest news of the day on Wednesday when the team come to terms with one of free agency's biggest prizes in Malik Jackson, but the team didn't stop there, as they reportedly targeted another stud for their defensive line, and came to terms with former New York Jets running back Chris Ivory.
Ivory joins a backfield with TJ Yeldon and Denard Robinson, while the Jaguars are expected to release Toby Gerhart. Yeldon had 740 yards last season as a rookie for the Jaguars, but clearly the team thought he could use some help.
Robinson and Gerhart would have been sufficient backups if the team planned to use Yeldon as a feature back, but the signing of Ivory signifies that the team will use more of a committee in the backfield.
Yeldon and Ivory give the Jaguars a bit of thunder and lightning, as the Jacksonville offense now has a big-play speed back and a short-yardage thumper. The Jaguars offense is young and versatile, but Ivory adds an element that the team hoped to get out of Gerhart when they signed the back two years ago.
As explosive as Jacksonville's passing game has become, Gus Bradley would love to have a rushing attack that could pound teams into the ground and set up the play action game. If the Jaguars are going to start winning games and helping their defense out by controlling the football, they're going to have to run the football. Adding Ivory to the mix sure looks like a commitment to the run.
David Caldwell is far from finished adding talent, as the Jaguars enter the new league year with more cap space than any team in football. After signing Jackson to his new massive deal, the Jaguars GM is expected to set his sights on Miami Dolphins defensive end Olivier Vernon. Miami placed the transition tag on the pass rusher, but after signing Mario Williams to a two-year contract, it seems unlikely they would match a lucrative offer to Vernon.
A Jags defensive line which featured Jackson, Vernon and Dante Fowler who returns from the ACL injury he suffered during his first practice a season ago could be the cornerstone of a much improved defense.
New York Giants to sign Janoris Jenkins:
This is a very different kind of year for the New York Giants. Tom Coughlin is gone, and the New York Giants have a ton of cap room. Both of these are new situations for general manager Jerry Reese who's signing and drafting players for a coach other than Coughlin for the first time.
The hot seat which Coughlin enjoyed for much of his career in New York is now firmly under Reese who has had a very up and down run as the Giants' general manager. Reese's tenure with New York can be summed up by just looking at the Giants' current roster. They seem at times just a couple of pieces away from being Super Bowl contenders, and at others like a roster in desperate need of talent.
They might be both, but the Giants will need to look a lot more like the prior if Reese wants to hold onto his job for much longer. Because New York has rare cap space, and because of the pressure on their general manager, the Giants might be more aggressive in free agency than they have been in previous years, and Tuesday morning we got our first evidence of that when Adam Schefter reported the team is set to sign one of the top corners on the free agent market, Janoris Jenkins.
The Giants need help all over their defense, and Jenkins would be a huge signing that would also likely spell the end of free agent corner Prince Amukamara. The former Rams corner and Dominique Rodgers-Cromartie would give the Giants a very strong pair of corners who stay on the field.
New York has a long way to go, but unlike prior years, it would be no surprise to see them remain active in a market ripe with strong defenders. While the team still needs pass rush help, Pro Football Talk is reporting the Giants are trying to land massive run stuffing nose tackle Damon "Snacks" Harrison.
Raiders signings make a ton of sense:
Tuesday began with good news for Oakland Raiders fans as they learned the team had come to terms with one of the better young guards in football, snagging Kelechi Osemele away from the Baltimore Ravens.
The news got even better late Tuesday night when the team announced it had also come to an agreement with one of the more versatile pass rushing linebackers in the game, Seattle Seahawks linebacker Bruce Irvin.
Four years and 22 sacks after many believed the Seahawks reached by selecting Irvin with the 15th– overall pick in the 2012 NFL Draft, the linebacker is getting ready to strike it rich in Oakland where he'll team with one of the budding defensive stars in the league, Khalil Mack.
The Raiders were among the teams with the most money to spend entering free agency, and they haven't wasted any time in jumping into the free agent waters, signing two of the top free agents on the market. While this isn't new ground for an Oakland team that has thrown money at free agents for years, this team has a different feel than Raiders teams past.
The Raiders have a young nucleus of players like Mack, Amari Cooper and quarterback Derek Carr who are on the doorstep to super stardom, and it should have their fans optimistic about the direction of the team.
It's not only the direction of the team Osemele and Irvin are joining that feels different, but the signings themselves feel different for the Raiders. Of course, the details of these contracts have yet to be released, and we could see the numbers and immediately apply our palms to our faces, on the surface, these moves make a ton of sense.
Irvin is a guy who just screams Raiders, and his energy is exactly what that defense needs. He's a versatile player that Ken Norton Jr should have a field day with. The former Seahawks' linebacker can be moved all over the field as a pass rusher, and having to game plan for Irvin and Mack is going to cause some sleepless nights for offensive coordinators getting ready to face the Raiders this upcoming season.
The new league year begins Wednesday at 4PM Eastern Standard Time, and there will be plenty of money flying around. It's as festive as December 31st for football players and fans alike. Enjoy the optimism as teams begin to sign new toys and start building the foundations for what they hope will be a successful 2016. Happy New Year everybody!
Broncos holding their breath on Derek Wolfe
Only two days after losing Billy Winn for the year with a torn ACL, the Broncos are now sweating out another potentially serious injury along the defensive line. Via multiple reports, Broncos defensive lineman Derek Wolfe was carted off the field during practice on Saturday. It's being described as a right ankle injury by coach [
more
]
Source: Mike Florio of ProFootballTalk
Powered by WPeMatico
Buccaneers admit mistake, boot Aguayo
In the NFL, it's always better to admit a mistake than to compound it. For the Buccaneers, the decision to burn a 2016 second-round pick on kicker Robert Aguayo has proven to be a mistake. The Buccaneers made the definitive admission of their error on Saturday, cutting Aguayo. He exits with $428,000 in fully-guaranteed salary [
more
]
Source: Mike Florio of ProFootballTalk
Powered by WPeMatico
Did Bucs put too much pressure on Aguayo?
After the Buccaneers surprised everyone by taking a kicker with the 59th overall pick in the draft, G.M. Jason Licht explained the move by heaping superlatives on the player. "I was very excited along with my staff and coaches about Roberto for a very long time," Licht told PFT Live in May 2016. "It's not [
more
]
Source: Mike Florio of ProFootballTalk
Powered by WPeMatico