Michigan's Issues Run Deeper than Brady Hoke
Yes, Michigan needs a new coach. But the program's issues run deeper.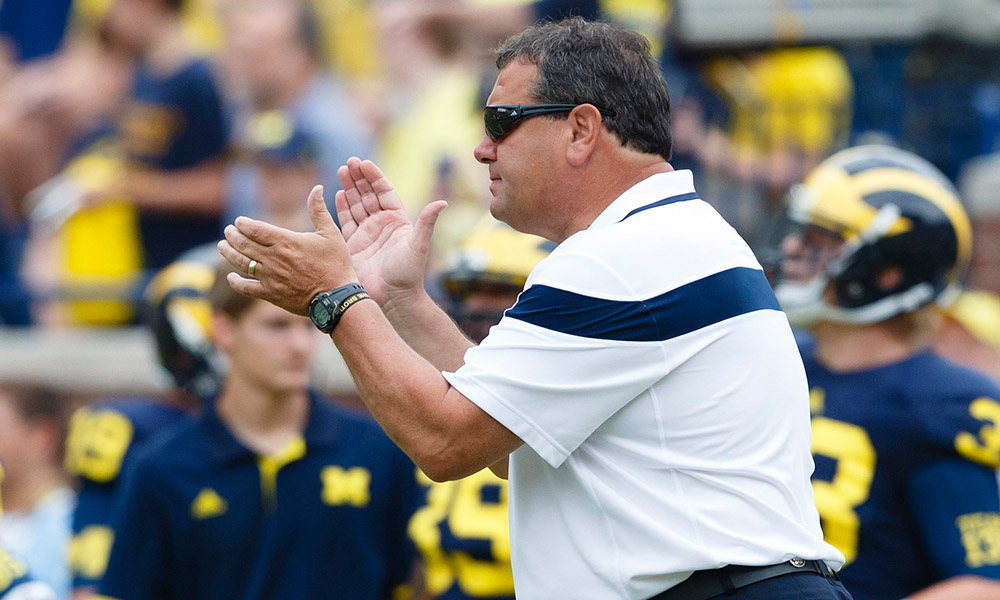 Sometimes a football program can get so far ahead of the pack that the only possible outcome is to stumble and suddenly fall behind. The culprit? Institutional arrogance. A collective forgetting that you can be caught.
It's a tale as old as sports, really, dating back to when consensus No. 1 The Hare decided to take a nap and got beaten by the unranked Tortoise.
It's forgotten now, but Alabama lived that life for a good decade before Nick Saban parachuted to the rescue. Notre Dame also fell into that rut once, and while its detractors will maintain that the Irish are still quite intolerable, Brian Kelly at least brought a sense of awareness that something in South Bend needed changing.
Now, Notre Dame's ancient and soon-to-be discarded rival, Michigan, finds itself in the same boat the Irish were floating on under the tenure of Charlie Weis – the one that's fallen well behind the rest of the pack on the national scene, and indeed within the pecking order of its own league.
After running off old standard Lloyd Carr for the sexy flash of Rich Rodriguez, then running off Rich Rod for the Michigan Manliness of Brady Hoke, the Wolverines find themselves taking another step backwards with each decision. This begs a question – is the problem the coaches, or is it a culture of overinflated importance that's disallowing Michigan from taking an honest look at itself in the mirror?
In Michigan's case, Mark Dantonio and Michigan State have played the role of the Tortoise while the Wolverines have struggled through their recent identity crises. The Spartans, much to the annoyance of their own fanbase, have never been considered THE rival in the eyes of Michigan. Sparty was third fiddle behind Ohio State and Notre Dame, and the Wolverines got by just fine ignoring little brother. That can no longer be done with the Spartans taking five of the past six meetings.
The last time the Wolverines had such difficulty winning their own state was in the 1960s, when Bo Schembechler was brought in to fix the mess – and he did that quite efficiently. Michigan only lost to the Spartans once between 1970-83.
It is time for Michigan to come back to that level of reality if it wants to rebuild itself into a national contender. Michigan State has pulled ahead in the race, and that's the first hurdle that has to be cleared.
With each passing day, it seems unlikely Hoke will be the man entrusted with that task. He's performed miracles as a coach before, turning Ball State into a competent outfit. But in Ann Arbor Hoke made a mistake by sticking with quarterback Devin Gardner as his gravy train with biscuit wheels.
Gardner has massively regressed since a promising sophomore year, with his senior campaign becoming a full-fledged disaster. The Wolverines are 0-3 against Power 5 teams this season, and Gardner has thrown five interceptions and no touchdowns in those games.
Even Hoke's attempt to go in a different direction behind center was a spectacular misfire, as starting quarterback Shane Morris was put back into the Minnesota game after suffering a concussion. That decision had Hoke on the defensive Sunday, when he claimed in a school release that Morris was evaluated on the sideline for a leg injury rather than a concussion.
Barring wins over Michigan State and Ohio State, it seems increasingly safe to say this is going to be the end of Hoke's run in Ann Arbor. But whoever is brought in next — Les Miles isn't leaving his recruiting hotbed, so Wolverine fans better hope for a Harbaugh brother — must start off by addressing the elephant in the room.
Opponents no longer cower at the sight of the winged helmet — at this point, college kids are getting too young to know it's supposed to mean anything at all. The Michigan of reality is nowhere close to being the Michigan in its fans' minds. And it's going to take some patience to get back to that level.  If that's not realized by the next coach brought in to plug the leaks, the Wolverines will again be stuck living in the past instead of looking to the future.
Buccaneers admit mistake, boot Aguayo
In the NFL, it's always better to admit a mistake than to compound it. For the Buccaneers, the decision to burn a 2016 second-round pick on kicker Robert Aguayo has proven to be a mistake. The Buccaneers made the definitive admission of their error on Saturday, cutting Aguayo. He exits with $428,000 in fully-guaranteed salary [
more
]
Source: Mike Florio of ProFootballTalk
Powered by WPeMatico
Did Bucs put too much pressure on Aguayo?
After the Buccaneers surprised everyone by taking a kicker with the 59th overall pick in the draft, G.M. Jason Licht explained the move by heaping superlatives on the player. "I was very excited along with my staff and coaches about Roberto for a very long time," Licht told PFT Live in May 2016. "It's not [
more
]
Source: Mike Florio of ProFootballTalk
Powered by WPeMatico
Broncos holding their breath on Derek Wolfe
Only two days after losing Billy Winn for the year with a torn ACL, the Broncos are now sweating out another potentially serious injury along the defensive line. Via multiple reports, Broncos defensive lineman Derek Wolfe was carted off the field during practice on Saturday. It's being described as a right ankle injury by coach [
more
]
Source: Mike Florio of ProFootballTalk
Powered by WPeMatico