Michael Bennett's NFL Draft Breakdown
Michael Bennett is an undersized defensive tackle who has been very productive in college. Find out how he projects to the NFL.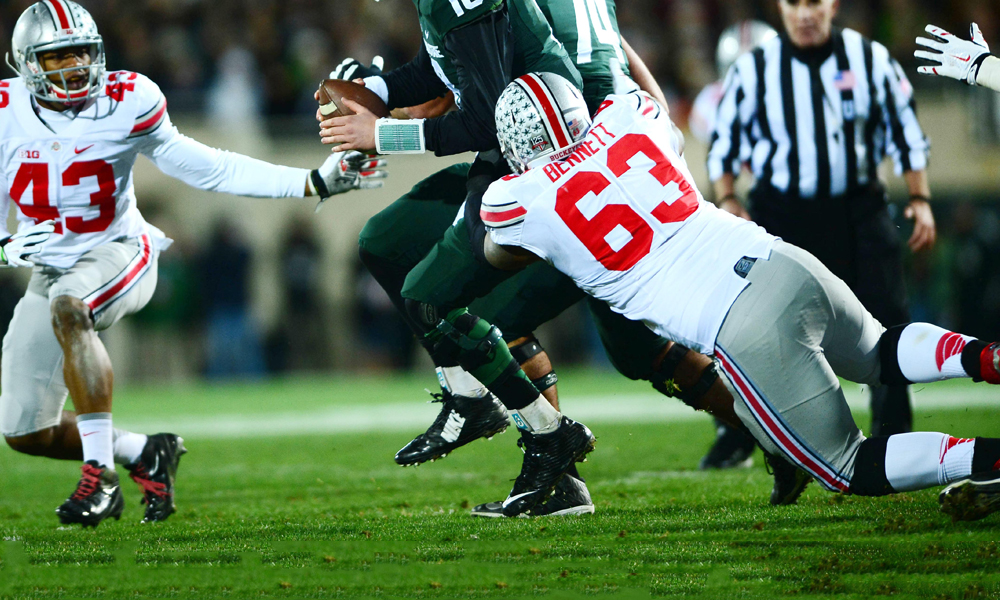 The NFL is a league built on structure, especially when in comes to the NFL Draft. Teams have rigid benchmarks for each position that a player must hit to even garner consideration. Historically, this has been especially true at the defensive tackle position, where players needed to be about 6-foot-2 and north of 300 pounds or have extremely long arms if they didn't meet the first two requirements.
These requirements were part of the reason many undersized defensive tackles fell in the draft. However, one undersized defensive tackle's success began to change the minds of scouts and executives alike.
Geno Atkins was an extremely productive defensive tackle from the University of Georgia. His skill set was on par with many of the top defensive tackles (outside of Ndamukong Suh and Gerald McCoy) in the 2010 NFL Draft. However, he measured in at just 6-foot-1 and 293 pounds with just 32-inch arms, meeting none of the benchmarks teams had for defensive tackles.
This bias toward bigger and longer defensive tackles led to Atkins falling all the way to the fourth round before the Cincinnati Bengals selected him with the 120th overall pick. All Atkins has done since is become one of the most disruptive interior defensive linemen in the NFL.
Since then, another undersized defensive tackle has emerged in the Buffalo Bills' Kyle Williams, which has caused teams to start to reconsider the way they look at defensive tackles.
Now, undersized defensive tackles are more of a norm in 4-3 one-gapping defenses and their value has skyrocketed, as evidenced by the fact that Aaron Donald and Dominique Easley (despite coming off a significant knee injury) were selected in the first round of the 2014 NFL Draft.
The next undersized tackle who hopes to profit from this changing of ideologies is Ohio State senior defensive tackle Michael Bennett, who is listed at just 6-foot-2 and 288 pounds. Bennett is a very decorated player who has been named to the Second-Team All-Big 10 in 2013 and 2014, while he has accumulated 100 tackles, 26 tackles for loss and 15 sacks in his four-year career.
Now, will Bennett follow Donald and Easley's footsteps as an undersized defensive tackle who warrants an early first- or second-round pick?
To answer this we must take a look at where Bennett wins and loses and how that translates to the NFL.
Much like his undersized defensive tackle predecessors, Bennett's best trait is his initial quickness and his ability to win early in a play. A player like Bennett has to win early because the longer he stays engaged with the offensive lineman, it becomes more likely that he will get overpowered by the bigger and stronger interior lineman. Bennett doesn't want to get engaged at the point of attack because he doesn't have the strength to win the majority of those battles.
Here's a great example of Bennett's initial quickness: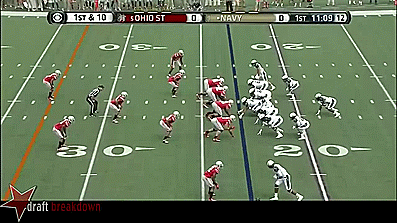 On this play, Bennett is shaded to the right of the center at the 1-technique defensive tackle. As the ball is snapped, Bennett fires off the ball with a low pad level with an incredible upfield burst as he is the first player on Ohio State to cross the line of scrimmage. As he fires out, he quickly engages the center who leans forward to try and stop Bennett's forward momentum. Bennett executes a beautiful push-pull technique to toss the center aside as he makes the tackle behind the line of scrimmage. This is a type of play you see Atkins and Donald make regularly in the NFL.
A big problem that most college defensive linemen have is they play way too upright, which exposes their chest and limits their opportunities to gain optimal leverage at the point of attack. Bennett does not have these problems as he fires out low with a great burst, which is evidenced in the play above.
Also, notice how the center never gets engaged with Bennett at the point of attack, which is important to remember for later.
Great initial quickness is an extremely desirable trait; however, it doesn't matter how quick a defensive lineman gets off the ball if he doesn't have any hand fighting techniques or pass-rush moves to ultimately get by the offensive lineman. Bennett understands this ideology as he has a very developed pass-rush repertoire. Bennett does a great job of coupling pass-rush techniques with his initial burst off the snap. Bennett has the ability to put a great deal of stress on an interior offensive lineman's outside shoulder, which causes them to over commit and in turn allows him to execute a quick spin into the area vacated by the lineman's over commitment.
Here is a great example of Bennett's spin move: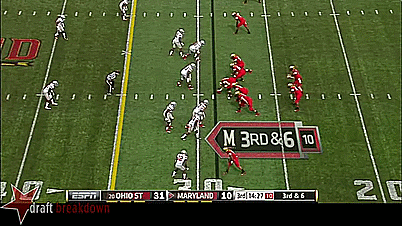 Bennett is aligned over the center in a two-point stance as the nose tackle in Ohio State's three-man line. At the snap, Bennett accelerates forward and tries to work upfield toward the center's left shoulder. As Bennett pushes the pocket, the quarterback steps up to find a lane to run. Bennett executes a great spin to the unoccupied space as the center over-commits to his left to deal with Bennett's pressure. This allows Bennett to be in perfect position to tackle the quarterback behind the line of scrimmage.
While Bennett has showcased a great push-pull and  quick spin moves, his best move is his swim move. Bennett uses his swim move to quickly beat lunging offensive lineman who tries to engage Bennett quickly before he starts his forward movement. This allows Bennett to quickly take a step at a 45-degree angle, shuffle his feet as he performs the swim with his hands and accelerate past the lineman to the quarterback or ball carrier.
Check out Bennett's impressive swim move here: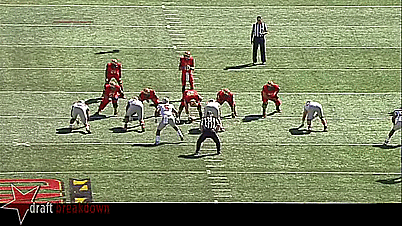 Bennett is lined up on the outside shade of the right guard as an under tackle (or 3-technique defensive tackle). Bennett explodes off the ball and takes a quick 45-degree step to his left to get the offensive lineman to slightly lean his weight in that direction. This allows Bennett to take a quick shuffle to his right, slap the guard's shoulder to continue his momentum and perform the "swim" with his own left hand, which allows Bennett to beat the guard and make the sack.
Notice how the guard falls forward after Bennett performs the swim. This is not because the guard was terribly off balanced or had a bad technique, but because Bennett used his momentum from the lean against him. This shows a graduate-level understanding of weight distribution, momentum and leverage that is extremely hard to teach. It takes a great deal of feel to be able to execute this move this well on a regular basis.
Bennett's swim move is a great lead in to a discussion about his overall hand usage, which is the ability of a player to effectively use their hands to leverage and defeat blocks against the run and rushing the passer. However, there are really two stages of hand usage. The first is an area where Bennett excels and the other is an area where he struggles.
The first stage of hand usage is the hand-fighting stage. This stage occurs as the offensive lineman is attempting to engage or "punch" the defensive lineman who tries to knock away the offensive lineman's hands, so he can beat the block and cause disruption in the backfield. This fits in well with Bennett's ability to win early in a play with his quickness and pass-rush techniques, specifically his swim move.
Here is a play that illustrates Bennett's ability to win the hand-fighting battle: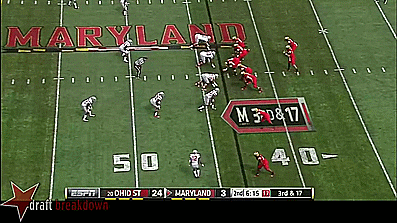 Here, Bennett is lined up on the inside shade of the right guard or as a 2i-technique defensive tackle. Bennett comes off the ball and performs a quick left-to-right stutter step as the right guard tries to fire his hands at Bennett's breastplate. Bennett does a great job of slapping the guard's hands away, which doesn't allow him to engage, and performing a swim. Bennett gets past the guard, accelerates and gets a hit on the quarterback.
On most of Bennett's impact plays he wins in a nearly identical fashion; the offensive lineman attempts to engage, Bennett knocks away his hands and performs a pass-rush move to get into the backfield and cause disruption. This showcases his ability to win decisively in the hand-fighting stage of hand usage.
But, what happens when Bennett doesn't win early and is forced to get off blockers who are already engaged with him? This phase of hand usage is disengagement, which is the ability of a player to beat, or disengage, off a blocker who engaged with him at the point of attack. Oftentimes, this requires length to create separation from an offensive lineman so they can perform a rip, among other disengagement techniques, to get free and accelerate to the ball.
This is a place where Bennett tends to struggle because he doesn't have the length to separate or the strength to hold up at the point of attack.
This play is a great example of Bennett's inability to disengage off blocks: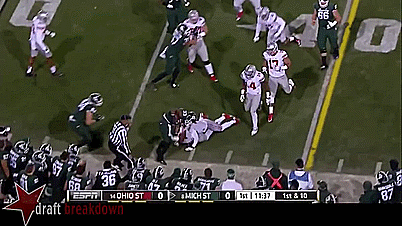 Bennett is once again lined up shaded on the left side of the center as a 1-technique defensive tackle. Bennett gets off the ball quickly as he is the first defensive lineman off the ball. However, as he tries to quickly jolt the center with his initial punch, the center is able get his hands on Bennett and engage at the point of attack. This results in Bennett getting stonewalled as he's unable to effectively disengage of the block. Also, notice how Bennett's feet stop moving as he gets initially stopped at the point of attack. This eliminates any opportunity for Bennett to use any counter moves or disengagement tactics and cause Bennett to stick to blocks.
This is a problem that manifests itself frequently in Bennett's games. He does a great job winning early, but if an offensive lineman gets his hands on Bennett, he tends to struggle.
It is one of a couple areas where Bennett's size and lack of strength hurts him. The area it hurts him the most is when he has to deal with double teams. Bennett's lack of size, strength and leg drive result in him being completely washed out a great deal by double teams.
Bennett's size and skill set don't exactly scream scheme versatility. Bennett basically only has one real fit in the NFL and that is as a 3-technique defensive tackle, or under tackle, in a 4-3 defense. This would allow Bennett to play where wins.
Bennett is very similar to Aaron Donald with the way he wins; however, he doesn't have the play strength that Donald has, which will likely limit the amount impact he can have early in the NFL.
All too often in college, Bennett is lined up at the 0- or 1-technique defensive tackle position where he has to deal with a lot of double teams, which he struggles in doing. This is why he has struggled at times in 2014.
Nevertheless, when Bennett is asked to play as a 3-technique who gets upfield and penetrates his gap, he becomes an extremely impactful and disruptive player. This is where he wins and this is where a team should utilize him.
Overall, Bennett initially projects as a rotational defensive tackle who makes a considerable impact on passing downs, but with added strength and disengagement techniques can be another disruptive under tackle. Bennett is a very scheme specific player who has the ability to develop into a Pro-Bowl caliber interior defensive lineman.
Projection: Top-50
Games Watched: Navy (2014), Maryland (2014), Penn State (2014), Illinois (2014), Michigan State (2014), Minnesota (2014), Indiana (2014), Michigan (2014).
Buccaneers admit mistake, boot Aguayo
In the NFL, it's always better to admit a mistake than to compound it. For the Buccaneers, the decision to burn a 2016 second-round pick on kicker Robert Aguayo has proven to be a mistake. The Buccaneers made the definitive admission of their error on Saturday, cutting Aguayo. He exits with $428,000 in fully-guaranteed salary [
more
]
Source: Mike Florio of ProFootballTalk
Powered by WPeMatico
Did Bucs put too much pressure on Aguayo?
After the Buccaneers surprised everyone by taking a kicker with the 59th overall pick in the draft, G.M. Jason Licht explained the move by heaping superlatives on the player. "I was very excited along with my staff and coaches about Roberto for a very long time," Licht told PFT Live in May 2016. "It's not [
more
]
Source: Mike Florio of ProFootballTalk
Powered by WPeMatico
Broncos holding their breath on Derek Wolfe
Only two days after losing Billy Winn for the year with a torn ACL, the Broncos are now sweating out another potentially serious injury along the defensive line. Via multiple reports, Broncos defensive lineman Derek Wolfe was carted off the field during practice on Saturday. It's being described as a right ankle injury by coach [
more
]
Source: Mike Florio of ProFootballTalk
Powered by WPeMatico