Free Agent Fits For The NFC West
Find out the best free-agent fits for each NFC West team.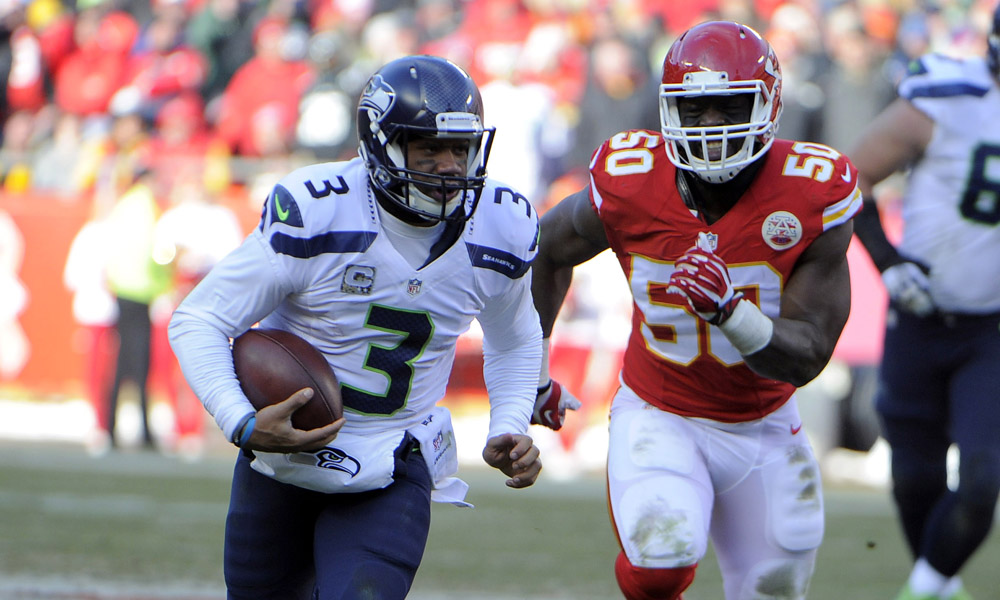 Arguably the strongest division in the NFL, the NFC West is still looking to improve. It is only one of two divisions that has two 11-win teams. Let's take a look at some players that could be on the move this offseason.
Arizona Cardinals
Justin Houston (OLB) – The Cardinals already have a very strong defense (3rd least points allowed), but it could get even better. Both Matt Shaughnessy (ROLB) and Alex Okafor (LOLB) have a combined 37 total tackles this season while Justin Houston has 50 on his own. Houston is also tied for the league-lead in sacks (17.0) while Shaughnessy and Okafor have 7.0 total (all Okafor). He would be a huge upgrade and would make this defense even scarier than it is already.
David Harris (MLB) – Adding a player like David Harris would significantly improve the Cardinals' defense. Their starting MLB right now is Kevin Minter, who has 33 total tackles and one sack this season. Harris has 66 total tackles and 3.5 sacks. A strong run-blocker like Harris will only improve an already tremendous defense.
Seattle Seahawks
Jermaine Gresham (TE) – One part of the Seahawks offense that could use some improving is its tight end position. Their current starter is Luke Willson who is a subpar run blocker and a subpar receiver. Gresham, a fifth-year veteran, has shown improvement in his blocking game and has always been a reliable receiver.
Michael Roos (T) – Roos, one of the NFL's top offensive tackles, missed all of 2014 with a right knee injury. The Seahawks could scoop him up for cheap in what could be a low-risk, high-reward kind of deal. He has spent his ten-year career with the Tennessee Titans.
San Francisco 49ers
Mark Sanchez (QB) – The aftermath of letting Alex Smith go did not go according to plan for the 49ers. Colin Kaepernick has been nothing but a disappointment this season, leading the 49ers offense to 19.1 points per game, the seventh least in the NFL. They also have a poor backup quarterback in Blaine Gabbert. Sanchez would provide an interesting quarterback situation in San Francisco.
Cory Redding (DE) – Though 34 years old, Cory Redding is still performing at a very high level. In his 12th season, third with the Indianapolis Colts, Redding has 34 combined tackles, three sacks, and three stuffs. The 49ers current defensive end, Nick Moody, has 15 combined tackles, zero sacks, and zero stuffs. He would make a very good fit in the 49ers offense.
St. Louis Rams
Jake Locker (QB) – St. Louis' starting quarterback is thirteen-year veteran Shaun Hill. Sam Bradford can't be trusted to stay on the field. A great long-term option at quarterback would be Jake Locker. Though also an injury-risk, Locker would help the Rams' offense tremendously.
Ryan Mathews (RB) – The Rams running game has been sporadic this year, going from Zac Stacy to Benjamin Cunningham to Tre Mason. Mason has been showing flashes of brilliance, but he is only a rookie. A veteran presence like Matthews would be greatly beneficial.
Buccaneers admit mistake, boot Aguayo
In the NFL, it's always better to admit a mistake than to compound it. For the Buccaneers, the decision to burn a 2016 second-round pick on kicker Robert Aguayo has proven to be a mistake. The Buccaneers made the definitive admission of their error on Saturday, cutting Aguayo. He exits with $428,000 in fully-guaranteed salary [
more
]
Source: Mike Florio of ProFootballTalk
Powered by WPeMatico
Did Bucs put too much pressure on Aguayo?
After the Buccaneers surprised everyone by taking a kicker with the 59th overall pick in the draft, G.M. Jason Licht explained the move by heaping superlatives on the player. "I was very excited along with my staff and coaches about Roberto for a very long time," Licht told PFT Live in May 2016. "It's not [
more
]
Source: Mike Florio of ProFootballTalk
Powered by WPeMatico
Broncos holding their breath on Derek Wolfe
Only two days after losing Billy Winn for the year with a torn ACL, the Broncos are now sweating out another potentially serious injury along the defensive line. Via multiple reports, Broncos defensive lineman Derek Wolfe was carted off the field during practice on Saturday. It's being described as a right ankle injury by coach [
more
]
Source: Mike Florio of ProFootballTalk
Powered by WPeMatico