Diminutive Dynamos: 6 Undersized Players To Watch
The NFL is full of physical specimens, but little guys can stand out too. Here are six undersized players who make an impact.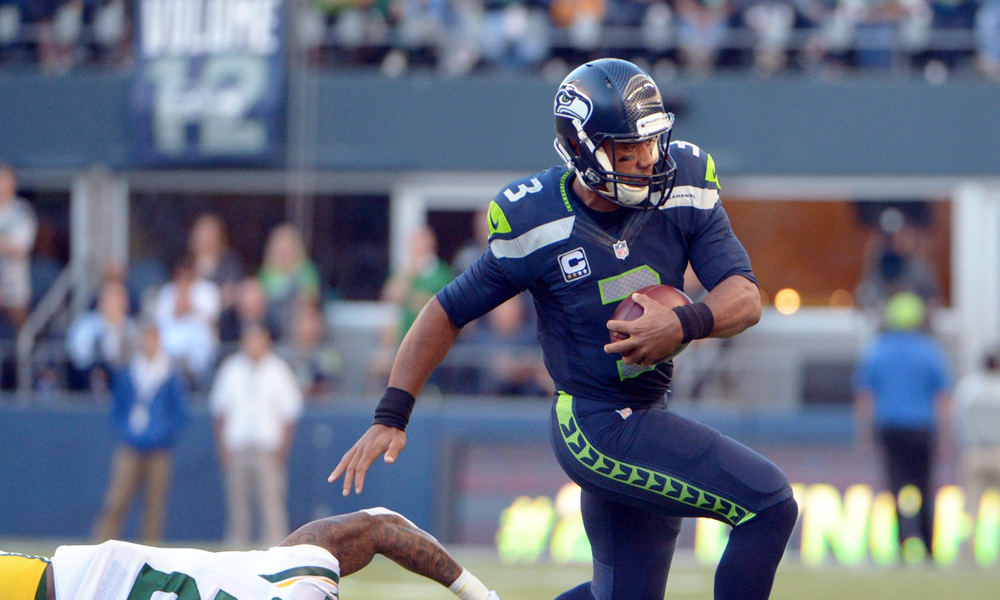 You can never measure a man's heart by his physical stature, even if the NFL is the most physically imposing sport in the world.
In today's NFL, impact players come in different shapes and sizes. Executivs, coaches and fans are often blow away by physical specimens, ala Calvin Johnson. Then, you have 5-foot-9 Steve Smith Sr., who is as tough as any wide receiver in the league.
Little guys come into the league with a chip on their shoulder. All their life, they've had to prove something because people told them what they couldn't do.
With the NFL season being six weeks in, several little guys have made their presence felt in a big way.
Russell Wilson:
The new face of under-six-foot guys has to be Super Bowl champion Russell Wilson.
After his first two seasons, he's only thrown a total of 19 interceptions. Last year, Eli Manning tossed 27 interceptions. Through six games, Wilson has only thrown two picks. In Sunday's loss, Wilson became the first player in NFL history to throw for 300 yards and run for 100 yards in the same game.
What makes him even more special is his ability to elude pressure in the pocket, which keeps plays alive. Wilson is averaging 8.6 yards per carry this year, compared to his career average of 5.7. Normally you fear when your quarterback is running around, but Wilson is one of the smartest scramblers in the league. His career high in rushing touchdowns is four, which came during his rookie campaign. Wilson already has three rushing touchdowns this year.
LeSean McCoy:
Being a successful undersized quarterback is uncommon, but running back is a different animal. Hall of Famers Barry Sanders, Marshall Faulk  and Curtis Martin all made it being under six-foot. That's not to say guys like LeSean McCoy, Branden Oliver and Darren Sproles are destined for Canton, but they have made positive impacts on their respective ball clubs.
McCoy hasn't had the type of season he'd expected to this point. He only has one touchdown, while averaging a mere 3.6 yards per carry, compared to his 4.7 average on his career. Despite his early-season struggles, his presence alone is enough to keep defenses honest.
Philadelphia Eagles head coach Chip Kelly knows the offensive line has to do a better job.
"Obviously the same five guys blocking for him is part of it to do with it," Kelly said. "We've got to do a better job in the run game just overall."
Branden Oliver:
On the other hand, rookie Branden Oliver has been a pleasant surprise in San Diego. He's rushed for over 100 yards in two of his last three games, to go along with three touchdowns. Oliver's play has been vital with Ryan Mathews out with a MCL injury. The rookie is already drawing comparisons to former Chargers running back Darren Sproles, because they are both diminutive in stature and wear the same jersey number.
Branden Oliver "if I didn't wear 43, there wouldn't be Sproles comparison..but there was only 2 #s in training camp. I try to tell people."

— Marty Caswell (@MartyCaswell) October 6, 2014
Oliver "I looked up to him (Sproles) growing up but I didn't think there would be this much comparison."

— Marty Caswell (@MartyCaswell) October 6, 2014
Darren Sproles:
Speaking of Darren Sproles, he's having himself quite the year in Philadelphia.
The nine-year veteran has four touchdowns through six games (three rushing and one punt return).
Sproles stands at only 5-foot-6, but he's one of the fastest guys in the league. His elusiveness and ability to make people miss makes him hard to catch. His dual-threat ability as a running back and receiver also makes him an excellent offensive weapon.
T.Y. Hilton:
Another guy that's hard to catch is Colts wide receiver T.Y. Hilton.
The 5-foot-10 speedster only has one touchdown this season, but he has racked up over 700 yards through seven games and leads the NFL in receiving yards.
His deep threat ability allows Andrew Luck to sling it down field. Two weeks ago he nearly broke the franchise receiving record as he torched the Houston Texans for 223 yards.
Eddie Royal:
Wide receiver Eddie Royal of the San Diego Chargers is explosive in his own right.
The 28-year-old is tied for fourth in the NFL with five receiving touchdowns, which leads all Chargers' receivers. He's been one of Philip Rivers' favorite targets because of his ability to cause separation in the open field. Royal can play in the slot and also on the outside and despite having injury concerns, Royal is a player that must be accounted for by every defense.
Brandon Flowers:
Eddie Royal's teammate Brandon Flowers is showing that small guys can make a difference defensively as well. Playing his first year in San Diego, the former Kansas City Chief already has two interceptions on the season.
Flowers made the Pro Bowl last season with only one pick, as he proved himself worthy for quarterbacks to avoid his side of the field altogether. Although he's only 5-foot-10, what makes Flowers special is his toughness and physicality.
Although these men are all under six feet tall, they've been able to stand out in the most violent, physically demanding sport in the world.
Buccaneers admit mistake, boot Aguayo
In the NFL, it's always better to admit a mistake than to compound it. For the Buccaneers, the decision to burn a 2016 second-round pick on kicker Robert Aguayo has proven to be a mistake. The Buccaneers made the definitive admission of their error on Saturday, cutting Aguayo. He exits with $428,000 in fully-guaranteed salary [
more
]
Source: Mike Florio of ProFootballTalk
Powered by WPeMatico
Did Bucs put too much pressure on Aguayo?
After the Buccaneers surprised everyone by taking a kicker with the 59th overall pick in the draft, G.M. Jason Licht explained the move by heaping superlatives on the player. "I was very excited along with my staff and coaches about Roberto for a very long time," Licht told PFT Live in May 2016. "It's not [
more
]
Source: Mike Florio of ProFootballTalk
Powered by WPeMatico
Broncos holding their breath on Derek Wolfe
Only two days after losing Billy Winn for the year with a torn ACL, the Broncos are now sweating out another potentially serious injury along the defensive line. Via multiple reports, Broncos defensive lineman Derek Wolfe was carted off the field during practice on Saturday. It's being described as a right ankle injury by coach [
more
]
Source: Mike Florio of ProFootballTalk
Powered by WPeMatico