Cowboys' Rolando McClain Making Most Of Second Chance
Walking away from the NFL provided Rolando McClain with the answers he needed to become the answer for the Dallas Cowboys defense.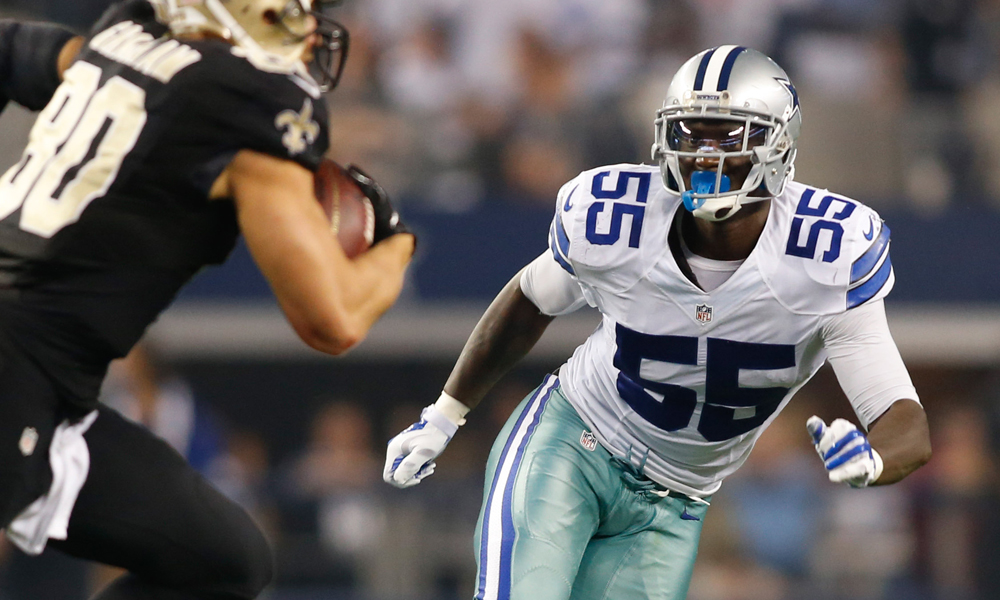 In a time where a handful of the NFL's stars have tarnished the shield by being involved in horrifying off the field incidents with charges ranging from domestic abuse, to child abuse, to even murder, one Dallas Cowboys linebacker deserves to be celebrated for not just recognizing his issues, but for going to extreme lengths to correct them.
Barring the unforeseen, Rolando McClain is hands down the NFL's Comeback Player of the Year for 2014.  The comeback player of the year is often given to players who have beaten the odds to come back strong from a debilitating injury the season before, but McClain's issues went much deeper than a torn ACL.
We've seen McClain's story before. A young, immensely talented man gets handed millions of dollars but can't seem to figure out how to grow up. Whether it's the trappings of the unlimited possibilities that come with being a millionaire at a very young age, the misconception that just getting to the NFL means you've made it, or falling victim to the notion that they need to provide for all of their friends from back home that didn't make it, many young players have trouble adjusting to life as a professional athlete.
As easy as it is for the rest of us to talk about how easy it must be to play a game for a living, or to assume we'd never have made mistakes if handed millions at a young age, for many professional athletes reaching the pinnacle of their profession is their first job. For many of these young men, this first job will be the first they've ever really dealt with responsibility or expectations.
For McClain, the NFL seemed entirely too big for him coming out of college. His talent was enough to get him drafted eighth-overall in the 2010 NFL draft by the Oakland Raiders, but both on the field and off the field, McClain proved to be completely unready for the task ahead of him. He wasn't prepared to be a great middle linebacker, and he wasn't prepared to be a young millionaire either.
While McClain flashed on the field, nothing about his time in Oakland made it look like he was worthy of being a first-round draft pick, let alone being drafted eighth-overall. However, his issues on the field while in Oakland were nothing compared to his issues off the field where McClain was arrested three times in 11 months, culminating with the Raiders finally deciding to part ways with the troubled linebacker.
McClain then signed with the Baltimore Ravens where he would never play a game. Instead, the young linebacker decided to retire. Despite the fact that Baltimore Ravens general manager Ozzie Newsome tried to persuade him to stay with the Ravens as Newsome viewed McClain as a guy who could replace retired linebacker Ray Lewis, McClain had decided that he needed to walk away from football to get his life together. McClain wanted to focus on his spirituality, on becoming a better father, and on finishing his degree at Alabama.
McClain didn't play football in 2013, and his time away from the game clearly did him well. McClain severed ties with many of the people he ran with while getting in trouble and decided to stay away from Decatur, Alabama, where all three of his arrests during an 11-month period while with the Raiders occurred. McClain clearly took the time to change who he was as a man, and it's changed who he's been as a football player as well.
McClain doesn't just look athletic and explosive as a Dallas Cowboy. He looks aware. He looks like a guy who's finally focused on football for the first time in a long time. Free of the distractions or stress that legal problems away from the field can leave, McClain looks like one of the best linebackers in football. He looks like the player the Oakland Raiders thought they were drafting in 2010.
For the first time in his professional career, Rolando McClain isn't just a good football player, but he's also a good teammate, and his leadership is starting to take effect on a Cowboys defense who many expected to be awful in 2014.
"We got some really good information about him as a leader when he was at Alabama, so we were certainly hopeful that he would take on a leadership role for us," Cowboys head coach Jason Garrett said on Monday after his team's defeat of the New York Giants. "I think he's grown as his time with us has gone on through training camp and the preseason, through 6-7 games in the regular season. But I do think he has those natural leadership qualities to him."
The Cowboys were desperate after middle linebacker Sean Lee went down with a season ending injury during training camp, and probably hoped for little more than a warm body when they traded a sixth-round draft pick to the Ravens for McClain and a seventh rounder, but they got a lot more than they bargained for when McClain began taking snaps in Lee's spot. McClain wasn't only going to provide a warm body, rather he'd provide a boost that would help change the entire Dallas defense.
McClain has played hard, fast, and smart football for the Cowboys in 2014, and he's a huge part of the reason the Cowboys defense has outplayed everyone's expectations. While McClain can be a vocal leader, new Cowboys defensive coordinator Rod Marinelli knows it's McClain's style of play, even in practice, that's rubbing off on his teammates.
"How he hits and how he plays, that's how we want him to play," Marinelli said. "I just think he leads with his play. He's got rare ability. He is really a terrific leader in his own way. Guys seem to rally around a guy like that, physical presence. He hits. He runs. He likes to practice. He practices hard. He leads by what he does."
While the leadership and example McClain is providing the Cowboys is huge, the NFL should realize his impact can be league wide. Hopefully the league will realize what they have in this young man. The mind and the human psyche are amazing things, and they can be amazingly destructive. Many people struggle with this while growing up, without the trappings that young athletes deal with. It's a part of life that many young athletes struggle with. McClain wasn't the first young football player on the brink of destruction. Sadly, his story is one that plays out every year, often with young men you'll never hear of.
McClain deserves a ton of credit for walking away from football to learn who he is as a man. He's been rewarded with a second chance at a career that was almost lost, and he's rewarding the Cowboys with his play. If the NFL is smart, they won't just award McClain for being the league's comeback player of the year, they'll find a way to allow him to reward the league, the way he has the Cowboys. Young players need to hear from McClain. They need to know his struggle, so that they don't repeat it, or more importantly, when some do, they can see the light at the end of the tunnel.
Nobody can be sure how long Rolando McClain will play linebacker in the NFL, but the NFL should be sure McClain is around the league for a long time. Many young people battle demons, and guys like McClain and former Vikings receiver Chris Carter, who have fought those demons and come out stronger on the other end are great examples for the young players in the NFL.
Did Bucs put too much pressure on Aguayo?
After the Buccaneers surprised everyone by taking a kicker with the 59th overall pick in the draft, G.M. Jason Licht explained the move by heaping superlatives on the player. "I was very excited along with my staff and coaches about Roberto for a very long time," Licht told PFT Live in May 2016. "It's not [
more
]
Source: Mike Florio of ProFootballTalk
Powered by WPeMatico
Broncos holding their breath on Derek Wolfe
Only two days after losing Billy Winn for the year with a torn ACL, the Broncos are now sweating out another potentially serious injury along the defensive line. Via multiple reports, Broncos defensive lineman Derek Wolfe was carted off the field during practice on Saturday. It's being described as a right ankle injury by coach [
more
]
Source: Mike Florio of ProFootballTalk
Powered by WPeMatico
Buccaneers admit mistake, boot Aguayo
In the NFL, it's always better to admit a mistake than to compound it. For the Buccaneers, the decision to burn a 2016 second-round pick on kicker Robert Aguayo has proven to be a mistake. The Buccaneers made the definitive admission of their error on Saturday, cutting Aguayo. He exits with $428,000 in fully-guaranteed salary [
more
]
Source: Mike Florio of ProFootballTalk
Powered by WPeMatico