Alex Smith's Chance at Revenge in San Francisco
Alex Smith has a chance at revenge as he gets set to take on his old team in San Francisco.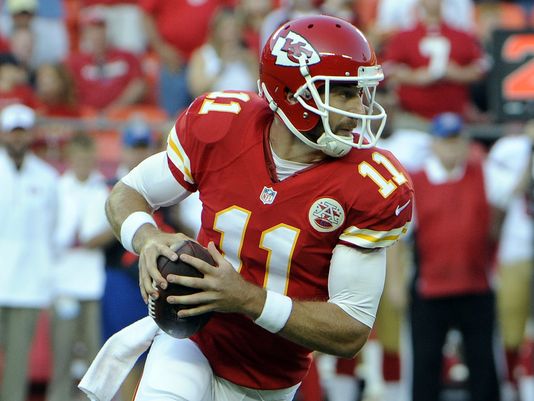 Typically when two teams make a trade, we often see one team come out better than the other. That wasn't the case with the Kansas City Chiefs and San Francisco 49ers.
About a year and a half ago, San Francisco shipped Alex Smith to Kansas City for multiple draft picks. The decision was made after Colin Kaepernick led the Niners to the Super Bowl, before coming up short against the Baltimore Ravens. At the time, many thought Kaepernick would take off and end up being much better than Smith. Up unto this point, both quarterbacks have been fairly equal.
49ers head coach Jim Harbaugh thought the trade was good for both teams from the beginning.
"This is a deal that will surely be beneficial to all parties," Harbaugh explained. "Alex gets a fresh start, and the Chiefs add stability at the quarterback position. In exchange, we get the first pick of the draft's 2nd round this year, as well as the Chiefs' 2nd rounder in 2014."
There's no doubt Chiefs head coach Andy Reid is thrilled as well.
"We wanted to do whatever it took to make Alex a Chief, and we feel we're adding a heck of a player," said Kansas City coach Andy Reid, while wearing a dunce cap. "We couldn't be happier with the terms of the deal."
Last season, Kaepernick threw for 3,197 yards, 21 touchdowns and 8 interceptions. While Smith tossed for 3,313 yards, 23 touchdowns and 7 interceptions.
Not only were their numbers nearly identical, both of their teams suffered heartbreaking defeats in the playoffs. San Francisco lost to their bitter rivals the Seattle Seahawks 23-17 in the NFC Championship Game, while Kansas City had one of the biggest choke jobs in playoff history. The Chiefs blew a 28-point lead against Andrew Luck and his Colts in the divisional round, which was the second-largest comeback in playoff history.
When San Francisco made the move to deal Smith, the logic was that Kaepernick does everything Smith can do, but he's four years younger at 26. It wasn't to say Smith couldn't play, the 49ers were just looking to move in a new direction, which turned out to be a blessing for Kansas City.
Smith isn't the greatest quarterback in the world, but he's a major upgrade from Matt Cassel. One thing the Chiefs had issues with from their quarterback position was turnovers. Smith has only thrown 10 interceptions in 636 pass attempts while in Kansas City. He isn't going to win you many games, but he won't lose you many either.
Thus far, both teams are 2-2, which makes this contest that much more important. As time moves on, we'll be able to get a better judgment on who was the winner of this trade.
Right now it's too early to tell.
Did Bucs put too much pressure on Aguayo?
After the Buccaneers surprised everyone by taking a kicker with the 59th overall pick in the draft, G.M. Jason Licht explained the move by heaping superlatives on the player. "I was very excited along with my staff and coaches about Roberto for a very long time," Licht told PFT Live in May 2016. "It's not [
more
]
Source: Mike Florio of ProFootballTalk
Powered by WPeMatico
Broncos holding their breath on Derek Wolfe
Only two days after losing Billy Winn for the year with a torn ACL, the Broncos are now sweating out another potentially serious injury along the defensive line. Via multiple reports, Broncos defensive lineman Derek Wolfe was carted off the field during practice on Saturday. It's being described as a right ankle injury by coach [
more
]
Source: Mike Florio of ProFootballTalk
Powered by WPeMatico
Buccaneers admit mistake, boot Aguayo
In the NFL, it's always better to admit a mistake than to compound it. For the Buccaneers, the decision to burn a 2016 second-round pick on kicker Robert Aguayo has proven to be a mistake. The Buccaneers made the definitive admission of their error on Saturday, cutting Aguayo. He exits with $428,000 in fully-guaranteed salary [
more
]
Source: Mike Florio of ProFootballTalk
Powered by WPeMatico