AFC: Studs And Duds
Check out which players are stepping up and who has been a disappointment.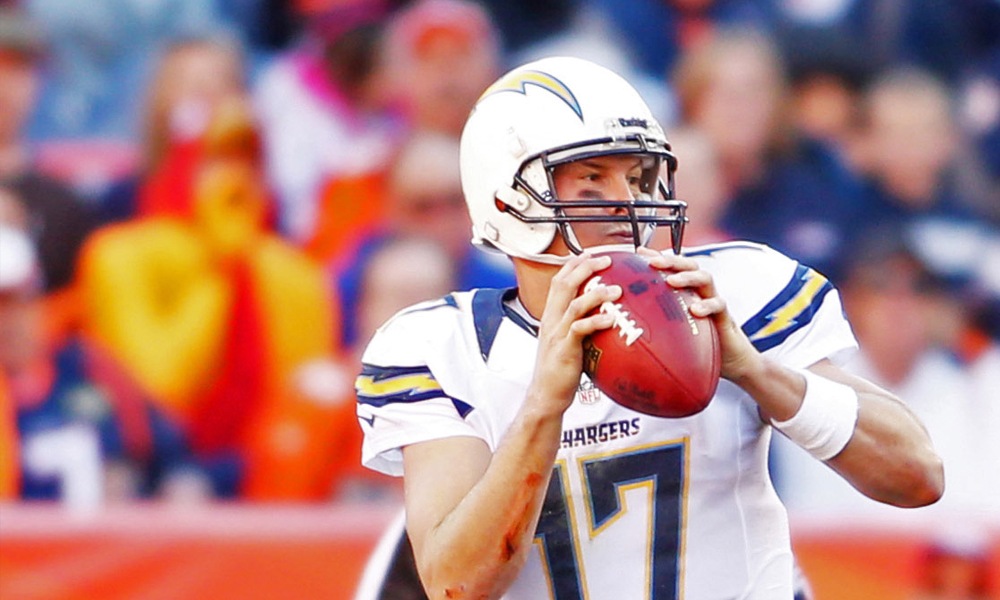 The 2014 NFL season has been a crazy roller coaster ride, with many story lines in play enduring serious ebbs and flows, every week is a mystery to whats going to happen. Some things remain consistent and reminiscent of memories from the past but others have faded away while some have exploded onto to the scene, leaving the rest battling to make a name or keep a name for themselves in the league.
Entering Week 7, here's a look back at the players that have been surprisingly good and surprisingly bad so far this season as we approach the mid point of the year. These players may be an elite player putting forth his highest level of performance, a rising youngster solidifying his status, a veteran on the decline, or a player not living up his contract and team status.
AFC WEST
STUD: Philip Rivers – QB – San Diego Chargers
How many compliments can you pay this player for the way he's playing? Maybe one more, since Rivers is currently the best quarterback in his division. The San Diego quarterback is playing at the highest level he's ever performed at in his career. After having a resurgence in his career last year, he looks to be improving, Building on last year's performance, if fans are having league MVP discussions at the current moment, they would have to include Phillip Rivers. Leading the NFL in passer rating, tied for second in touchdown passes, and third in passing yards, Rivers has his Chargers sitting atop of his division standings. Armed with a full compliment of weapons with the emergence of their running game behind rookie Branden Oliver, Rivers looks to keep it rolling. The Chargers have an opportunity to create some distance within the division if Rivers can pilot his team to two consecutive wins against the Kansas City Chiefs and Denver Broncos in next two weeks.
DUD: Maurice Jones-Drew – RB – Oakland Raiders
The former Pro-Bowler and NFL leading rusher was speaking with plenty of confidence about himself and his team in the off-season, speaking about how he had something to prove, even going as far as saying the Oakland Raiders had the goods to go to a Super Bowl with Matt Schaub at the helm. Well he was wrong, rookie David Carr is the quarterback leading their team and Jones-Drew has done nothing but prove he's closer to retirement than proving wrong his doubters. He's been battered so much over his career that Jones-Drew is now injury prone and incapable of getting his body to do the things he thinks it can. New head coach Tony Sparano has been known to lean on his running game and trust veteran runners, so there's a chance Jones-Drew can be productive if completely healthy, but since he's already been banged up this year, it probably wouldn't be long til another ailment sidelines him.
AFC NORTH
STUD: Steve Smith – WR – Baltimore Ravens
The former Carolina Panther was thought to be washed up, finished, ready for his penchant; cast away by the only team he had ever played before, Smith landed with the Baltimore Ravens. Brought in for his toughness and to serve as a compliment to rising star and deep threat Torrey Smith, it's unlikely the front office thought "Agent 89" would come in and take the alpha receiver role away from the younger Torrey Smith and make the former number one receiver the compliment. Smith is currently fifth in the league in receiving yards with 573 yards through six games. Smith is enjoying a heck of a bounce back season and has the look of a player who can perform at a high level for years to come.
DUD: Markus Wheaton – WR – Pittsburgh Steelers
This second year player entered the year with high expectations. After seeing limited playing time as a rookie, Wheaton moved up the depth chart with the departures of Denver Broncos Emmanuel Sanders and Carolina Panthers Jericho Cotchery. Expected to step in and compliment star receiver Antonio Brown as the team's deep threat, he opened the season with a solid game but has since turned into a ghost in the offense. While still getting the bulk of the snaps with the Steelers, it's surprising the lack of impact he's had on the offense's productivity especially when considering how strong the Steelers running game is, Brown's presence opposite of him, and Big Ben throwing him the football. This lack of production may also be a product of the offense's overall struggles in recent weeks and it's too early to mail it in on Wheaton's potential, because he does have talent and is plenty young enough to turn things around. At least he's more productive than last year.
AFC SOUTH
STUD: T.Y. Hilton – WR – Indianapolis Colts
The Colts wide receiver continues to shine. Developing at a rapid rate, the diminutive receiver is learning with every game how to harness his speed and use it more to his advantage. Hilton, known to catch mostly deep passes and sideline routes, is utilizing his shiftiness to operate in the middle of the field dragging on crossing patterns and running deep square ins into the teeth of the defense. Currently TY is fourth in the NFL in receiving yards, averaging just over 100 yards per game, Hilton is developing into one of the premiere deep threats in the league.
DUD: Jake Locker – QB – Tennessee Titans
The Titans former quarterback of the future is running out of time to show he's still the solution to their woes. Blessed with exceptional athletic ability, Locker struggles with accuracy but is a gamer and battles to keep his team in games. Seemingly every time he gets a few games under his belt, he gets hurt. While he hasn't been awful in the games he has played in, he clearly hasn't fortified his status as a difference maker. So far this season, Locker's back up Charlie Whitehurst has performed at the same level, averaging almost two yards more per pass attempt and possessing a significantly higher passer rating. It'll be interesting to see how long head coach Ken Whisenhunt sticks with Locker if he struggles once he returns from his thumb injury.
AFC EAST
STUD: Jelani Jenkins – LB – Miami Dolphins
On the roster bubble exiting training camp, Jelani Jenkins is a story of opportunity. When the Dolphins starter at weakside linebacker injured his hip and was lost for the year, Jenkins was thrust into the starting line up. Already considered the weakest unit on Miami's defense, Jenkins has really added an element of speed and coverage ability the Dolphins sorely lacked in their front seven. Leading the Dolphins in tackles and already contributing more impact plays than Dannell Ellerbe and Philip Wheeler contributed last year. If Jenkins continues developing this year, he could make the high priced Ellerbe expendable in the off-season while continuing to make a name for himself.
DUD: Eric Decker – WR – New York Jets
Signed in the off-season to provide stability to the New York Jets offense and giving quarterback Geno Smith a bonafide outside threat to help him develop, things haven't quite gone according to their off-season plan. Through the early going of the year Decker has not returned on the Jets hefty investment yet. Decker has dealt with a hamstring issue that has caused him to miss some time and when he has been on the field, he's been a shadow of his Denver self, although much of that can be attributed to the fact that Geno Smith is not Peyton Manning but regardless, Decker needs to provide more the Jets in the passing game.
Buccaneers admit mistake, boot Aguayo
In the NFL, it's always better to admit a mistake than to compound it. For the Buccaneers, the decision to burn a 2016 second-round pick on kicker Robert Aguayo has proven to be a mistake. The Buccaneers made the definitive admission of their error on Saturday, cutting Aguayo. He exits with $428,000 in fully-guaranteed salary [
more
]
Source: Mike Florio of ProFootballTalk
Powered by WPeMatico
Did Bucs put too much pressure on Aguayo?
After the Buccaneers surprised everyone by taking a kicker with the 59th overall pick in the draft, G.M. Jason Licht explained the move by heaping superlatives on the player. "I was very excited along with my staff and coaches about Roberto for a very long time," Licht told PFT Live in May 2016. "It's not [
more
]
Source: Mike Florio of ProFootballTalk
Powered by WPeMatico
Broncos holding their breath on Derek Wolfe
Only two days after losing Billy Winn for the year with a torn ACL, the Broncos are now sweating out another potentially serious injury along the defensive line. Via multiple reports, Broncos defensive lineman Derek Wolfe was carted off the field during practice on Saturday. It's being described as a right ankle injury by coach [
more
]
Source: Mike Florio of ProFootballTalk
Powered by WPeMatico