5 Backs To Watch In The NFL Draft
Running back is becoming more and more devalued in the NFL, but this year's crop of rookie backs may hold more value than we've seen in years.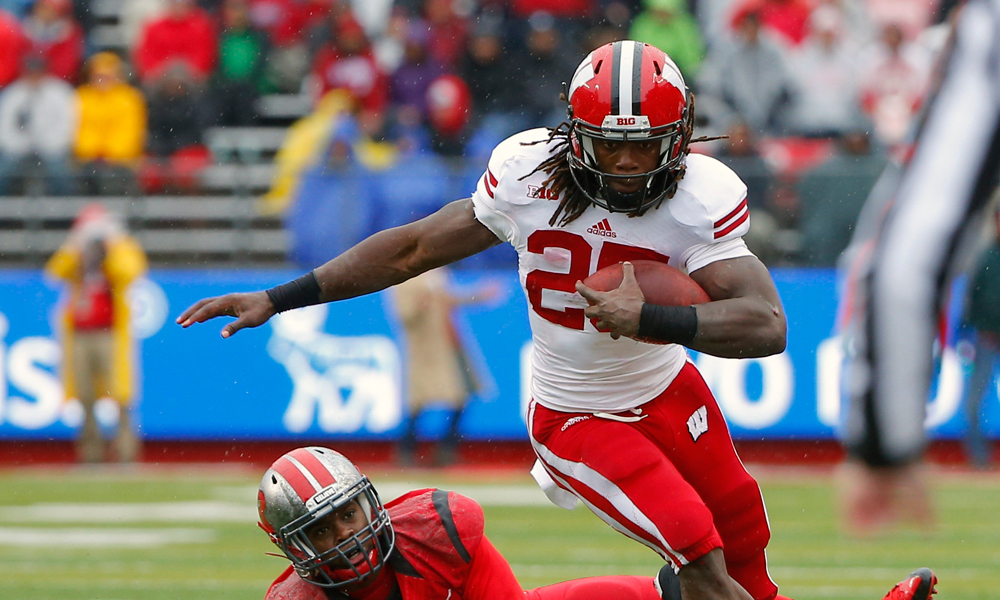 Each year the draft is loaded with running backs just hoping to make an NFL roster in what is becoming an increasingly one of the league's more devalued positions. Let's take a look at a few backs that could have a major impact in the NFL in 2015. Here's four guys who should have an immediate impact in the league and another who could be a late round steal.
Melvin Gordon
There hasn't been a running back selected in the first round since 2012, but Wisconsin tailback Melvin Gordon may just change that on April 30th in Chicago. While teams in the top half of the first round may find they have too many holes to take a luxury pick like Gordon, teams towards the end of the first round may find Gordon's abilities too intriguing to pass up. Gordon's amazing burst will remind you of Jamaal Charles of the Chiefs, and while he might not be the pass catcher that Charles is, Gordon seems a bit stronger and harder to bring to the turf. Charles was drafted in the third round in 2008, but would certainly go higher if that draft could be re-done. In a league where feature backs are a dying breed, Charles often racks up a high percentage of the Chiefs yards from scrimmage, and Gordon looks like he could be a workhouse in the same fashion. Gordon carried the ball 343 times in 2014, picking up a gaudy 2,587 yards, including a 25 carry, 408 yard performance against Nebraska. To show he wasn't tired out by his big day, Gordon rushed the ball another 60 times over his following two games for another 351 yards against Iowa and Minnesota. NFL teams may not be looking for a workhorse running back as much these days, but a look at Melvin Gordon's game, and they may just reconsider.
Todd Gurley
For many, Todd Gurley was the reason we would see a running back go in the first round for the first time in three years, but a torn ACL may put that in jeopardy. While his ACL may slide Gurley into the second round, there's no question about his talent. At 6-1 and 225 pounds, Gurley has the size to take the pounding at the next level, and his physical running style has drawn comparisons to Marshawn Lynch. While it's easy to see why he draws comparisons to Lynch, Gurley seems like a more fluid athlete, and he's as likely to go around a defender as he is to go through him. While Gurley has never averaged less than six yards per carry while at Georgia, his durability has to be a concern for NFL teams considering using an early draft pick on him. Despite his sometimes jaw dropping ability, Gurley has missed time with injury each of the last two seasons, and the game doesn't get less physical at the NFL level. Gurley averaged 7.4 yards per carry in 2014, and 6 yards per attempt in 2013, the back had just 288 carries over the two seasons, or 55 fewer than Melvin Gordon this year. If an NFL team believes they can keep Gurley on the field, there's a lot to love about his game. Whether or not a team wants to risk a first round draft pick on that if, remains to be seen.
Ameer Abdullah
A look at 5'8 198 pound Ameer Abdullah might leave you wondering how Nebraska fans came up with the phrase, "fear Ameer" which became the battle cry for Huskers fans during Abdullah's run at Nebraska, but a look at his play on the field erases any question. Abdullah plays much larger than his 5'8 198 pound frame, as he's an absolute monster to get off his feet. Abdullah will likely go in the second or third round of this year's draft, and while the two have completely different body types and running styles, Abdullah's tough running out of a small package kind of reminds you of another second round tailback, Maurice Jones-Drew. Despite not being shaped like a bowling ball, Abdullah's ability to pack a punch and drive to be physical against his larger opponents are very similar to Jones-Drew. Abdullah has averaged at least five yards per carry and has had at least 226 carries in each of his past three seasons at Nebraska, so that small frame can take a beating.
Jay Ajayi
"Do you love football?" That is one of the questions that's often asked of incoming rookies by coaches and general managers at the scouting combine, because it's important to football people that football is important to players. That question may not be asked to Jay Ajayi at the combine because anyone who's turned on Boise State film and watched this kid play knows the answer. Ajayi isn't the best back in the 2015 NFL draft, but he may be my favorite. Ajayi isn't the fastest or most powerful back in the draft, but he has an impressive burst, seems to enjoy contact, and plays with an energy and passion uncommon in a game built on energy and passion. Ajayi has to work on ball security as he's had 12 fumbles during his college career, but after 347 carries in 2014 he's another guy who's shown the ability to carry the load if given the opportunity. Tre Mason wasn't drafted to be the guy in St. Louis, but as the season played out that's exactly who he became, and it wouldn't be a shock to see Ajayi's rookie season play out in similar fashion.
Karlos Williams
Despite leading the NCAA in rushing in 2013, Andre Williams fell into the fourth round of the draft a season ago. A year later, teams may be able to get a similar talent even later in the draft. Karlos Williams didn't lead college football in rushing yards, and was sometimes outshined by Dalvin Cook, but Williams 6'1 225 pound frame and physical running style could provide a team with the punch that Andre Williams provided the New York Giants a year ago. Williams has had some off the field issues, and has just 1,419 rushing yards in his college career, but he could be a steal in the late rounds of the draft. If Williams falls in the fifth or sixth round as some have suggested, he could be one of those rookies who make a much bigger impact than draft position would suggest.
Broncos holding their breath on Derek Wolfe
Only two days after losing Billy Winn for the year with a torn ACL, the Broncos are now sweating out another potentially serious injury along the defensive line. Via multiple reports, Broncos defensive lineman Derek Wolfe was carted off the field during practice on Saturday. It's being described as a right ankle injury by coach [
more
]
Source: Mike Florio of ProFootballTalk
Powered by WPeMatico
Buccaneers admit mistake, boot Aguayo
In the NFL, it's always better to admit a mistake than to compound it. For the Buccaneers, the decision to burn a 2016 second-round pick on kicker Robert Aguayo has proven to be a mistake. The Buccaneers made the definitive admission of their error on Saturday, cutting Aguayo. He exits with $428,000 in fully-guaranteed salary [
more
]
Source: Mike Florio of ProFootballTalk
Powered by WPeMatico
Did Bucs put too much pressure on Aguayo?
After the Buccaneers surprised everyone by taking a kicker with the 59th overall pick in the draft, G.M. Jason Licht explained the move by heaping superlatives on the player. "I was very excited along with my staff and coaches about Roberto for a very long time," Licht told PFT Live in May 2016. "It's not [
more
]
Source: Mike Florio of ProFootballTalk
Powered by WPeMatico