2015 NFL Mock Draft Version 3.0
Find out where defending Heisman winner Jameis Winston falls to.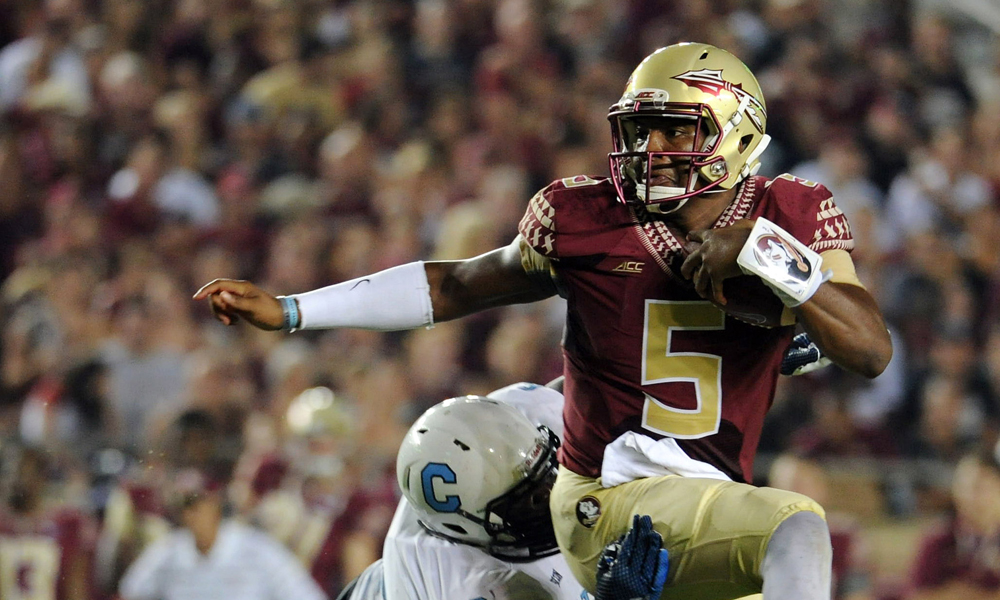 With an amazing eight weeks of the NFL season already in the books, we've started to see every team's holes, which could be addressed through the draft. Since our previous mock draft on October 7th, some needs have changed for specific teams while others have stayed exactly the same. That is evident in this latest edition with plenty of movement among both teams and players up and down the draft board.
1. Oakland Raiders – Randy Gregory,  Nebraska, DE: The Raiders are 0-7 and remain the only winless team in the NFL. Oakland appears a safe bet to pick first-overall, but who they select is tough to target. Questions regarding the coaching staff, front office and rookie quarterback Derek Carr will all mix into the equation over the next several months. Oakland invested in veterans Justin Tuck and LaMarr Woodley this off-season to provide the team of a legit pass rush. Woodley is out for the remainder of the season after tearing his biceps, and Tuck missed last week's game against Cleveland with a knee injury. It's possible the two veteran acquisitions will be accompanied by Gregory in 2015. If he declares early for next year's draft Gregory fits the mold they want at defensive end. He isn't polished, but with coaching Gregory could be the brightest gem of the draft.
2. Jacksonville Jaguars – Cedric Ogbuehi, Texas A&M, OT: The Jaguars have allowed 33 sacks, the most by any team so far this season. The inability to protect the quarterback may be the first issue addressed in the draft. The team looks set at left tackle with Luke Joeckel the team's first round selection (second-overall) in 2013. Opposite Joeckel is Austin Pasztor, a former undrafted rookie from Minnesota in 2012. Pasztor isn't to blame for the shortcomings in protection, but two young premier bookends to develop alongside Bortles appear in order. The recent trend of Aggies' offensive lineman going near the top of the NFL Draft continues in 2015. Jake Matthews was drafted sixth-overall in 2014 and Luke Joeckel went second-overall one year earlier.
3. New York Jets – Marcus Mariota, Oregon, QB: General manager John Idzik will admit drafting Geno Smith was a mistake by bringing Mariota to the "Big Apple" via the NFL Draft. The Oregon signal caller has all the physical and mental aspects teams look for in a young franchise prospect. Mariota's ability will be put to the test early in New York.
4. Tampa Bay Buccaneers – Brandon Scherff, Iowa, OT: Tampa's offense ranks 28th in the NFL in total yards. Not exactly what the team envisioned after using its first two picks in 2014 on rookie receiver Mike Evans and tight end Austin Seferian-Jenkins. Their rushing attack ranks 29th in the NFL. It seems like ages ago when Doug Martin was considered one of more promising young players in the league. Building up front may open up the offense to get down field and Scherff can be a big part of that plan.
5. Tennessee Titans – Leonard Williams, USC, DT: Although the Titans need a quarterback, Williams is just too darn good to pass up with the fifth-overall pick. The Titans use a 3-4 scheme defensively but that should not hinder Williams from being able to find a home in Tennessee. Considered one of the top prospects in the draft, Williams will be vying to be the No. 1 pick.
6. Washington Redskins – Marcus Peters, Washington, CB: The combination of the Redskins' talent (or lack thereof) and age aims this picks towards the secondary. Peters is the top cornerback as of today and Washington is desperately in need of another top competitor to line-up on the back end.
7. Atlanta Falcons – Landon Collins, Alabama S: The defense in Atlanta leaves plenty to be desired. Ranking 31st in total offense and 29th is pass defense, the Falcons' will target defense, defense and more defense in the upcoming NFL Draft. Collins brings an intimidation factor that is glaringly missing in Atlanta. The ball-hawking safety is a furious hitter that general manager Thomas Dimitroff can't pass on, assuming he's still employed. Collins can become the Julio Jones on the defensive side of the football in Atlanta.
8. St. Louis Rams – Todd Gurley, Georgia, RB: General manager Les Snead has his future quarterback on the roster and it's not Sam Bradford. Under contract with the Rams in 2015 Bradford's inability to stay healthy has spawn Austin Davis into one of the bright spots among few in St. Louis. Jeff Fisher was his most dominant with Eddie George in the backfield while coaching the Houston Oilers and Tennessee Titans. Dismiss the notion that running backs don't have value in the NFL. The Seattle Seahawks won the Super Bowl on a powerful running game and the surprising 6-2 Dallas Cowboys are winning off the work-horse mentality in DeMarco Murray. Gurley is not just a prospect he's an elite once every decade type of player. Ask yourself this question. Do the Rams' have a true threat on offense? That is why they draft Gurley.
9. Chicago Bears – Shawn Oakman, Baylor, DE: The Bears are allowing 27.8 points per game which ranks 29th in the NFL. The cupboards are bare in Chicago of defensive play-makers. Age has reached its pinnacle with five players considered key contributors over 30 years old. The list includes Jared Allen (32), Jay Ratliff (33), Lance Briggs (33), D.J. Williams (32), and Charles Tillman (33). Oakman has shown flashes of being a special player. Oakman is freakishly athletic at 6'8″ and 275 pounds and is on the cusp of tapping into his immense talent.
10. Minnesota Vikings – Vic Beasley, Clemson, OLB: Beasley is viewed as a tweener type prospect due to his size (6-foot-2, 235 pounds) and playing defensive end in college. The Vikings' would have a special pair at linebacker with rookie Anthony Barr and Beasley. It may possibly remind fans of watching the illustrious pair of Chris Doleman and John Randle.
11. New York Giants – Eddie Goldman, Florida State, DE/DT: The size and strength of Goldman can be utilized on the interior of the Giants' defense. Valuable pieces still remain on the roster like Jason Pierre-Paul and second-year defensive tackle Johnathan Hankins but additional help is needed in order to keep the Giants' offense on the field.
12. New Orleans Saints – Trae Waynes, Michigan State, CB: There have been several moments when we have seen Saints' owner Tom Benson dance enthusiastically after his team is victorious. Handing in a draft card with Waynes' name on it could have him duplicate those dance moves. Waynes has the length and athleticism that NFL teams covet especially facing the humongous young receivers in the NFC South that include such names as Julio Jones, Mike Evans and Kelvin Benjamin.
13. Carolina Panthers – Amari Cooper, Alabama, WR: Ron Rivera is known for his ability to be one of the best defensive minds in the game. Although the Panthers' are far from their dominant form in 2014, the offense appears light years away from catching up with the talents of Cam Newton. Confidence remains in Rivera to improve the quality of play even without Greg Hardy. The offense is desperate for play-makers and Cooper adds an instant upgrade at the position.
14. Houston Texans – Conner Cook, Michigan State, QB: Cook is a pure pocket passer with NFL arm strength and leadership qualities and someone like quarterback guru Bill O'Brien wants to have on his Texans' roster. O'Brien's previous head coaching job at Penn State will make him familiar with this Big Ten prospect. Cook has the traits and mental make-up in a quarterback prospect that NFL teams look for at the next level. He will not awe you athletically, but fundamentally Cooks has what it takes.
15. San Francisco 49ers – Carl Davis, Iowa, DT/DE: The defensive line allows the 49ers' linebackers to feed off opposing teams. Davis stands at 6-foot-5 and 315 pounds and is the anchor of the Hawkeyes' defense. Davis is strong and wins at the point attack and rarely is he moved off the football.
16. Cleveland Browns – Devin Funchess, Michigan, WR: Cleveland is another team in crisis of offensive play-makers. Josh Gordon has one foot on a suspension slip and the other on a banana peel. Growing concerns over tight end Jordan Cameron and his bout with concussions makes the selection of Funchess an easy one. A bit raw at the position after playing tight end with the Wolverines, his athletic ability and rare size set him apart from most at the position.
17. Seattle Seahawks – Shane Ray, Missouri, DE: Seattle has needs like everyone else. After the Percy Harvin trade the perception is Seattle goes receiver in Round 1 but that likely will not be the case. Ray has the explosiveness to excel at the next level and considering the pieces around him he could flourish immediately.
18. Miami Dolphins – Dante Fowler, Florida, DE: Defensive end Dion Jordan recently was reinstated after missing the first six games of the year due to a violation of the NFL drug policy. With Cameron Wake being 32 years old, the Dolphins will look for help for Olivier Vernon up front on defense. Fowler is a talented player in the mold of Denver Broncos' DeMarcus Ware who has excellent pass-rushing ability.
19. Kansas City Chiefs – Danny Shelton, Washington, DE: Since Andy Reid has become a head coach in 1999, he has addressed the defensive line more than any other position in round one of the NFL Draft. Defensive linemen rank first with nine selections overall while offensive linemen rank second with four. Currently, Shelton leads the Huskies with 46 tackles, 10 tackles-for-loss and seven sacks. Shelton ranks third nationally in both categories.
20. Pittsburgh Steelers – P.J. Williams, Florida State, CB: The Steelers will eagerly pursue the talents of Williams in 2015 as head coach Mike Tomlin called out Cortez Allen recently for not being consistent enough. Ike Taylor will be 35 years old next May and it's vital that Pittsburgh addresses the position. Williams has the athleticism and instincts in coverage, as well as the physicality to make an impact in run support.
21. Cleveland Browns (via Buffalo) – Andrus Peat, Stanford, OT: Alex Mack recently was lost for the season exposing the lack depth a long the Browns' offensive front. Peat is big and has enough skills to play either tackle or guard if Cleveland was in a pinch.
22. Green Bay Packers – Shaq Thompson, Washington, OLB: The Huskies' linebacker is everywhere on the field, on both sides of the ball.  The Packers need another player to pair with Clay Matthews who can change the game and make plays. Thompson is a bit undersized but overall his production and ability is too much to ignore.
23. San Diego Chargers – Reese Dismukes, Auburn, C: Since 2004, Nick Hardwick has been the glue to the Chargers' offensive line. On September 10, the Chargers placed Hardwick on injured reserve with a neck injury, ending his season after one game. Taking a cue from the Dallas Cowboys when they drafted center Travis Frederick in 2013, the Chargers' take Dismukes despite it being a bit uncommon to see centers selected above tackles and guards. Dismukes plays in the SEC and has established himself as possibly the top center available in 2015.
24. Indianapolis Colts – Noah Spence, Ohio State, DE/OLB: Spence is a special athlete with good change of direction ability to avoid blocks. The rookie will be groomed to replace veteran Robert Mathis, who has thrived at outside linebacker after playing most of his career at defensive end. Spence will learn a lot from the Pro-Bowler.
25. Baltimore Ravens – Lorenzo Mauldin, Louisville, DE: Terrell Suggs is as good as it gets in the NFL, but next season will be Suggs' 13th in the league and general manager Ozzie Newsome should prepare for his eventual exit. The Ravens' starting outside linebacker's average around 6-foot-1 and 260 pounds. Mauldin is 6-foot-4 and 246 pounds and fits the scheme in Baltimore.
26. Cincinnati Bengals – Ty Sambrailo, Colorado State, OT: Cincinnati is deep at plenty of positions. The offensive line could use a bit of a face lift by drafting the Mountain West Conference standout in Sambrailo. He has the strength and footwork to play tackle but also could play guard with his tree trunk waist. This kid is as tough and as nasty and physical as they come.
27. Philadelphia Eagles – Ifo Ekpre-Olomu, Oregon, CB: This has nothing to do with the Chip Kelly coaching connection with the Eagles' drafting Ekpre-Olomu. Philadelphia ranks fifth-overall in the league in total offense. They rank 26th in the NFL in total defense and 26th in pass defense. Ekpre-Olomu tends to remind me of former NFL cornerback Antoine Winfield but with more speed. Like Winfield, Ekpre-Olomu is undersized but does not shy away from contact and shows above average strength.
28. Detroit Lions – Melvin Gordon, Wisconsin, RB: Reggie Bush has had his moments in Detroit, but the harsh reality is Bush will be 30 years old next March. He's missed two games already this season and has only completed a full 16-game schedule once in his nine-year career. Gordon is a patient runner that excels at finding the hole and hitting another gear to pick up big chunks of yards.
29. New England Patriots – Danny Shelton, Washington, DT: Vince Wilfork has been a fixture in the middle of the New England defense since being drafted in 2004. Shelton would be envisioned as the next big man in the interior of the Patriots' defense. He is a space-eater with the ability to collapse the pocket.
30. Arizona Cardinals – Benardrick McKinney, Mississippi State, ILB: The Cardinals are 6-1 and have shown a dynamic ability to overcome injuries and suspensions to key defensive players. In May, Daryl Washington was suspended for the season for violating the league's substance-abuse policy. He missed four games last season for a previous violation. Enter McKinney who is the anchor of the country's top-ranked team in college football. Plenty of talented players are mentioned in this mock draft but he could be the most athletic of the group. A real freak of nature.
31. Dallas Cowboys – Jameis Winston, Florida State, QB:  Although the Cowboys are off to a great start, Monday night was a reminder of the reoccurring issues surrounding Tony Romo's back. Jerry Jones might regret not drafting Johnny Manziel but makes an amends to himself by drafting Winston. The Seminoles' quarterback has some growing up to do to prove he can lead an NFL locker room. In terms of pure talent he is the best quarterback available in 2015.
32. Denver Broncos – Alvin Dupree, Kentucky, DE: DeMarcus Ware is a luxury piece towards another Super Bowl run in Denver. The Pro Bowl defensive end is not a long-term solution at age 32. Dupree at 6-foot-4 and 260 pounds has exceptional athleticism. He shows up in all facets of the game. He currently leads the Wildcats with six tackles-for-loss, four sacks and tied for third with 45 tackles. He does it all and he does it well.
Buccaneers admit mistake, boot Aguayo
In the NFL, it's always better to admit a mistake than to compound it. For the Buccaneers, the decision to burn a 2016 second-round pick on kicker Robert Aguayo has proven to be a mistake. The Buccaneers made the definitive admission of their error on Saturday, cutting Aguayo. He exits with $428,000 in fully-guaranteed salary [
more
]
Source: Mike Florio of ProFootballTalk
Powered by WPeMatico
Did Bucs put too much pressure on Aguayo?
After the Buccaneers surprised everyone by taking a kicker with the 59th overall pick in the draft, G.M. Jason Licht explained the move by heaping superlatives on the player. "I was very excited along with my staff and coaches about Roberto for a very long time," Licht told PFT Live in May 2016. "It's not [
more
]
Source: Mike Florio of ProFootballTalk
Powered by WPeMatico
Broncos holding their breath on Derek Wolfe
Only two days after losing Billy Winn for the year with a torn ACL, the Broncos are now sweating out another potentially serious injury along the defensive line. Via multiple reports, Broncos defensive lineman Derek Wolfe was carted off the field during practice on Saturday. It's being described as a right ankle injury by coach [
more
]
Source: Mike Florio of ProFootballTalk
Powered by WPeMatico