12/2/14 – 2015 NFL Mock Draft
Find out which offensive player goes first-overall to the Oakland Raiders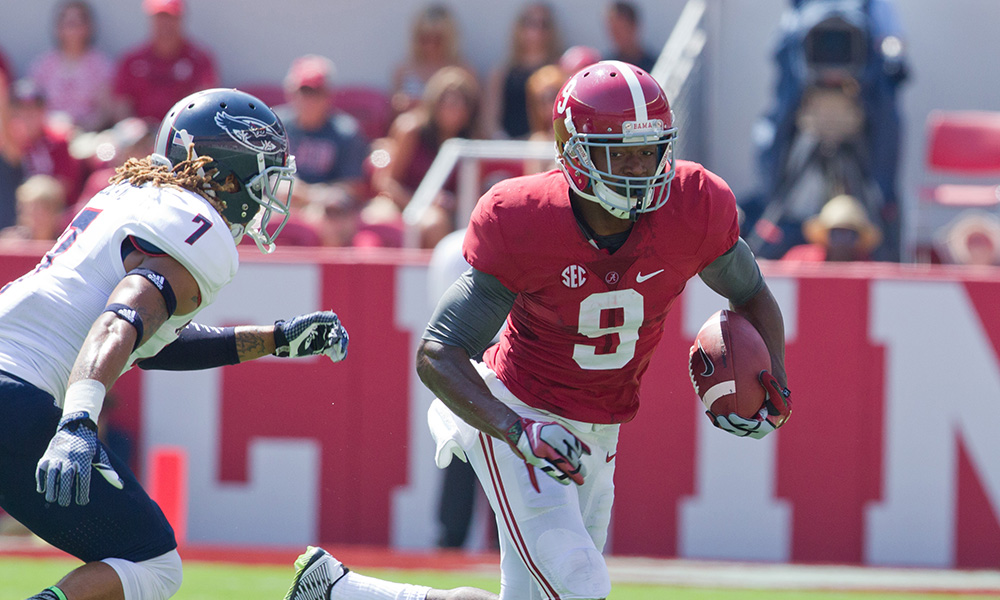 It's never too early to look ahead at the upcoming NFL Draft. Entering Week 12 of the NFL season, we've started to see every teams' holes, which could be addressed through the draft. Here is our latest 2015 NFL Mock Draft:
1. Oakland Raiders: Current record, 1-11
Amari Cooper, Alabama, WR: Yep I'm going there with the first pick overall. For the longest time, I have flip-flopped Nebraska's DE/OLB Randy Gregory and USC DT Leonard Williams with the top spot. Oakland ranks last in total offense and their defense just allowed 52 points in a shutout loss to the St. Louis Rams. Kind of puts into perspective how bad things are in the Bay Area. Derek Carr will never develop if they don't invest around him. Cooper is one of the most talented players in this entire upcoming draft class, bar none. His quickness off the snap and first-step acceleration make Cooper difficult to defend. A true professional who takes a deep amount of pride in the craft he is mastering. After 11 games in 2014, Cooper is second in the nation in receiving yards with 1,573 and is fourth overall with 8.6 receptions per game. In last weekend in Bama's 55-44 Iron Bowl victory over Auburn, Cooper caught 13 passes for 224 yards the three scores. The last receiver taken with the first overall selection was Keyshawn Johnson in 1996 by the New York Jets.
2. Tampa Bay Buccaneers: Current Record, 2-10
Marcus Mariota, Oregon, QB: Lovie Smith may be given a little bit of leeway in his first stint as head coach in Tampa Bay. First off, he has a five-year contract and ownership wouldn't want to pay two coaches for that long. Smith has exhausted his options at quarterback flip-flopping between Josh McCown and Mike Glennon. Smith has shown little faith in second-year quarterback Glennon after reuniting himself with journeyman signal-caller McCown, who he worked with in Chicago. Long-term, both McCown and Glennon are not the answer for the Buccaneers. The Oregon signal caller has all the physical and mental aspects teams' look for in a young franchise prospect. Mariota's ability will be put to the test early in Tampa Bay as he will be a Day 1 starter.
3. Tennessee Titans: Current record, 2-10
Randy Gregory, Nebraska, DE: Tennessee has 31 sacks on the season which ranks eighth-best in the NFL. The defense isn't in shambles, but that doesn't mean it can't use the services of Gregory. The adaptability to play defensive end or outside linebacker will serve the Titans' defense well, as Kamerion Wimbley will be 32 next season.
4. Jacksonville Jaguars: Current record, 2-10
Leonard Williams, USC, DT: The Jaguars don't do many things well, but they do get to the quarterback. Ranking third in the NFL in sacks (37), the defense has shown an ability to pressure the opposing quarterback. Unfortunately, the defense as a whole is about as bad as you can get in the NFL. The Jags rank 28th in total team defense and have allowed the fifth highest amount of points (329) in the league. Jacksonville can't score and can't stop opposing teams from scoring on them. Considered one of the top prospects in the draft, Williams will be vying to be the No. 1 pick.
5. New York Jets: Current record, 2-10
Jameis Winston, Florida State, QB: Nothing has changed in the projection of where the New York Jets focus their number one pick in 2015. The Jets could be in store for a complete makeover next season including the coaching staff. Winston has all the tools you want in a quarterback. The Seminoles' quarterback has some growing up to do to prove he can lead an NFL locker room. Love him or hate him, Winston is a true adversary to any opponent he faces. In terms of pure talent and being pro-readiness he is the best quarterback available in 2015.
6. Washington Redskins: Current Record, 3-9
Shawn Oakman, Baylor, DE: Since Dan Snyder bought the Redskins in 1999 the team has drafted defensive players 10 times with their first pick. The Redskins have a lot of issues on defense, starting with a pass rusher and ending with a safety where the team invested twice with Laron Landry and Sean Taylor since 2004. The size and strength of Oakman can be utilized on the interior of the Redskins' defense. Oakman is freakishly athletic at 6-foot-8 and 275 pounds and is on the cusp of tapping into his immense talent. Robert Griffin III's status as the Redskins' franchise quarterback has become a murky issue. Snyder isn't afraid to make a bold move during the draft. If Snyder falls in love with Mariota or Winston expect another monster trade from Washington.
7. New York Giants: Current Record, 3-9
Vic Beasley, Clemson, OLB: In 2012, the Giants' ranked second in the NFL in total defense. They plummeted to 25th in 2013, and currently sit 29th overall. New York needs another impact player from the second line of defense (linebacker). Beasley is viewed as a tweener type prospect due to his size (6-foot-2, 235 pounds) and playing defensive end in college. Beasley is an impact player with extreme upside potential.
8. Carolina Panthers: Current Record, 3-8-1
Brandon Scherff, Iowa, OT: Ron Rivera, the former consensus All-American and Super Bowl winner is tough as nails. Scherff is as tough as they come and the Hawkeyes' 2013 offensive team MVP brings a much-needed attitude of intimidation. Scherff houses the ability to be drafted in the Top 5 in next year's NFL Draft. While a defensive selection isn't out of the question, the Panthers must build around Cam Newton.
9. Minnesota Vikings: Current Record, 5-7
Cedric Ogbuehi, Texas A&M, OT: I looked at who as left on the board and immediately projected Ogbuehi to Minnesota for the second straight Mock Draft. The Vikings' inconsistency on the offensive line and blitz recognition continue to plague the offense. Ogbuehi is not a cure to all that is wrong with the Vikings, but he is a piece to build around especially with all the young and talented new faces in Minnesota. Texas A&M offensive line coach B.J. Anderson has helped produce two All-Americans and high NFL first-round draft picks in his two seasons in Aggieland. The recent trend of Aggies' offensive lineman going near the top of the NFL Draft continues in 2015. Jake Matthews was drafted sixth-overall in 2014 and Luke Joeckel went second-overall one year earlier. Barring injury Ogbuehi will be the third.
10. New Orleans Saints: Current Record, 5-7
Trae Waynes, Michigan State, CB: It's amazing to think that just two years ago the Saints ranked No. 1 in total defense, considering they rank second to last (31st) in the league now in the same category. New Orleans signed Jairus Byrd this year to a six-year, $54 million contract and he played all of three games before hurting his meniscus and being placed on injured reserve. The return of Byrd next season and another fresh face via the NFL Draft should help boost the Saints' secondary. Waynes has the length and athleticism that NFL teams covet especially facing the humongous young receivers in the NFC South that include such names as Julio Jones, Mike Evans and Kelvin Benjamin.
11. Chicago Bears: Current Record, 5-7
Landon Collins, Alabama S: Chicago strikes it rich with the 11th overall pick. Collins is exactly what the doctor prescribed for this anemic defense. One thing fans in Chicago have been accustomed to having over the years is a defense that intimidates the opposing offense. Collins brings that intimidation factor that is missing in Chicago. The ball-hawking safety is a furious hitter that Chicago desperately needs to turn the defense back into its old self. Age has reached its apex in each area of the Bears' defense. Five players considered key contributors over 30 years old, which includes Jared Allen (32), Jay Ratliff (33), Lance Briggs (33), D.J. Williams (32) and Charles Tillman (33).
12. St. Louis Rams: Current Record, 5-7
Dak Prescott, Mississippi State, QB: It is an extreme stretch, but not unrealistic the Rams draft Prescott in the first round next year. Prescott currently projects to be drafted in the second round. It's December, and a lot can change from now until April. That being said, Prescott fits the description of a Jeff Fisher quarterback. More athletic than Steve McNair, but not as tough, Prescott in my opinion will be the quarterback to ascend draft boards moving forward.
13. Houston Texans: Current Record, 6-6
Ifo Ekpre-Olomu, Oregon, CB: The Texans continue to add valuable pieces to their defense. The weakest link of the Houston defense is the secondary. Their top defensive back, Johnathan Joseph will turn 31 next year. He still competes at a very high-level but Ekpre-Olomu is a welcomed addition.
14. Miami Dolphins: Current Record, 7-5
Andrus Peat, Stanford, OT: Miami is close to being a very good football team. They were very assertive addressing the offense in free agency the last couple of years. Adding more quality and depth to their offensive front is key. Peat is big and has enough skills to play either tackle or guard if Miami was in a pinch.
15. Cleveland Browns: Current Record, 7-5
Benardrick McKinney, Mississippi State, ILB: Another selection that is identical to the past mock draft. Paul Kruger has excelled under new head coach Mike Pettine, but former first round pick Barkevious Mingo remains unproductive. Enter McKinney, who is the anchor of the country's former top-ranked team in college football. Plenty of talented players are mentioned in this mock draft, but he could be the most athletic of the group. McKinney is a freak of nature.
16. Pittsburgh Steelers: Current Record, 7-5
P.J. Williams, Florida State, CB: The ACC is second only to the Big Ten for the most players selected under Steelers' general manager Kevin Colbert with the team's first overall selection. Florida State, the ACC, and an immense need for help cornerback make this an easy pick for Pittsburgh. Williams has the athleticism and instincts in coverage, as well as the physicality to make an impact in run support.
17. Baltimore Ravens: Current Record, 7-5
Eddie Goldman, Florida State, DE/DT: Baltimore used two draft picks on defensive interior help in 2014. Selecting Florida State's Timmy Jernigan in the second round, and used their fourth round pick on Virginia's Brent Urban. Fortifying their front continues next year.  Playing among a very deep and talented unit at Florida State, sometimes Goldman gets lost in the mix. The size and strength of Goldman can be utilized on the interior of the Ravens' defense.
18. Cleveland Browns: Current Record, 7-5 (via Buffalo Bills)
Shaq Thompson, Washington, OLB: The argument behind the Browns not taking a single receiver in this Mock Draft originates from 2014's draft. Cleveland twice bypassed the receiver position even electing not to take Buffalo Bills Sammy Watkins. While it seems logical Cleveland would use at least one of their two first round picks on receiver, the tide changes and they stick with defense. Thompson has shown flashes of being a special player. He is a bit undersized but overall his production and ability is too much to ignore.
19. San Francisco 49ers: Current Record, 7-5
Kevin White, West Virginia, WR: Plenty of rumors fermenting that Jim Harbaugh will be out at the end of the season as head coach. Regardless if he stays or if he goes the 49ers' offense needs a jolt at receiver. Anquan Boldin is nearing the end of his career and Michael Crabtree is in the final year of his rookie contract. White leads the Big 12 in catches (102) and yards (1,318).
20. Dallas Cowboys: Current Record, 8-4
Shane Ray, Missouri, DE/OLB: The defense has played phenomenal under defensive coordinator Rod Marinelli, but the balloon of success may have popped on Thanksgiving Day when the Philadelphia Eagles trounced the Cowboys, 33-10. The Tigers' have had a good run of producing NFL-quality defensive talent and Ray continues the trend. Ray will remind the Dallas faithful of DeMarcus Ware. He has a very impressive skill set. The return of a healthy Sean Lee and Justin Durant, and the resurgence of Rolando McClain's career the Cowboys' could boost a deep linebacker unit.
21. Atlanta Falcons: Current Record, 5-7
Hau'oli Kikaha, Washington, DE/OLB: Although it will be hard for Falcons' GM Thomas Dimitroff to pass on running back Todd Gurley, the Georgia Bulldogs running back is rehabbing from a torn ACL. If sanity prevails in Atlanta, Dimitroff will select Kikaha. Named to the preseason watch list for the Bednarik Award (given to the top defensive lineman), Kikaha is relentless in pursuing the quarterback. Currently, Kikaha is tied for No. 1 overall among FBS players with 18 sacks.
22. Kansas City Chiefs: Current Record, 7-4
Sammie Coates, Auburn, WR: Kansas City has played 16 consecutive regular season games dating back to 2013 that the quarterback has not thrown a single touchdown pass to a wide receiver. Enter Mr. Coates, who reportedly has been clocked in the 4.3s in the 40-yard dash. His speed and big play ability should put an end to the long stretches of receivers not getting touchdown passes in Kansas City.
23. Indianapolis Colts: Current Record, 8-4
Todd Gurley, Georgia, RB: It will be 12 years since the Buffalo Bills selected running back Willis McGahee with the 23rd overall pick in the NFL Draft. McGahee suffered a gruesome knee injury in the 2003 Fiesta Bowl National Championship Game as he suffered tears of the ACL, PCL, and MCL. Gurley's injury is not as severe and even the way the injury is treated compared to almost a decade ago has grown by leaps and bounds. Trent Richardson has failed to produce forcing the Colts to look for his replacement.
24. Detroit Lions: Current Record, 8-4
A.J. Cann, South Carolina, OG: The last time Detroit drafted an offensive lineman in the first round was in 2012. They drafted Riley Reiff from Iowa. Incumbent guard Rob Sims may be forced to the bench with the robust Cann on the roster. He brings great intangibles for the position. The Gamecocks' durable team leader will give the Lions a long-term solution to the guard position.
25. San Diego Chargers: Current Record, 8-4
Melvin Gordon, Wisconsin, RB: Ryan Mathews is a free agent after the season concludes. If Mathews and San Diego part ways look for the Chargers to draft the talented Badgers' running back. Gordon is a patient runner that excels at finding the hole and hitting another gear to pick up big chunks of yards.
26. Seattle Seahawks: Current Record, 8-4
Jaelen Strong, Arizona State, WR: The team traded Percy Harvin to the New York Jets and running back Marshawn Lynch leads the team in touchdown receptions. Russell Wilson, like every other quarterback, needs to be assisted by management to provide players to succeed. Strong provides another big target for the passing game.
27. Cincinnati Bengals: Current Record, 8-3-1
Denzel Perryman, Miami, ILB: Rey Maualuga is in the final year of a two-year, $6.5 million contract. Perryman leads the Hurricanes' with 81 tackles and six tackles-for-loss. He shows up in all facets of the defense as he's able to support the run, drop into coverage and make plays behind the line of scrimmage.
28. Philadelphia Eagles: Current Record, 9-3
La'el Collins, LSU, OT: Philadelphia's first draft choice with Chip Kelly as head coach was for former Oklahoma tackle Lane Johnson. Also, it is worth mentioning that Johnson, the fourth-overall pick in the 2013 draft, missed the first four games after testing positive for banned performance-enhancing drugs. Add in the fact that the offensive line has three starters playing in their 10th NFL season and the Eagles' go offensive linemen back-to-back with their first pick in the NFL Draft. Collins is a mauler on the field and possesses the versatility to spend time at guard or tackle for the Eagles.
29. Denver Broncos: Current Record, 8-3
Michigan TE/WR Devin Funchess: Both Julius Thomas and Demaryius Thomas are in option years and set for free agency in 2015. At 6-foot-5 and 230 pounds, Funchess instantly is an overwhelming mismatch for linebackers. His initial burst off the line for a guy his size is impressive. The Broncos' offense could use Funchess as a tight end or receiver, the two positions Funchess excelled at with the Wolverines.
30. Green Bay Packers: Current Record, 9-3
Danny Shelton, Washington, DT: Another selection that doesn't change from the previous Mock Draft. B.J. Raji has been a fixture in the middle of the Green Bay defense since being drafted in 2009. This past preseason Raji tore his bicep and was lost for the regular season. Shelton would be envisioned as the next big man in the interior of the Packers' defense. He ranks second for the Huskies with 89 tackles and is second with 16.5 tackles-for-loss. Shelton's nine sacks are third while his four fumble recoveries lead the team. Shelton is a space-eater with the ability to collapse the pocket. Do not be surprised to see Shelton emerge as one of the Top 15 prospects in the nation as the 2015 NFL Draft nears.
31. Arizona Cardinals: Current Record, 9-3
Dante Fowler, Jr., Florida, DE: The Florida Gators use Fowler, Jr. everywhere on defense. His versatility is second to none amongst the 2015 prospects at the position. The Cardinals' are a little long in the tooth at linebacker both at inside and outside. The value of Fowler will show up immediately with him being able to help Arizona along at defensive end and linebacker.
32. New England Patriots: Current Record, 9-3
DeVante Parker, Louisville, WR: Although New England has not had much success drafting receivers early in the NFL Draft, they take another stab at it in 2015. Parker has been climbing up boards in recent weeks. A broken bone in his foot kept him out of the first seven games of the 2014 season, Parker's return has been nothing short of spectacular. Despite only suiting up for five games this season, Parker leads the team with 735 receiving yards (122.5 average per game) and five touchdowns.
Did Bucs put too much pressure on Aguayo?
After the Buccaneers surprised everyone by taking a kicker with the 59th overall pick in the draft, G.M. Jason Licht explained the move by heaping superlatives on the player. "I was very excited along with my staff and coaches about Roberto for a very long time," Licht told PFT Live in May 2016. "It's not [
more
]
Source: Mike Florio of ProFootballTalk
Powered by WPeMatico
Broncos holding their breath on Derek Wolfe
Only two days after losing Billy Winn for the year with a torn ACL, the Broncos are now sweating out another potentially serious injury along the defensive line. Via multiple reports, Broncos defensive lineman Derek Wolfe was carted off the field during practice on Saturday. It's being described as a right ankle injury by coach [
more
]
Source: Mike Florio of ProFootballTalk
Powered by WPeMatico
Buccaneers admit mistake, boot Aguayo
In the NFL, it's always better to admit a mistake than to compound it. For the Buccaneers, the decision to burn a 2016 second-round pick on kicker Robert Aguayo has proven to be a mistake. The Buccaneers made the definitive admission of their error on Saturday, cutting Aguayo. He exits with $428,000 in fully-guaranteed salary [
more
]
Source: Mike Florio of ProFootballTalk
Powered by WPeMatico