There's nothing that gets fans excited like a good, old fashioned trade.  Whether it's the NFL, MLB, NBA or NHL, everyone loves the idea of a player who wore a different jersey, putting on your specific kit.
NFL Draft trades are a little different.  The fan-base of the team that moved up is usually considerably more excited with the possibility of getting an impact player, while the team that moved back feels as if the were the smarter party.
We've seen our fair share of trade-ups work out (Julio Jones back in 2011) and ones fail miserably (Robert Griffin, III in 2012).
There is no dead-set formula that says trading in the draft either works or doesn't work all of the time.  With that said, there's a growing trend that's forming from trading up and that comes from general managers and/or head coaches on the hot seat, rolling the dice with their franchise's futures.
There's no better example of this then last week's blockbuster that saw the Los Angeles Rams move all the way up from No. 15 to the top-overall pick, as the Tennessee Titans received a nice haul for helping out Les Snead and Jeff Fisher.
"One thing about this is you better be right," longtime NFL coach Rick Venturi said last week. "You basically have ransomed the future. So I don't think you can look in terms of you are going to build now, you're going to build with players because you have given all those draft picks away. So what you have to say is our team is pretty doggone good and a top flight quarterback, though he may not win as a rookie, the top flight quarterback is all we really need to get going. I think that's what you're saying."
Although it's up in the air whether this move will buy Snead and Fisher more time in L.A., the Rams were a stagnant franchise without a quarterback and this was an opportunity to shake things up and potentially keep their jobs.
This isn't the first time Snead and company have tried to drastically improve their draft position, as they moved up back in 2013 from No. 16 to No. 8 to select wide receiver Tavon Austin, who has been a mostly unproductive pro.
Speaking of that no-so-legendary 2013 NFL Draft, the Miami Dolphins traded up from the 12th pick all the way up to No. 3 to select none other than Dion Jordan.
Dolphins general manager Jeff Ireland was promptly fired after the season and Jordan has 46 tackles and three sacks in his career as he's currently serving a suspension that caused him to miss the entire 2015 season.
After years of mediocrity, the Tampa Bay Buccaneers tried to jump-start their franchise back in 2013, but they didn't exactly trade up.  Instead, then general manager Mark Dominik dealt away the team's first-round pick (13th overall) to the New York Jets for Pro Bowl cornerback Darrelle Revis, who was coming off a torn ACL.
After finishing the 2013 campaign with a 4-12 record, Dominik suffered the same fate as Jeff Ireland and was let go.
As referenced above, the Washington Redskins, weary from four consecutive last place finishes in the nation's capital, decided to be proactive about the 2012 NFL Draft as they traded the farm, the machinery and all of the cattle for the rights to draft Robert Griffin, III.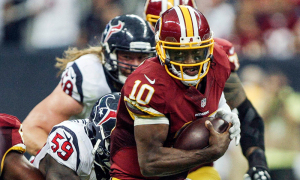 The immediate payoff was a division title in 2012, which kept general manager Bruce Allen employed.  After two more last place seasons, he was let go just in time for the team to rise from the ashes back to first place under Scot McCloughan.
The trend of the 2012 NFL Draft would be foolish trade-ups.  The Cleveland Browns inexplicably traded up one spot to assure that they would have running back Trent Richardson.  Everyone knows how well that turned out and although general manager Tom Heckert wasn't fired after the season specifically for that move, it put an exclamation point on his tenure.
Faced with some of the worst drafting in NFL history during his tenure, then Jacksonville Jaguars general manager Gene Smith moved up a couple spots in the 2012 draft to select wide receiver Justin Blackmon.  The former Oklahoma State Cowboy and Biletnikoff winner could never stay clean as substance abuse has derailed his career and it was yet another example of why Smith was fired.
The one thing that all of these moves had in common was that they were seemingly done out of desperation.
Now there are rumors that the Philadelphia Eagles are looking to trade up from the No. 8 spot in next week's draft all the way up to No. 2.  This reeks of a move by VP of football operations Howie Roseman to try and find a quarterback to continue to wash away the sour taste left on the organization by Chip Kelly.  Roseman has been with the organization in a general manager role since 2010, and largely the success that he's had has been under Kelly.
There's little reason for optimism that 2016 will go much better than 2015 without Kelly and with Sam Bradford at quarterback.  The writing for Roseman is clearly on the wall.
It's hard to blame each of the general manager's for the moves they made.  When faced with the possibility of losing one's job, they will leverage their resources to do what's best for themselves in the short run, and it's pretty easy to convince the organization that mortgaging the future for a shiny, new prospect is the right way to go.
Although history tells us the odds are against Snead and Fisher as they will select either Carson Wentz or Jared Goff next week, it's certainly understandable why they are trying to catch lightning in a bottle, even if they won't admit it's to save their own….bacon?