It's not quite clear if the NFL has caught up to Carson Wentz, but it's very clear it caught up to head coach Doug Pederson and offensive coordinator Frank Reich.
While it's easy to get on rookie Carson Wentz for the -27-20 loss to Washington last weekend, and he did struggle at times, this was more about the lack of creativity and adjustments the Eagles made than the throws their quarterback didn't.
The Eagles were very predictable early on, showing Washington a lot of tight formations which allowed the defense to crowd the box and hide which linebackers were coming on a pass rush and which might drop into coverage.
That gave Wentz less of a heads up so he could make adjustments, and disguising the pass rushers also made it more difficult for an offensive line (hurting due to the suspension of right tackle Lane Johnson) to diagnose the rush and make their own adjustments.
The Eagles took far too long to adjust to this, not spreading the defense out nearly enough and therefore allowing Washington to keep successfully confusing the issue.
Pederson and Reich also took far too long to adjust to the tight coverage the defensive backs were playing.
Washington tends to favor zone coverage—and they certainly played it on Sunday—but they pressed far more often, especially early in the game. The corners were able to stick pretty well with the Eagles receivers, making it hard for Wentz to find an open target.
Combine those two things—a shifting pass rush and tight coverage—and the struggles Philadelphia had for most of the game should come as no surprise.
When they did spread out the defense, the Eagles had more success, such as on a 3rd and 18 throw to Jordan Matthews for a 12-yard first down.
On the play, Matthews is lined up against linebacker Martrell Spaight, who chooses to give him some cushion. Not a surprise, as most linebackers are more concerned they will get burned off the line than anything else.
As he backpedals, Matthews follows his route into the middle of the field. He eventually finds himself wide open in between two defenders and in good position for Wentz to deliver the pass.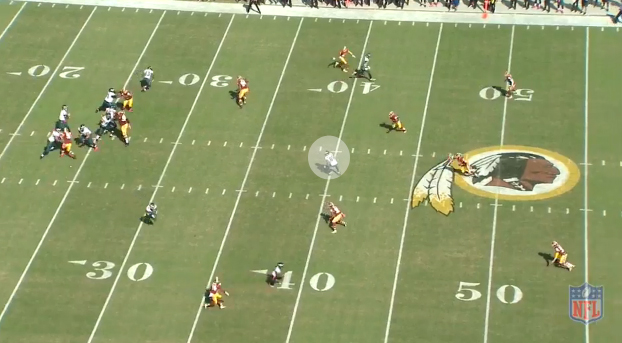 Unfortunately, this didn't happen much. More often than not, the receivers were covered tightly by defensive backs and Wentz had little room to throw.
This is not to say he was without fault. Wentz missed several receivers—Matthews repeatedly—on routes where if they weren't completely wide open, they were close. He floated a few passes and underthrew a few more. That is certainly something that will put the kibosh on a drive.
It also seems that Wentz isn't doing as much shifting and adjusting at the line, or at least not consistently. That might be a result of the constant shifting defensive front or it could be because of the issues along the offensive line.
Either way, there were times when it seemed like Wentz might have shifted out of a play to take advantage of something and didn't, something which was not the case in most of the previous games.
When Wentz is on, he's still very good. There some throws which were poor, but then you see him drop a pass in the bucket to Matthews for a 54-yard play in tight coverage during the third quarter. Plays like that make one feel that his minor struggles the last few weeks are growing pains, but also defenses adjusting to the offense.
Wentz certainly has a ways to go before he reaches his potential, but right now it seems it is the offense which has the greater issues, not him.
Pederson and Reich should start tinkering with the playbook and adjusting to some new looks and plays. It's the best way to get Wentz back on track.