About a month ago, everyone, their mother and mother's third cousin assumed the Denver Broncos were a lock to win the AFC West for the fifth straight year.
Things have dramatically changed in a short time span.
The Kansas City Chiefs are only two games behind Denver, because of their insane seven-game winning streak.
Who saw that coming after a 1-5 start?
Meanwhile, the two California teams in the division, San Diego and Oakland are looking up in the standings. Although the Raiders still have a shot at obtaining a wildcard spot, it's a highly unlikely scenario at best.
With all of that being said, let's take a look at six things you must know about the AFC West moving forward.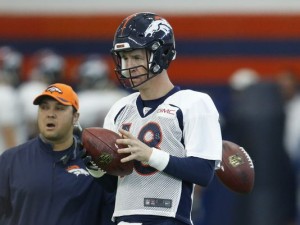 Peyton Manning is back on the practice field – With Brock Osweiler as the starting quarterback, the Broncos are 3-1. Their lone loss with came against Oakland this past Sunday at home.
Now, with future Hall of Famer Peyton Manning back on the practice field, there's a quarterback controversy in the Mile High City.
"He did fine, he did fine," Head coach Gary Kubiak said on Manning. "Basically we did individual [drills], took a 7-on-7 period, a defensive period, took a step [Wednesday], we'll take a look at [Thursday], probably do a little bit more [Thursday] … but a step back in the right direction."
As you could imagine, Kubiak has been bombarded with questions on how he's going to handle this situation.
"I'm going to stay focused a week at a time," Kubiak stressed. "I'm not going to talk about what's going on three weeks from now, two weeks from now; we're committed to playing Pittsburgh … we know who our quarterback is this weekend, we know the other one is out. We're going to stay committed week-to-week, OK. That's not going to change."
Manning will not be active this week against Pittsburgh, but what about next week against Cincinnati?
That likely depends on how Osweiler plays.
Update on Justin Houston's Knee – Back on Nov. 29, Chiefs Pro Bowl linebacker Justin Houston went down against the Buffalo Bills with a hyper-extended knee.
A couple days ago, there was a report that Houston could miss the remainder of the regular season, which still may end up being the case.
On the flip side, Kansas City received some good news today. 
"I don't want anybody to be alarmed that he went to Dr. Andrews," Chiefs trainer Rick Burkholder stated. "We knew it. We supported it. We backed it. He's good with it. I've talked with him and the crew down there and we're all headed forward with this thing and hope to get him back on the field real soon."
No one seems to really know when Houston will return. This is still a very fluid situation.  If the Chiefs are going to end their 20+ year playoff drought, they will need one of the league's best pass rushers on the field.
Chiefs have better shot at division than you think – Sure, the odds are clearly still in Denver's favor, but they better be very careful.
Denver currently sits at 10-3, while the Chiefs are positioned second in the west with a 8-5 record.
The best way for Kansas City to win the division is to win out (at Ravens, vs. Browns and vs. Raiders) and they'll need to Denver to lose two of their last three games (at Steelers, vs. Bengals and vs. Chargers).
Both of those scenarios are very realistic, but with Andy Dalton being out, that may be the game that prevents Kansas City from winning the division.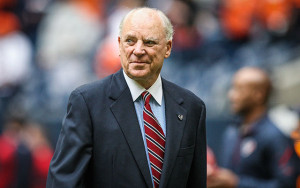 Texans Owner Bob McNair likes Chargers/Raiders Odds For LA Move –
 The clock is ticking on the January vote that will dictate the future of three franchises.
Over the past few months, the St. Louis Rams owner, Stan Kroenke, has been losing major ground and Houston Texans owner, Bob McNair, believes it'll cost him.
"St. Louis, they have come up with a proposal that is getting pretty close, in my opinion, to being an attractive proposal," McNair told the Houston Chronicle. "And if they do come up with an attractive proposal, then in my view, my personal opinion, I don't think the Rams will receive the approval to relocate. So that would mean then you'd have two teams, San Diego and Oakland, that would be going into Carson. They have a partnership to build a stadium."
Potentially moving to Los Angeles would be welcomed news for both California franchises as they're playing in sub-par venues and their attendance figures have reflected that.
Mike McCoy's Seat is Warm – The NFL is a ruthless business, especially for head coaches.
San Diego Chargers head coach Mike McCoy is just finishing up his third season, which may prove to be his last. During his first two years, he led the Chargers to identical 9-7 records, including a playoff win in 2013.
Nonetheless, the franchise has took a major dip backwards this year, which is bringing McCoy's job security into question.
"I'm taking this job one day at a time like I do every day," McCoy claimed. "I just keep plugging away every day and put great plans in, week in and week out. And I take it one day at a time here."
With the Chargers sitting at an 3-10 record, if they don't show any fight over these next few weeks, it may be the end of the McCoy era, as well as the San Diego era.
New city, new coach.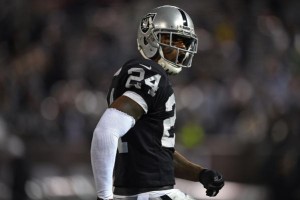 Charles Woodson Leads All Safeties in Pro Bowl Votes –
If Kobe Bryant gets selected to the NBA all-star game, that will be considered a sympathy vote since this is his last year.
That's not the case with Charles Woodson.
The 39-year-old leads all safeties in Pro Bowl voting. He has totaled 62 tackles, nine passes defended and five interceptions while recovering three fumbles.
Will he retire after this season?
No one truly knows, but while he's still in the league, let's just go ahead and appreciate his greatness.