When the season began, the Buffalo Bills were in a bit of a bind. They had gambled hard on adding rookies as starters to the defense, but those cornerstone players were mostly injured. Linebackers Reggie Ragland and Shaq Lawson were out, possibly for the season but definitely for the foreseeable future, and there was an enormous hole at linebacker.
While head coach Rex Ryan and his brother/defensive coordinator Rob Ryan had a lot of options, none of them seemed good. They penciled in journeyman Lorenzo Alexander at outside linebacker opposite Jerry Hughes and hoped for the best. If they could just limp along until Lawson came back, they'd be fine.
Eight weeks later and there's no need to rush Lawson back anytime soon.
For 10 years in the league, Alexander had been a special teamer and part time defender. Now he's on the short list for Defensive Player of the Year, having notched 24 tackles, 9 sacks (leading the NFL) and a trio of forced fumbles (tied for the league lead).
Those nine sacks are the same amount he'd had for the entirety of his career. In one year he doubled his sack total over the previous nine years.
How is this happening?
Well, without a doubt part of this is Alexander's work ethic.  As a guy who has had to survive on special teams, Alexander knows darn well you can't give anything less than total effort even in practice and that when you get a chance to show what you can do, you have to be ready. Alexander is also healthy for the first time in a while, maybe since he suffered a Lis Franc injury while playing for Arizona.
From a schematic standpoint, the Ryan brothers have done an excellent job of moving Alexander around and putting him in spots where he has an advantage. On one play they will overload one side with both Alexander and inside linebacker Zach Brown as they did on Alexander's sack against Miami quarterback Ryan Tannehill last week.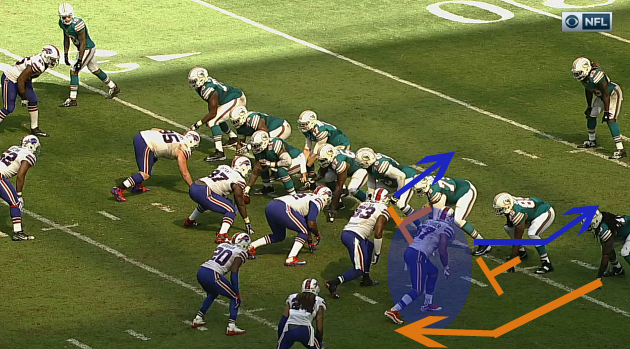 Sometimes the overload seems to short-circuit the blockers and they forget to account for Alexander, who came inside on this sack of Los Angeles Rams Case Keenum in Week 5 (one of three sacks on the day).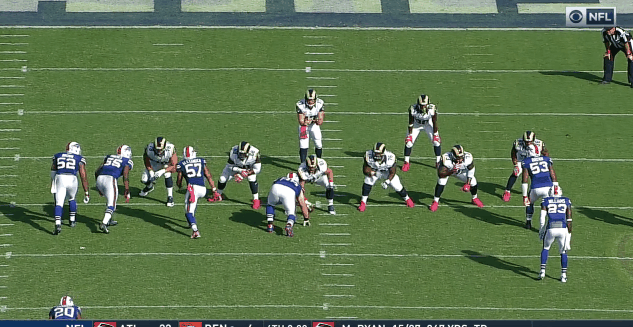 On occasion they set up Alexander as a defensive end, as they did on this sack of San Francisco 49ers quarterback Colin Kaepernick. That put tackle Joe Staley in a one-one-one with Alexander, with no help or assistance in blocking him.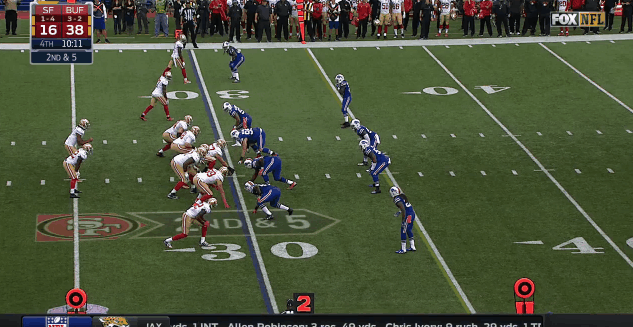 Whatever they can do to get Alexander in a one-on-one, they do and while ideally they want him at the edge where his burst and speed has been too much for the edge protector (be it tackle or tight end), they put him anywhere.
You have to wonder if living on the edge of the NFL, fighting for special teams roles and roster spots, has contributed to what has been a non-stop motor as well. Plenty of his tackles and sacks come from a dogged refusal to quit, as he chases down a quarterback or running back desperately trying to find an opening.
Rex Ryan has a knack for finding ways to get something out of fringe defenders which, for some reason, other coaches haven't. It appears that Alexander is yet another one of those guys, and if the Bills keep scheming for ways to get him defended by just one blocker, it could be a long season for quarterbacks facing the Bills defense.