While we're only three weeks into the 2016 NFL season, there's already plenty of chatter about head coaches losing their jobs. Not just those without a win, but some who have managed to scrape a "W" out despite poor play and circumstances.
We've put a list together of coaches who are likely on the Hot Seat right now and rated them somewhere between "In the Frying Pan" and "Smoldering Mess in Waiting."
If your coach on the list? Let's find out.
Jay Gruden, Washington Redskins – In the Frying Pan
While admittedly no great Jay Gruden fan, it's hard not to admit that last season he did a solid job.
This season? Not so much.
Aside from one half in the win over the hard-to-figure-out New York Giants, this team has looked really bad. Quarterback Kirk Cousins—Gruden's Golden Boy and the reason he never wanted Robert Griffin III in the first place—has largely played like he has never taken a snap in the NFL and the play-calling is hard to figure out, especially in the red zone.
The second half of the Giants game, Gruden called more runs and put less on Cousins' shoulders. That worked well, so if Gruden can focus on that and not go back to throwing too many passes, he could turn the heat down on the frying pan.
It's likely he survives this season if Washington can find a way to play well, even if they lose the division. If Cousins keeps regressing and the team overall starts playing like a dumpster fire again, Gruden could be asking his brother for work with ESPN.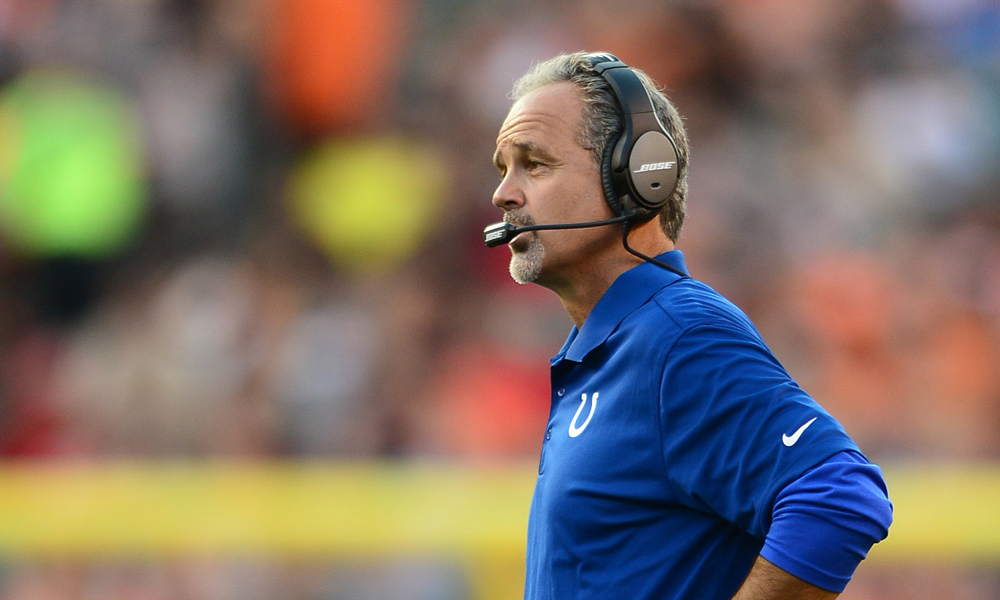 Chuck Pagano, Indianapolis Colts – In the Frying Pan
What? Pagano on the firing line? But he hasn't had a losing season and last year despite Andrew Luck being hurt, he still coached this team to 8-8!
All that is true and all that is fine, but in reality this team has been incredibly frustrating and not what it should be. If the Colts didn't exist in the AFC South, the record they have would be far different.
The Colts were thinking about moving on from Pagano before this offseason but extended him instead, but if they were giving him a break because Luck got hurt, that might end if the season continues as it has.
His tenure has been marked by poor in-game decisions and too few in-game adjustments, as well as a shoddy defense.
How bad has the defensive effort been? Since 2013, Pagano's teams have lost nine games by at least 17 points. Now, a lot of this also gets laid at the feet of GM Ryan Grigson, who continues to sink all the money in the world on offense while not adding impact players—or enough of them at least—on defense.
That could save Pagano, though it seems owner Jim Irsay is much more inclined to back his GM than his coach.
Mike Mularkey, Tennessee Titans – Into the Fire
Mularkey is a bigger puzzler than anyone on this list, given how bad he's coached before and his continued struggles in Tennessee. For his career, Mularkey has won a grand total of 19 games with 40 losses and he was awful last season after taking over for Ken Whisenhunt last season.
And now Marcus Mariota—who looked solid last season—is regressing.
The rest of the team is a hodgepodge of talent, but like Bradley in Jacksonville, Mularkey doesn't seem to be able to get much out of even the best of them.
The Titans continued to be a bottom dweller in the AFC South, but it really comes down to how shaky Mariota looks. If Mularkey can't turn that around, that's likely to cost him his job, if not this year, than early into next year.
Sean Payton, New Orleans Saints – Code Red/Nuclear Meltdown Imminent
Maybe Rob Ryan was right and he didn't get to run the defense the way he wanted. The Saints currently have the 30th worst defense according to Football Outsiders' DVOA metric, and it doesn't look like it's going to get better.
This team– notably the defense – is a wreck. There were rumors Payton was on the outs last season, and one would imagine that if this 0-3 start gets worse, the team might hit the eject button if not in-season, than certainly after it.
Payton has once again put a great offense together, but key pieces—Drew Brees—aren't getting any younger. If the season is a loss, will the team decide to cut its losses and move on from one or both?
Check that. If the season continues to melt down, will they cut their losses before it ends?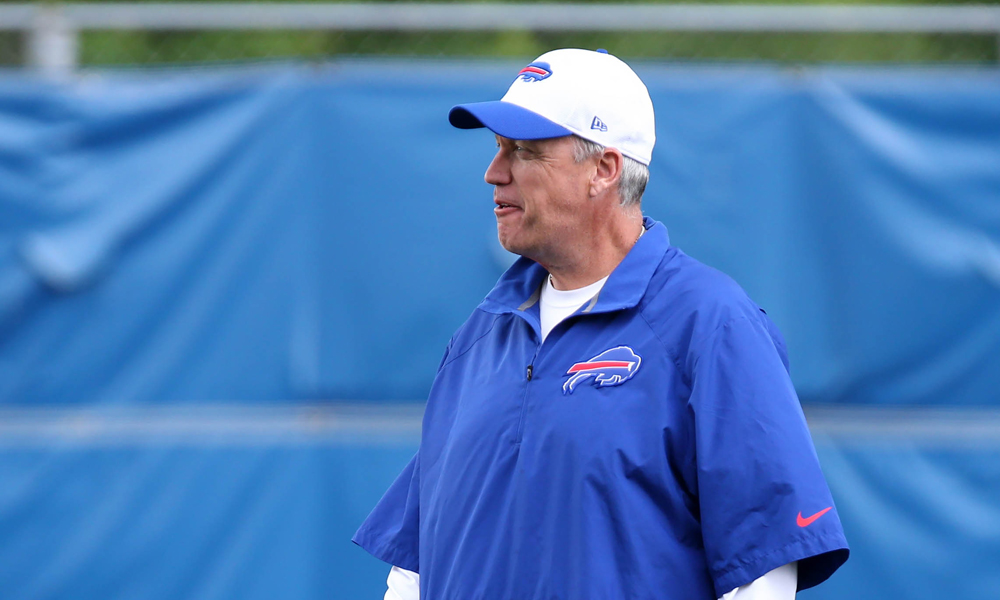 Rex Ryan, Buffalo Bills – Code Red/Nuclear Meltdown Imminent
Rex Ryan's antics were wearing thin last season when he took a good defense and made it awful, while coaching the Bills to another year missing the playoffs. Brash is fine, brash is fun but brash is exhausting when you never back it up.
Don't be fooled by the surprising win over the Arizona Cardinals, who might not be quite as good as we expected. Ryan is always good for a surprise "hey the coach's back is against the wall we gotta help him" win from his troops.
The question is, can he build on it. Based on one game, moving Anthony Lynn to offensive coordinator seems to have worked and the defense actually looked good after two games where it looked awful.
If that continues, Ryan might be able to cool the reactor rods and avoid a meltdown. If the season goes back to what it was in the first two games—especially if the defense returns to the terrible play we saw in those games—Ryan and his brother Rob will end up with careers as radioactive as any meltdown.
Gus Bradley, Jacksonville Jaguars – Smoldering Mess in Waiting
Since taking over the Jaguars, Bradley has put together a 12-39 record and has never had a winning record. While you can excuse the first season or so because he inherited a mess, you've now seen negligible improvement.
We covered this fairly extensively a little while back, and that was before the loss to the Baltimore Ravens.
This team has talent—arguably quite a bit of it—and yet routinely underperforms. Bradley and the Jaguars sit at 0-3 right now and if they cannot turn it around soon, he should be gone.