The Arizona Cardinals entered the 2016 NFL season as a team we all expected to largely dominate. While they weren't necessarily Super Bowl favorites—there are a lot of quality teams at the top of the NFC—the thought was that they would at least contend for the conference championship.
That no longer seems the case.
Why is this team imploding?
Or is it possible they were never as good as we thought they were?
Let's try to figure out whether this is a good team that is really adept at playing badly, or a bad team which is really effective at being good on occasion.
Defensive Inconsistency
While the defense has played well at times, they haven't done so consistently every game. They haven't even played consistently for four quarters in a row, really, and it starts in the trenches.
The first game saw their core group of lineman together, but that hasn't been the case since.
Defensive end Frostee Rucker was injured in the loss to the Patriots and he could be out another week or so. Ed Stinson and Josh Mauro have stepped in to replace Rucker, but neither of them are very good. That has led to issues along the defensive front, even in games where the defense has played well overall.
The overall effect has mostly been felt against the run, though it has caused issues in pass defense on occasion as well.
The Cardinals rush defense is ranked 28th in the NFL, allowing an average of 133 rushing yards per game, along with four rushing scores. Football Outsiders' DVOA Metric has them pegged as the 19th best run defense in the NFL. Even that might be misleading, as they faced a Tampa Bay team without Doug Martin and had Rucker when they "held" LeGarrette Blount to 70 yards and a touchdown.
Last week they got absolutely lit up by LeSean McCoy to the tune of 110 yards and two touchdowns but also got torched by quarterback Tyrod Taylor, who had 76 yards and a touchdown on nine carries. Overall the Cardinals allowed 208 yards and three touchdowns on 32 carries against a Bills team everyone thought was dead.
You can run on the Cardinals, which means they have to move the safeties up in run support, which means the cornerbacks have less support. That's fine for Patrick Peterson, who is one of the best in the NFL, but can be more problematic for someone like Marcus Cooper or rookie Brandon Williams.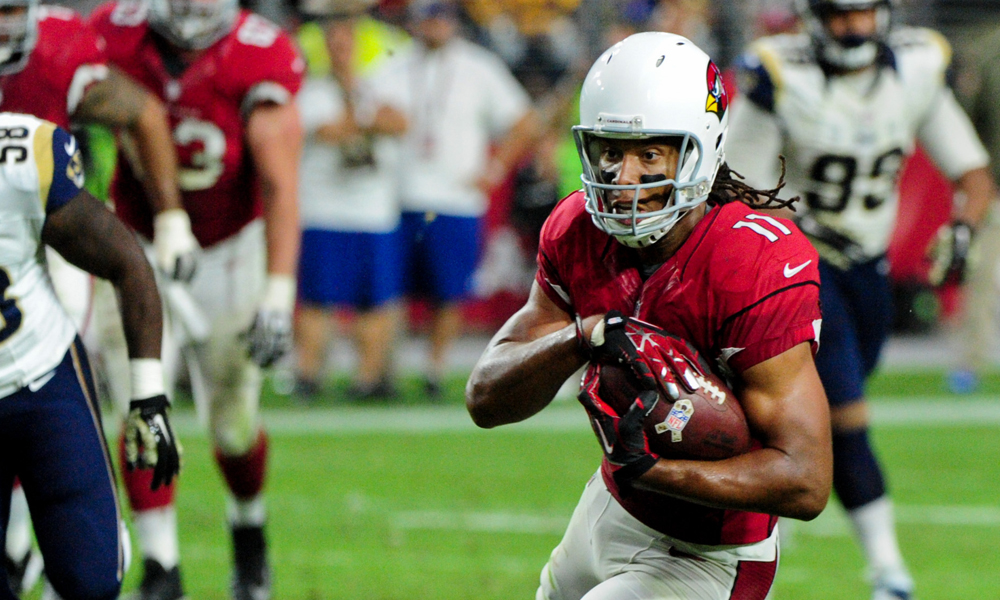 Passing Offense Misfires
So far this season, Carson Palmer has thrown five touchdowns. Unfortunately, that is counterbalanced by the four interceptions he's also tossed.
There are several thoughts about why the passing offense—and Palmer specifically—has struggled.
Some, such as the Wall Street Journal's Michael Salfino, have felt the team throws too far, too often, downfield.
On 117 pass attempts this season, Palmer has hurled the ball an average of 10.9 yards downfield. That's not only more than 25% farther than the NFL average but 10% farther than the next highest team.

Palmer's average pass travelled a league-high 10.7 yards last year too, but as his passes have gotten deeper this season, his numbers have tanked. His passer rating has dipped from last season's mark of 104.6, third best in the league, to 80.5 this year, 23rd among all qualifying quarterbacks.
Some of the players disagree, notably Larry Fitzgerald who told AZCardinals.com's Darren Urban, "We've had a lot of success with the way we play ball, and we're not going to change the way we play our game. We're a big-shot team, we're always going to take our shots, that's part of our makeup, and they will come."
Fitzgerald also talked about execution, and how he feels the team just isn't quite there yet. They need "focus" as Urban terms it, not "change."
It seems like that is really more of the issue than calling deep balls.
As pointed out by Urban, SI.com writer Andy Benoit broke down the film and what he found echoes what Fitzgerald feels.
Film: number of times #AZCardinals pass concepts worked but catch-throw didn't quite connect. #Bills D imposed a frenetic feel to the game.

— Andy Benoit (@Andy_Benoit) September 29, 2016
The plays are there. The execution is lacking, and that is part of what the difference is when you compare this season and last season's offense.
Why it's this way is hard to say. Michael Floyd has not played well and has caught only nine balls out of 24 targets. That's 37.5 percent and unacceptable for a guy who should be the No. 1 receiver.  Jaron Brown and John Brown have both caught almost as many balls (six and eight, respectively) as Floyd and on far less targets.
While Fitzgerald has played very well, Floyd has not and it's evident looking at the film that not having Floyd at the top of his game is part of the reason the execution isn't there.
You can also blame the offensive line, at least last week against the Bills when center AJ Shipley struggled badly.
That said, if Floyd was on point, Palmer would look better as he would have more reliable options.
So is this team as good as we thought?
Not quite. They have flaws we perhaps overlooked in terms of depth at the defensive line (although why rookie Robert Nkemdiche isn't getting some work is odd given the struggles), and how easily the pass offense has been disrupted by just one player underperforming.
They aren't awful though, and they should right the ship soon. The Cardinals remain a playoff-caliber team, though perhaps not the dominating one we expected before the start of the season.