Going into the NFL Scouting Combine, Byron Jones wasn't a name that was discussed very often. However, that all changed with the culmination of the event.
To be fair to Jones, it wasn't his fault that there wasn't even faint talk about his pro prospects as he had the tape of a potential first-round pick. However, the fact that he was on a bad Connecticut team and that his season was cut short after seven games by a nagging shoulder caused him to dip below the media's collective radars.
Everything changed when Jones set his feet and made his leap at the broad jump drill at Lucas Oil Stadium. 12-feet and 3-inches later and Jones' notoriety experienced a meteoric rise. Add in a 44.5-inch vertical jump, 6.78-second three-cone drill and 3.94-second short shuttle and you had media experts and analysts scrambling to their computers to watch tape on this freak athlete.
One of Jones' teammates put it best, "I always say there's human beings, and then there's Byron Jones," Connecticut defensive lineman B.J. McBryde said. "He's in a separate category. The dude is just unreal."
To see just how freakish Jones is, take a look at this spider graph in comparison with other cornerbacks since 1999 via MockDraftable.com: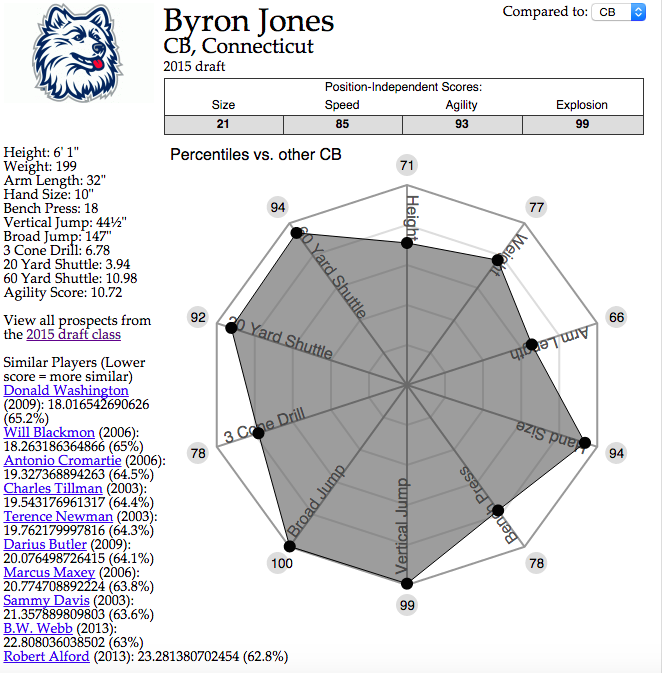 In Jones' mind he is much more than just an athlete playing football.
"I'm a football player, not a track guy," Jones said. "My main goal is not to be a world-record breaker or the fastest 40-yard sprinter, my main goal is to be a great NFL player."
What makes Jones a great prospect is that you can see that elite athleticism on tape in a very tangible way. Whether he is recovering off a missed jam to go stride for stride with a receiver or leaping over a receiver to deflect a pass, Jones' athleticism translates extremely well.
On tape, Jones showcases an excellent skill set that rivals the top cornerbacks in this draft class. He can be a bull in press coverage and disrupt wide receivers routes before they even start. He can slide back and play the deep third of the field and he can shrink the throwing windows because of his incredible size (6-foot-1 and 199 pounds with 32-inch arms) and leaping ability.
Another great trait about Jones is that he isn't satisfied with where he is skill wise. He knows what specifically he needs to work on to get to his full potential.
"Off-man coverage, for me, is something I need to work on, reading the three-step drop and the five-step drop," Jones said. "As I work on the off-man, I'm going to be comfortable in that as well."
Since the beginning of the pre-draft process, all Jones has done is check every box necessary for him to become a first-round pick. At this point, the question is not if Jones will be a first-round pick, but when will he get picked in the first round.
The Philadelphia Eagles are in desperate need of some help in the secondary and could look to Jones at pick No. 20. He would most certainly not get by the Dallas Cowboys at No. 27. Nevertheless, Jones isn't too concerned about when his names will be called on April 30.
"You can sit there and think about it all day," Jones said. "You're not going to figure out anything. Everyone wants to know what the projections are, what's going to happen. Well, it's only two weeks away now so we'll see where I go. I don't let my mind wander because it's just all speculation."
Jones may not have been discussed much in the past, but he most certainly will be discussed in the future as he has the potential to be an elite shut down type of cornerback.