As we have just crossed the quarter pole of the NFL season, it's time to take a look at the remaining undefeated teams and decide whether we're buying into them or not.
The Denver Broncos, Philadelphia Eagles, and Minnesota Vikings all have yet to lose (the Eagles with one less game due to their early bye week) and there's a fairly strong chance that won't change this weekend.
Going 16-0 is an impossibly high bar, though, so we're not asking if they will go all the way without a loss. No, we're wondering if these teams are legitimately as good as they look or if their status is more a result of poor opponents or pure luck.
Denver Broncos – 4-0, vs. Atlanta Falcons this week
The Denver Broncos were supposed to take a step back defensively this season but that hasn't quite happened. According to NFL.com, this team still has a top five overall defense, with their pass defense ranked second overall. Their run defense is a bit more giving, ranked 21st and allowing 113.8 yards a game with five touchdowns allowed so far.
Football Outsiders' DVOA metric backs that up as well, with the overall unit ranked at No. 5, the pass defense rated as the No. 3 defense and the run unit ranked at No. 23.
They're ready to go this week, as well.
"It fires us up to go compete against the best," Broncos cornerback Aqib Talib told ESPN.com. "Julio and Matt Ryan are the best right now in the league, so it fires us up to go compete against them."
So the defense didn't regressed very little, if at all and the way they are playing it's hard to see that happening the rest of the way.
The offense is also playing better than expected. While I may think Paxton Lynch is the better choice for this offense, Trevor Siemian has done enough to make me believe this offense is going to pop regardless of whoever gets the starts. CJ Anderson is running very well and Emmanuel Sanders and Demaryius Thomas both look like 1,000 yard receivers.
The defense didn't suffer any dropoff, and the offense looks better than expected.
So I'm buying this team as legitimate. Against a Falcons defense which is horrible, they should win this week as well.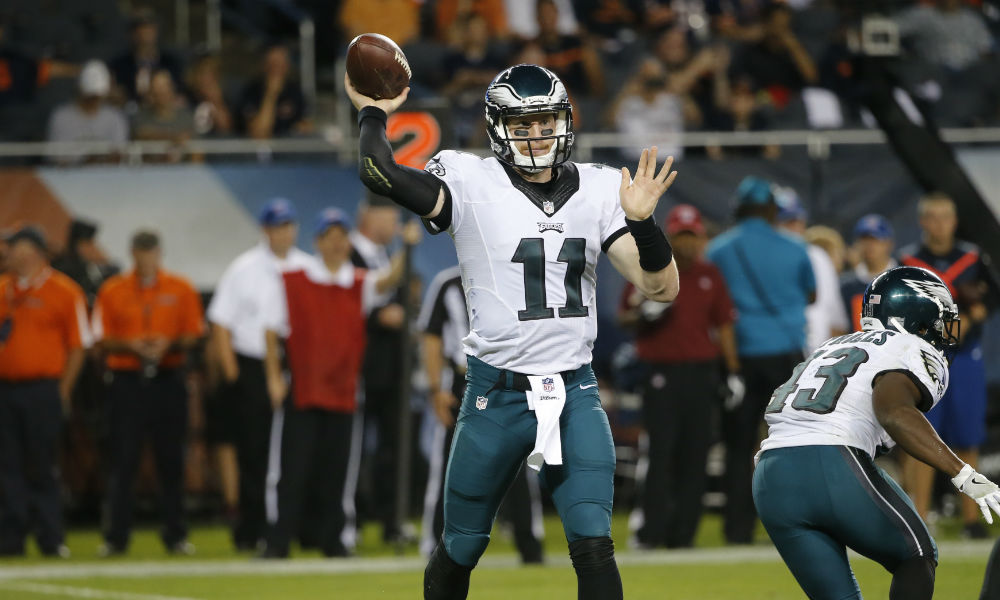 Philadelphia Eagles – 3-0, at Detroit Lions this week
We can spend a lot of time talking about how good Carson Wentz looks but we also have to give respect to head coach Doug Pederson and offensive coordinator Frank Reich. They have done a masterful job of putting Wentz in a position to succeed with great playcalling and solid schemes.
That's not to take anything away from Wentz, of course, because watching him work at the offensive line has been impressive. He seems to be able to make his supporting cast look better as well—Nelson Agholor was just about to be sent to the scrap heap before Wentz made him look good—and that's a tremendous bellwether for Wentz's future.
If I have one concern about this team's offense, it's the run game and even that isn't a huge concern. While I don't feel as though I have a clear grasp of who is expected to do what, they are still averaging 119.3 yards a game on the ground.
So the offense is doing well. The biggest question is, as the season progresses and teams get more tape on Wentz, will he continue to perform? If he can, offensively this team will be very good.
Defensively, the Eagles are even better. Football Outsiders has them as the second best overall defense, first against the pass and tenth against the run. Statistically speaking, the Eagles allow 203.3 yards per game and—hold on to your hats—they have allowed no touchdowns so far this season.
That can't keep up—our brains would explode if it did—but unless the unit suffers some massive injuries, it's going to continue to be very hard to score on this unit.
The Detroit Lions should be no real test of this team, so we should expect them to reach 4-0 by Monday. While I have some concerns about the rookie quarterback and how defenses may adjust to him in the near future, the defense and the way Pederson runs the offense make think we've got a legitimate powerhouse on our hands.
Minnesota Vikings – 4-0, vs. Houston Texans this week
When Teddy Bridgewater went down this preseason, most Vikings fans thought "well, that's that." They felt a little better (although concerned at the price) when the team picked up Sam Bradford, but then the bottom dropped out when Adrian Peterson was injured.
And yet here we are at 4-0.
The key to this team is the defense. Without a doubt one of the best in the NFL right now, head coach Mike Zimmer has worked hard to put together a unit which stifles offenses. Football Outsiders has them ranked as the third best defense overall, fourth against the pass and fourth against the run.
The pass defense has allowed just three touchdowns to date and have picked off quarterbacks six times. They've also accumulated 15 sacks so far. Last week they dismantled the New York Giants and shut down both Odell Beckham Jr. and Eli Manning.
The defense will wear you down to a nub and then stomp on that nub.
The offense has looked really good the last few weeks as well. While the ground attack has yet to quite find its feet, Bradford looks very comfortable and when teams took out Stefon Diggs, he moved easily to Kyle Rudolph. Last week saw the team involve lost souls Cordarrelle Patterson and Charles Johnson as well. Bradford and offensive coordinator Norv Turner have done a great job of opening the offense up.
If there is one flaw in this team, it's the offensive line and it's why the Vikings are the one team I have doubts about here. Defensively, they are legitimate and if Bradford is healthy and gets a clean pocket, the offense is too.
This offensive line has been bad though, and despite great work against the Giants front seven last week, they aren't opening running lanes and aren't protecting Bradford enough. Losing Matt Kalil is something we aren't talking much about because Kalil has struggled the last few years, but his replacement—TJ Clemmings—isn't ready to step in at left tackle.
Given how dominating the defense is and how good Bradford and the offense look, it's hard to sell on this team. The offensive line makes it easier.
I think this team is very good, but I think the offensive line is over its skis and at some point it's going to cause a disaster.
This game against Houston is a huge test for it, despite the absence of JJ Watt. We'll know exactly what the Vikings are come Monday morning.